Will Gendry and Arya Get Together on 'Game of Thrones'? Premiere Hints 'Gendrya' Could Happen in Season 8
Game of Thrones Season 8 has finally arrived, nearly two years after the Season 7 finale first aired, and there's still a ton of speculation circulating about how HBO's adaptation of George R. R. Martin's dark fantasy epic will end. Fans have wondered for years if romance would inevitably spark between childhood pals Gendry Waters (Joe Dempsie) and Arya Stark (Maisie Williams). A scene between the two of them in the premiere episode of Season 8 seemed to hint at a possible romance, a coupling that's come to be known amongst the Game of Thrones fan community as "Gendrya."
In the opening scene of the premiere, Arya beams as Jon and Dany arrive in Winterfell. She's a bit shocked and pissed to see The Hound is still alive, but there's nothing but happiness on her face as she sees her old friend Gendry astride a horse among his band.
Later in the episode, Arya visits the forge at Winterfell, where she interrupts an exchange between Gendry and The Hound. Gendry awkwardly tells her she's "gotten better" and "looks good." She tells him he looks good too, before they move on to other, more pertinent topics. Arya wants him to make her a polearm with a dragonglass blade.
It doesn't take long before he's teasing her again, calling her Lady Stark. She doesn't like it. "Don't call me Lady Stark," she says with a scowl. "As you wish, milady," he replies sarcastically, prompting a smile from her.
Arya shows him her dagger and the banter continues. "It's Valyrian steel," he says, clearly impressed. "I always knew you were just another rich girl."
"You don't know any other rich girls," Arya says with a sly smile as she leaves.
The muscly-armed bastard of King Robert Baratheon caught the littlest Stark sister's eye all the way back in the Season 1 finale, when they were traveling with the King's Landing prisoners conscripted for the Night's Watch. A blacksmith's apprentice from the King's Landing slum of Flea Bottom, Gendry defended her from bullies as they journeyed, and he was one of the few who knew she wasn't actually a boy named Arry.
Of course, their journey to Castle Black doesn't go according to plan, and in Season 2 they find themselves in Harrenhall, occupied by the Lannisters as the War of the Five Kings rages on. Arya becomes a steward to Tywin Lannister, while Gendry works in the forge. Arya can't help but sneak a peek at his rockin bod while he's hard at work.
The friends part ways in Season 3, when Gendry decides to join the Brotherhood Without Banners. (That doesn't quite go according to plan either, and instead he ends up getting leeched by Melisandre in Dragonstone, until Davos comes to Gendry's rescue.) Despite wobbly-voiced pleas from Arya, Gendry insists the Brotherhood is the only family he's ever known. "I can be your family," she tells him.
"You wouldn't be my family," he replies with a sad smile. "You'd be my lady." It's an exchange that launched a thousand fanfics. On the surface, it's Gendry reminding Arya of the social gulf between them, as he's a commoner and she's a member of a nobile house. Plenty of fans read another meaning into the exchange, seeing it as Gendry's admission he sees her as more than a sibling, and possibly as a potential wife.
The potential double meaning of that scene seems to have been an intentional choice on the part of the showrunners. In a 2013 interview with Rolling Stone, Williams revealed the episode's director gave her some very specific cues about her parting with Gendry. "When you say that last line, 'I can be your family,' say it like 'I love you.'' And that's the take that they used," she explained.
Given Gendry's status as the last living heir of House Baratheon and his newfound frienship with Jon Snow, it's possible he could be made legitimate after the war against the dead, and a coupling between them suddenly makes a lot more sense.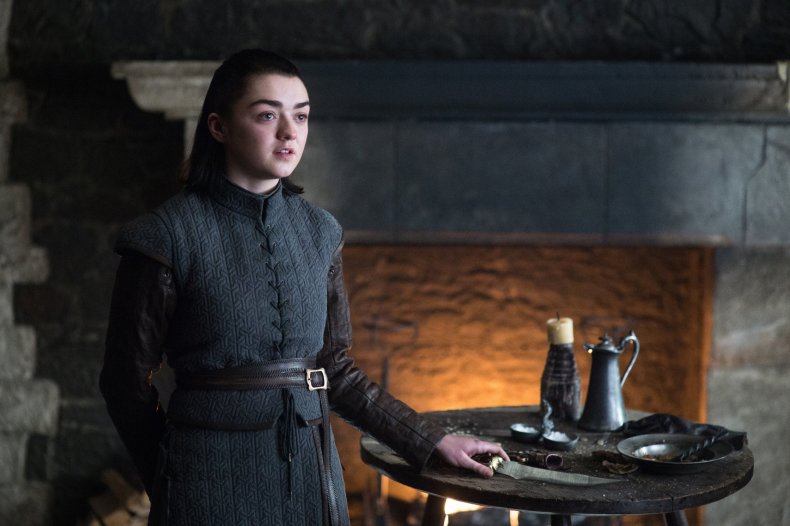 Still, not everyone's onboard the Gendrya hype train. After Season 7 aired in 2017, Dempsie told The Hollywood Reporter the age difference between him and Maisie Williams was just too significant to ignore. "I think it's implied in the books that there might be a romantic element to the relationship, and in the books I think the characters are significantly closer in age. I know from my personal experience, when we were filming the earlier seasons and people would ask about that and talk about that, I would feel slightly uncomfortable. I'm acting alongside a child here. I was a 25-year-old man. I sometimes found that question a little hard to address and a little tricky to answer," he explained.
Dempsie told THR that he saw Arya's interest in Gendry's shirtless torso as a sign was growing up, not necessarily a foreshadowing of a future romance: "There's that scene in Season 2 where I'm forging a sword — fairly inexplicably without a shirt on — and I think the idea was to convey the idea of Arya experiencing feelings she's never felt before."
Will Arya be spending some more time in Gendry's forge in Season 8? Are you feeling the chemistry between these two? Let us know in the comments.
The final season of Game of Thrones airs Sundays at 9 p.m. on HBO.