If You Want to Know How 'Game of Thrones' Season 8 Ends, Just Ask Joe Jonas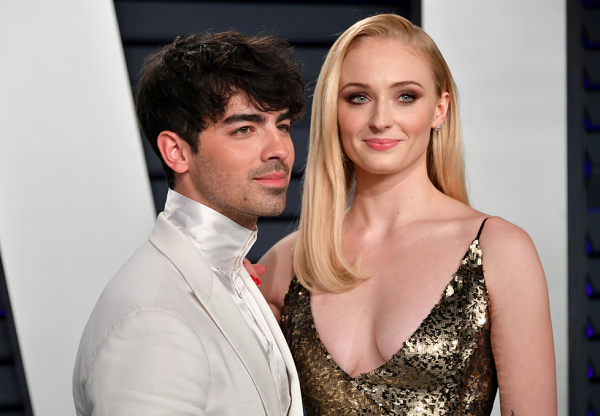 If you can't bear to wait until the final episode to find out how exactly Game of Thrones ends, there may be one person on the planet who may be able to help, Joe Jonas.
The singer and songwriter knows how HBO's award-winning series will end because he spent a lot of time on the Season 8 set with fiancée Sophie Turner. According to Jonas' bride-to-be, he's quite terrible at keeping a secret, so the odds of him spilling the beans, if provoked, are high.
Turner dished on her fiancé's inside access to the GOT set and revealed to Good Morning America Jonas realized how the show ends just by being there. "Actually he was on set for most of it, so he kind of figured it out," she said on Tuesday.
Of course, Jonas had to sign some important documents to keep him from blabbering. "Then he had to sign an NDA. He had to have full photo approval on set, his cameras covered up, everything," Turner said.
Despite Jonas's legal obligation to keep spoilers under wraps, Turner noted her soon-to-be husband wasn't the best keeper of secrets. "He's terrible," she said. "So I don't know how that one's going to work out."
She added: "You could give him a call, he'll probably tell you everything."
While Jonas may be trying his best to hang on to the secret of the century, Turner's castmate and GOT sister Maisie Williams spilled a big one during her appearance on the Tonight Show with Jimmy Fallon on Monday.
When pressed for details by late-night show host Fallon, Williams said HBO would "absolutely kill" her if she revealed anything about the show, but seconds later she ended up dropping a bomb bigger than Cersei Lannister's wildfire explosion at the Great Sept of Baelor.
"During shooting, like, the final days were really, like, emotional, saying goodbye to all of the cast. Because when I found out that Arya died in, like, the second episode," Williams said before immediately covering her mouth in shock.
Williams was trembling by her mistake and even had tears in her eyes as she asked Fallon if the show was a live tapping and if the flub could be edited out. When Fallon tried to comfort her and recoup the interview, Williams abruptly rushed off the stage, leaving the host stunned and unclear of what to do.
Fallon headed backstage to check up on Williams and as he pulled the curtain back, the actor was all smiles as they shouted, "April Fools!"
Game of Thrones returns to HBO with the eighth and final season on April 14 at 9 p.m. ET.