Is 'Game of Thrones' About to Kill Off Fan Favorite Bronn?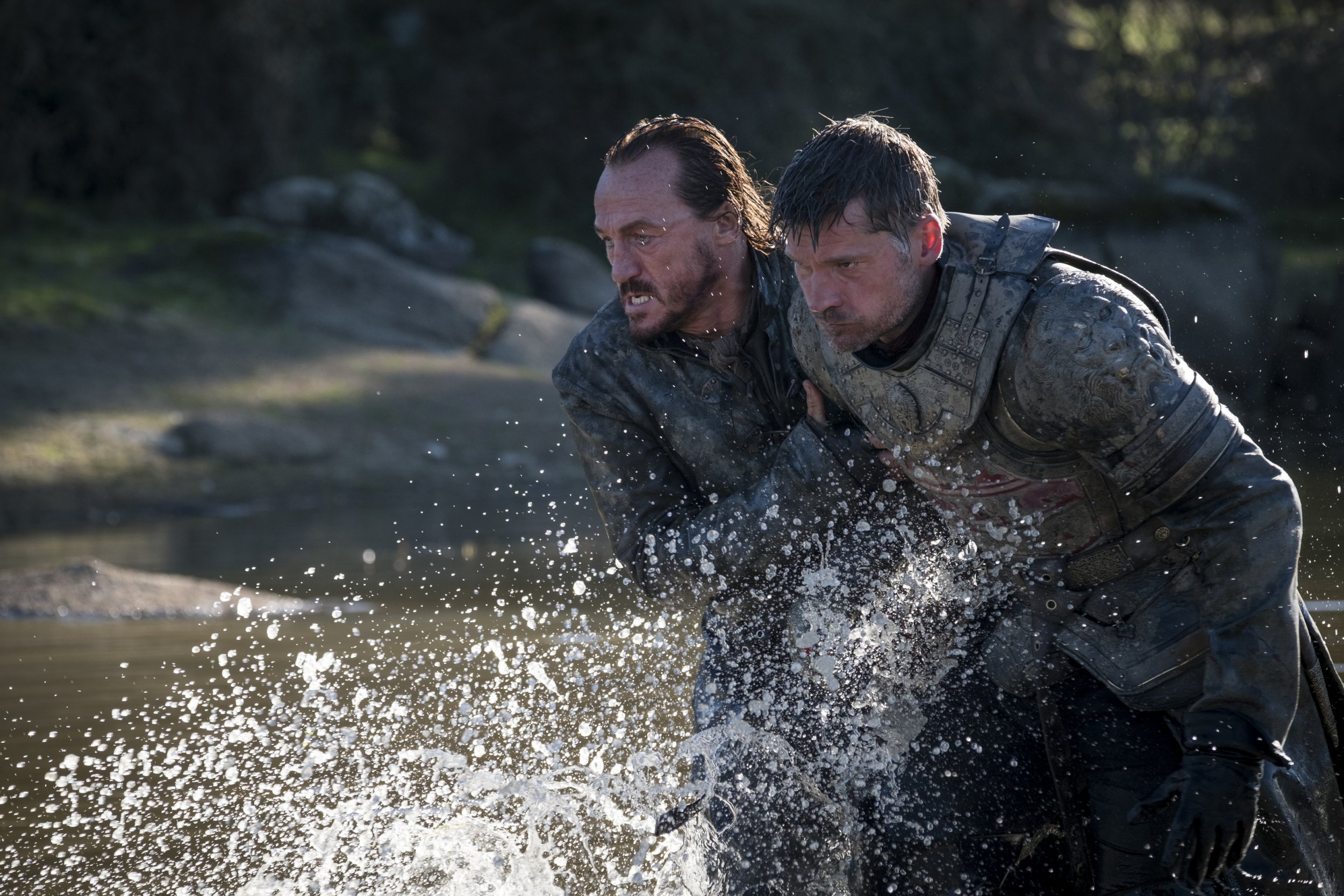 The death toll on Game of Thrones is rising in Season 7, but one character viewers are definitely not ready to say goodbye to is Bronn, Jaime Lannister's right-hand mercenary with a mouth so foul even a sailor would be horrified.
But there was a tease that Bronn—played by Jerome Flynn—could be in some danger in Sunday's episode, "Eastwatch," when Queen Cersei (Lena Headey) asked Jaime (Nikolaj Coster-Waldau) if he will "punish him" for arranging an illicit meeting between Jaime and estranged brother-turned-enemy Tyrion Lannister (Peter Dinklage).
"He set up a meeting without your knowledge or consent," Cersei said, toying with Jaime. Of course, she then revealed she knew the meeting was happening all along.
Cersei planted seeds of doubt in Jaime, telling her brother/lover that Bronn betrayed him. Which raises the question: Could Bronn's head be next on the GoT chopping block?
"I think he would have thought about that. Even though he knew he was treading on eggshells a bit, and it was a dangerous situation, I think he also knows Jaime's love for Tyrion, he knows the bond there," Bronn actor Jerome Flynn tells Newsweek.
"I don't think he's taking a big risk. He feels he should actually bring those two together, and he could be part of something significant in terms of how everything turns out."
Flynn is, of course, referring to the larger stakes at play in GoT Season 7. Tyrion met with Jaime to warn him about the threat of the Night King's army of the dead marching on the Seven Kingdoms. Tyrion pressed upon his brother the importance of putting the civil war between Cersei and Daenerys Targaryen (Emilia Clarke) aside and allying to save human civilization from the White Walkers.
The actor said he believes "Cersei was taunting Jaime a bit."
Related: Pictures from GoT Season 7, Episode 6, "Beyond the Wall"
"[I think] Tyrion came to Bronn, and Bronn must have gone to Cersei, because Cersei knew about it," Flynn adds. "I don't think he's in too much danger. Not compared to how he was at the end of the last episode [diving in front of Drogon's fire strike]."
Still, a role on Game of Thrones is not without the threat of suddenly being killed off. This season, Olenna Tyrell (Diana Rigg) and the Sand Snakes have been the show's latest major casualties.
As the series winds down, Flynn says "there's certainly an element" of concern about whether Bronn will survive through the end of Season 8. "But that's been there all along," he adds. "Every season when I find out there's not an episode that Bronn's died in, I'm so happy to know that there's another year ahead."
The actor cautiously adds: "We don't even know what happens this season, so I can't tell you how I'd feel [about being killed off]...if I'm disappointed or relieved to be alive, because that hasn't happened yet."
Game of Thrones airs Sundays at 9 p.m. on HBO.
For more Game of Thrones coverage on Newsweek, click here.