Did 'Game of Thrones' Season 8 Leak Online? Reddit User Allegedly Tries to Spoil HBO Series and Twitter Fans Are Mad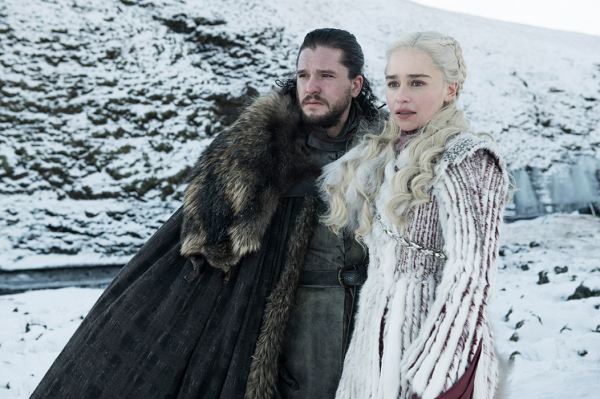 Fans have waited for nearly two years for the return and final season of HBO's award-winning series Game of Thrones. In just three weeks, Season 8 will finally premiere, reuniting viewers with their beloved King of the North, Jon Snow, and Daenerys Stormborn of the House Targaryen, First of Her Name, the Unburnt, Queen of the Andals and the First Men, Khaleesi of the Great Grass Sea, Breaker of Chains and Mother of Dragons.
However, someone is allegedly trying to spoil the ending everyone's been waiting for. YouTuber and Redditor TheRealFrikiDoctor, who has notably leaked plotlines of shows before, reportedly shared details of GOT's premiere episode online.
While no clips from the series were posted, the user allegedly shared a video on YouTube, describing in great detail the chain of events in the Season 8 premiere episode. The video was quickly removed, and in a post on the Reddit community "Free Folk," the user wrote he was facing a "copyright infringement claim" from the network. Nonetheless, he still wrote out details he initially shared in the YouTube video.
Fans who have been patiently waiting for GOT to return weren't pleased with the leaks, and several people on social media blasted the user for attempting to ruin the season premiere. Some fans threatened to unfollow or block social media accounts reposting the spoilers, while others even suggested pulling a full-on Cersei Lannister and reporting accounts to Twitter.
In a statement to Newsweek, HBO reps said the network "does not publicly discuss our anti-piracy efforts," so it's unclear if the Redditor has been solicited a copyright infringement warning.
This isn't the first time the series has suffered a leak. A man named Behzad Mesri was indicted and eventually sanctioned for his role in the 2017 leak of Season 7 episodes. Hackers stole 1.5 terabytes of data from the network and began releasing scripts and unaired episodes of GOT online. As ransom, the hackers demanded some $6 million in Bitcoin from HBO executives to prevent further leaks.
Mesri, who was still reportedly at large when the indictment was dropped in November 2017, was left unable to the U.S. or any countries with U.S. extradition countries in March 2018.
Game of Thrones Season 8 premieres on HBO on April 14 at 9 p.m. ET.
See a few reactions to the leaks below.