'Game of Thrones' Revives Jamie Lannister's Hand in Editing Fail, Week After Starbucks Cup Debacle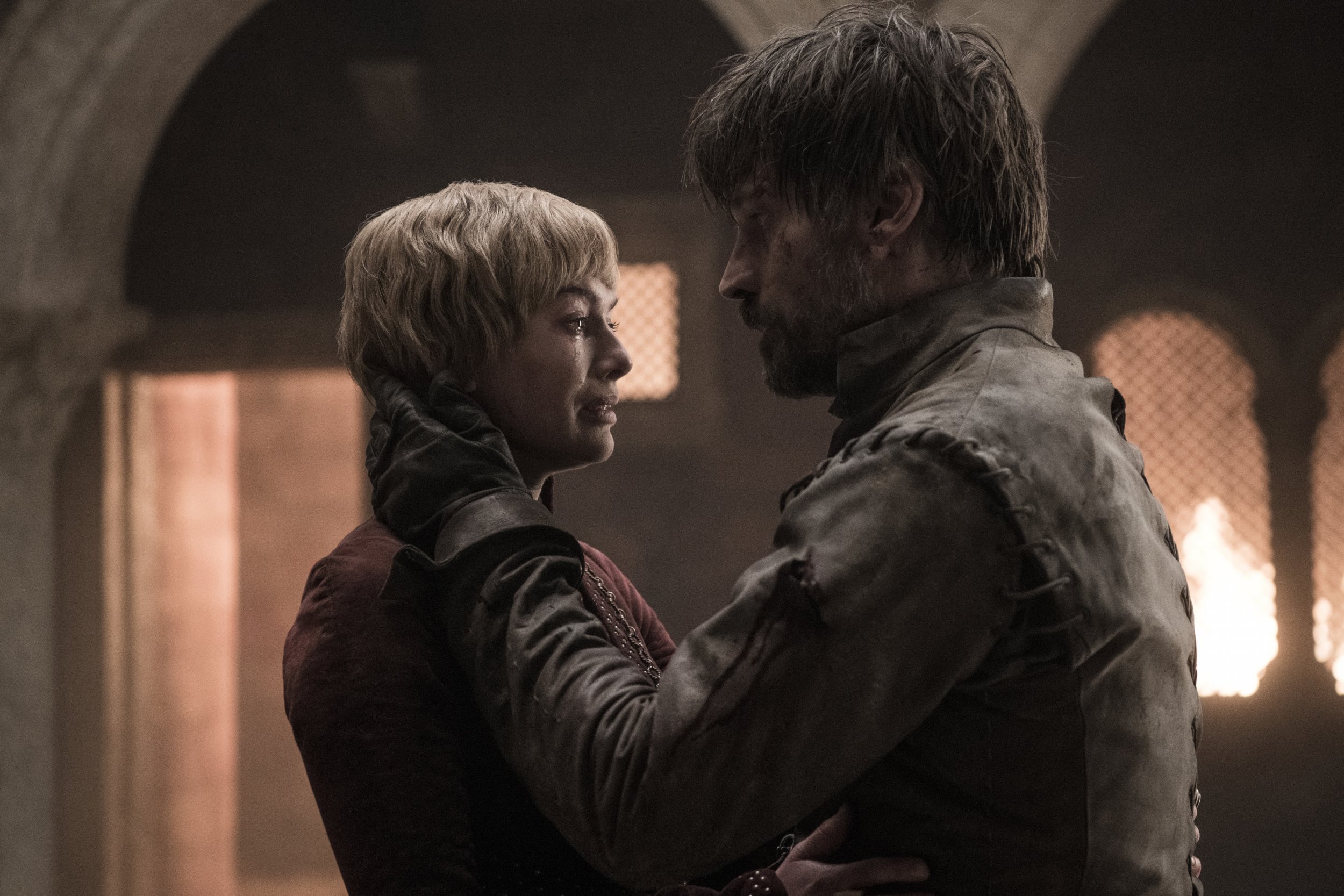 A promotional image for Season 8, Episode 5 of Game of Thrones has fans reeling over an apparent continuity error. The photo shows Jamie Lannister hugging Cersei Lannister in that fateful scene where both seemingly met their death, but both of Jamie's hands are normal and human, TMZ reported Monday.
Fans of the show know enemy soldiers cut off Jamie's right hand in Season 3, after he came to the defense of Brienne of Tarth. Cersei had a prosthetic replacement made for him out of gold that he has worn ever since. Yet the flesh-and-blood hand suddenly returned Sunday night, baffling viewers as the episode aired, according to a series of Game of Thrones fan accounts on Twitter.
A still photo of Jamie and Cersei staring into each other's eyes is available on the HBO media site, but it is cropped to show only one of Jamie's hands. The problematic photo was of the incestuous sibling couple hugging each other before their apparent death.
This mistake comes just one week after a modern coffee cup was spotted in Episode 4. The scene showed Daenerys Targaryen sitting at a long table, while the men and women of the north celebrated their win against the army of the dead. Daenerys chose to forgo socializing, and the empty table around her made way for the cup to be noticed by dozens of angry fans. It quickly became a meme, and editors later removed it from the episode.
Some fans thought they spotted yet another mistake in Episode 5 on Sunday. As the men, women and children of King's Landing ran through the streets to escape crumbling buildings and dragon fire, fans noticed a shoe that didn't look exactly right. While it's unclear if this really was a mistake, some fans claimed it was a modern-day sneaker.
The shoe could have been a simple style choice in the battle, but Jamie's second hand needs a bit more explanation.
Viewers have had mixed reactions to Episode 5, which followed a series of characters fighting for their lives at the hand of Daenerys. It seemed her close supporters, like Jon Snow and Tyrion Lannister, began to question their alliance when they saw the destruction the "mad queen" had sent to King's Landing.