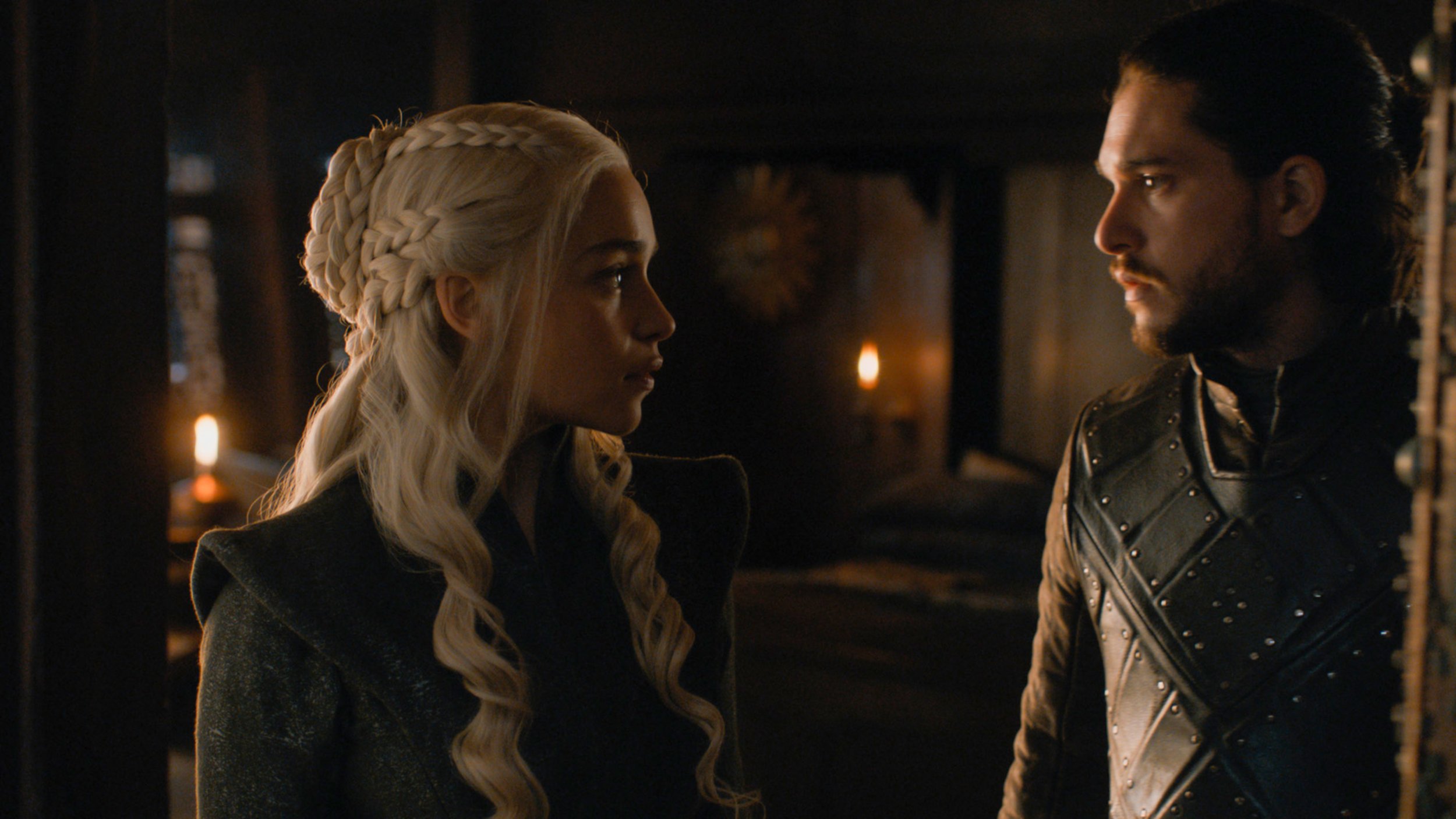 That Game of Thrones sex scene between Jon Snow (Kit Harington) and Daenerys Targaryen (Emilia Clarke) was just as awkward for the actors as it was for viewers watching nephew and aunt getting it on.
Director Jeremy Podeswa tells Newsweek that Harington—who is dating former GoT co-star Rose Leslie (Ygritte, of "You know nothing Jon Snow" fame)—and Clarke definitely felt a bit uncomfortable filming their boat sex scene in Sunday's finale, "The Dragon and the Wolf."
"There was a bit of awkwardness going into this scene for Kit and Emilia as they are close friends, but they are also both so good humored and professional that the process of shooting was very easy," Podeswa says. "We also shot it quite simply—I believe it's only three shots."
Podeswa also had the honor of uniting more than a dozen principal characters—including Jon Snow, Daenerys and Queen Cersei (Lena Headey)—for the finale's monumental Dragonpit scene.
Related: Ser Davos actor Liam Cunningham on his new goal after surviving Season 7
He says, "The highlight of this sequence for me was seeing all the characters together for the first time in Spain, on location. It felt historic. A real moment."
Before shooting at the famous Roman amphitheater, the Italica, in Seville, the cast first rehearsed the dialogue-heavy 30-minute act in Belfast, where the show's production is based.
"I enjoyed rehearsing the scene in advance with the whole cast in Belfast. We rehearsed it like a play on a taped out floor plan and we had the rare opportunity with such a large cast to try things, ask questions and work through the scenes in advance of shooting in Spain. It was a gift and the whole cast were great collaborators," says Podeswa.
As well as helming Sunday's incredible 80-minute finale, Podeswa also directed the Season 7 premiere, "Dragonstone."
So, what are his highlights from the season gone by? "There were so many great scenes to direct: Arya killing all the Freys, Sam's montage of dreary jobs in the Citadel, Dany going home to Dragonstone, Littlefinger's death, the long-awaited reunion of Cersei and Tyrion, Cersei's final blowout with Jamie. All of these were a thrill to shoot."
No mention of that awkward Ed Sheeran cameo, then.
For more Game of Thrones coverage on Newsweek, click here.