How to Watch 'Game of Thrones' Season 8 Premiere: Live Stream, Time, Channel and More Info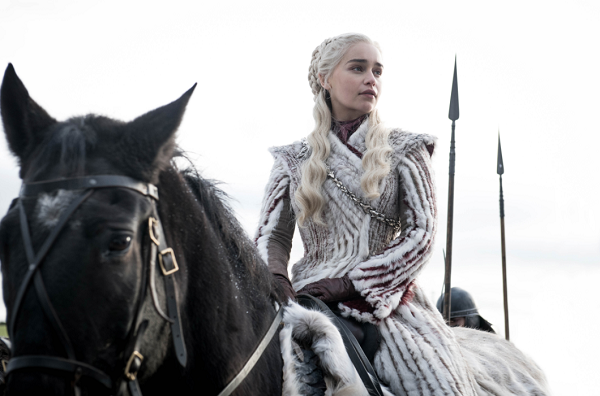 After nearly two years of waiting, winter is finally here. Game of Thrones will premiere its eighth and final season on HBO on Sunday, April 14.
The concluding six episodes of the season—clocking in between 54 and 80 minutes long each—will hopefully tie up loose ends surrounding the main characters strewn around the Seven Kingdoms and beyond. The season will also bring the final, ultimate long night—a battle quite literally between life and death—when the remaining heroes face off with the Night King, who was last seen using his newly resurrected dragon Viserion to bring down the Wall, which had stood for thousands of years, allowing his army of undead access into the North.
Before that, many questions will (hopefully) be answered, predominately those regarding Jon Snow's (Kit Harington) parentage. Season 7 revealed a bombshell of a plotline when Bran Stark (Isaac Hempstead-Wright) realized his older bastard brother was not actually his brother at all, but rather the son of Prince Rhaegar Targaryen and Bran's aunt Lyanna Stark (Aisling Franciosi) and arguably the true heir to the Iron Throne. That tad bit of crucial info should bring interesting closure to his storyline, particularly the one currently developing with Daenerys Targaryen (Emilia Clarke), Jon's new love interest — and, unknown to either of them, his aunt — who is preparing to fully retake the title of the ruler of the Seven Kingdoms from Cersei Lannister (Lena Headey), who ascended to the throne following the deaths of her husband, King Robert Baratheon and her three children, Joffrey, Myrcella, and Tommen.
In the midst of lingering questions, Season 8 will also likely bring the deaths of plenty of key characters when the worlds of fire and ice collide. It's expected to be the most action-packed season yet, with one combat scene—The Battle of Winterfell—filmed over 11 weeks of night shoots.
GoT Season 8 is set to premiere on HBO on Sunday at 9 p.m. ET. Viewers will be able to live stream the final season on the HBO Go and HBO Now apps and their respective websites. Those with HBO through Hulu Live TV subscriptions will also be able to live stream the premiere while those with standard Hulu packages will have to wait until after the episode airs to watch via on-demand.