'Game of Thrones' Season 8's Brienne of Tarth Actor Drops Tormund Giantsbane Hint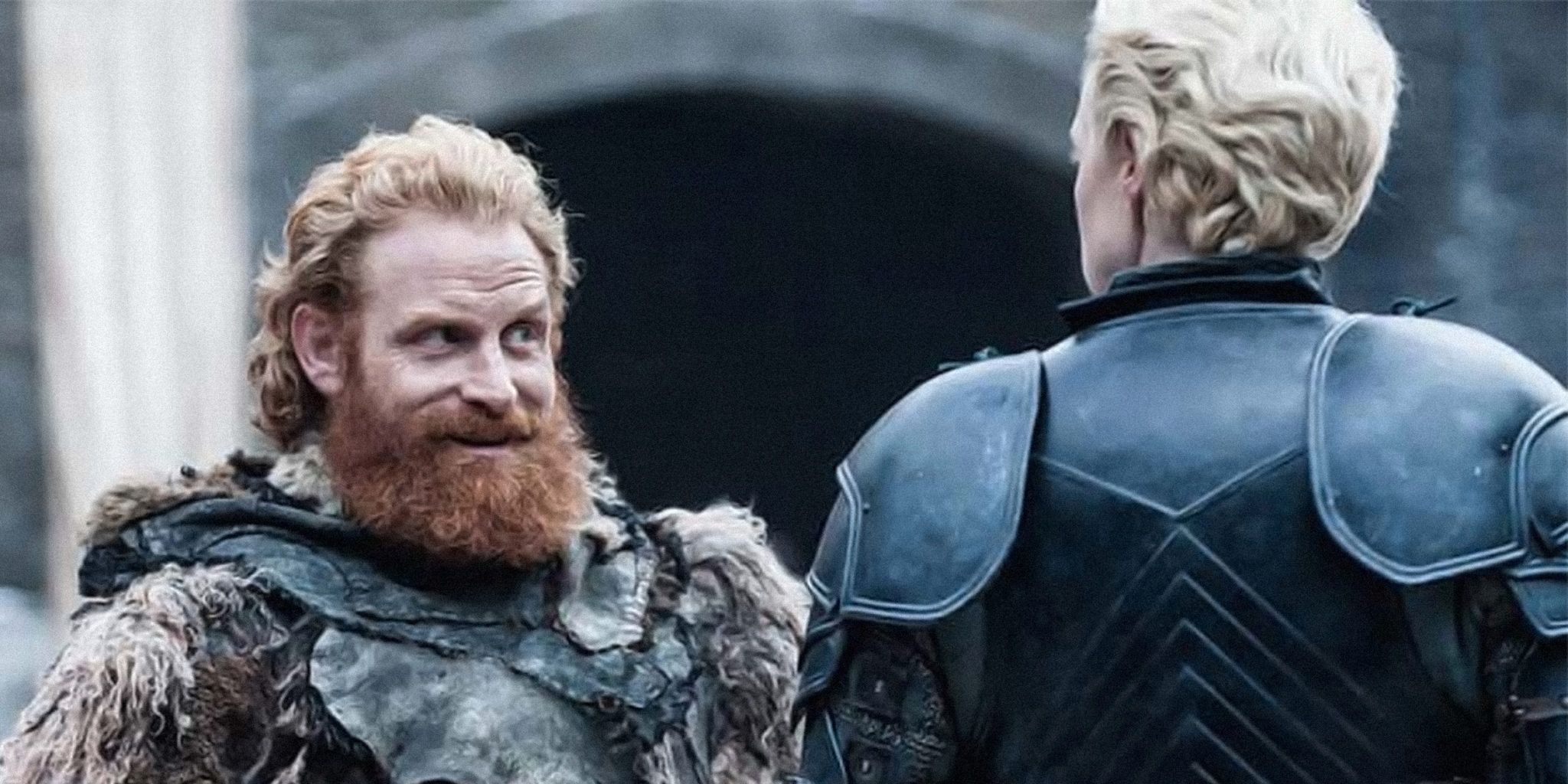 'Will they or won't they' takes on outsized proportions when it comes to Tormund Giantsbane and Brienne of Tarth, two characters known for their imposing physiques and combat prowess. Ever since Game of Thrones Season 6, when Tormund first laid eyes on Brienne with a stupefied, seemingly lovestruck, expression, fans have wanted to see the two get together. Now, thanks to a recent interview with Brienne actor Gwendoline Christie, we have some indication that Game of Thrones Season 8 will deliver the goods.
Christie and other castmembers were typically spoiler-free in a Vogue profile of the women stars of Game of Thrones, but the Brienne of Tarth actor did let slip where her character might be heading in Season 8. "I do see Brienne of Tarth as a modern day Joan of Arc," she says, sticking to the character's warrior aspects. But Vogue followed up with a pivot to her romantic life, asking Christie whether Brienne would "consummate her romantic tension" with either Tormund of Jaime Lannister.
"What I will say is, I'm happy to see more of Brienne of Tarth the woman explored this season,"
Christie responded.
A romance between the knight and the wilding has never been a part of George R.R. Martin's A Song of Ice and Fire series or even HBO's Game of Thrones. Instead, it came about organically, as audiences reacted to Tormund Giantsbane actor Kristofer Hivju's seemingly lovestruck look when he first spots Brienne at Castle Black.
The script said simply "He stares at Brienne because he's never seen a woman like that before," Game of Thrones co-creator David Benioff told Entertainment Weekly in 2017.
Benioff and co-creator Dan Weiss loved the moment as much as audiences did, and quickly leaned into Tormund's fascination with Brienne. "There was the episode where they're all leaving Castle Black together and there's a shot—it wasn't scripted at all—of the two of them on horseback and she looks at him and he smiles at her," Weiss told EW in the same interview. "It's not something you could ever write. It's just this moment where this guy is creeping out on her and he smiles in a way that makes her very uncomfortable and she just looks away. I saw it 150 times and every time it made me laugh—it's purely the two of them."
Weiss and Benioff leaned into the moment in Season 7, making Tormund's intentions a little more explicit. "I have a beauty waiting for me back at Winterfell, if I ever get back there. Yellow hair, blue eyes, tallest woman you've ever seen," Tormund tells The Hound in "Beyond the Wall," a Season 7 episode. "I want to make babies with her. Think of them: great big monsters that conquer the world."
But while the romance has so far been one-sided—not to mention a little creepy—Christie's comments suggest it may be brought to some form of resolution in Game of Thrones Season 8.
Game of Thrones Season 8 premieres April 14 on HBO.