'Game of Thrones' Season 8 Release Date: Exec Announces Return Window for Final Season
HBO confirmed the release date for the eighth and final season of Game of Thrones will be in the first half of 2019.
The network announced in January that the six-episode season of Game of Thrones would premiere in 2019, but did not specify a premiere date. HBO Programming president, Casey Bloys, gave reporters a rough time-frame on Wednesday while speaking at the Television Critics Association in Beverly Hills, California. He had nothing further to say about the season other than, "It's pretty great."
The Emmy-winning fantasy series is HBO's biggest hit with some 30 million viewers in the United States. Filming for the final season wrapped in July. No other information about how the show will end has been revealed as spoilers are being kept tightly under wraps.
Maisie Williams, who plays Arya Stark, posted a photo on her Instagram in early July of her sneakers covered in fake blood with the caption, "goodbye belfast. goodbye arya. goodbye game of thrones. what a joy i've had. here's to the adventures to come #lastwomanstanding #barely."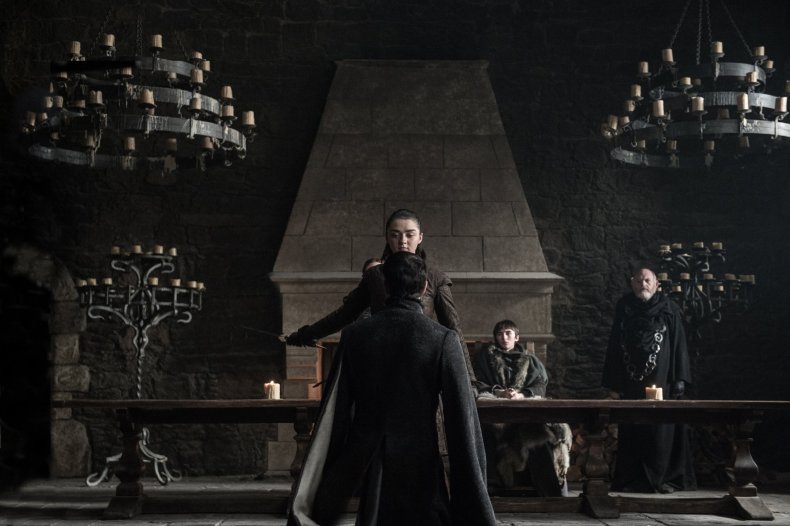 This has little to do with spoilers and is most likely a reference to Williams being the last person to shoot before filming stopped for good. Now all fans can do is wait.
However, this is likely not the last we'll see of Westeros. A pilot for an untitled Game of Thrones prequel series is reportedly in the works. With a story created by Jane Goldman and George R.R. Martin himself, the prequel will supposedly be set thousands of years before the events of GoT and will focus on "The Long Night." This is an era that has been referenced in the series many times, a period in Westeros' history when humans first fought the White Walkers.
"We're making a pilot in the first quarter of 2019," Bloys told The Hollywood Reporter, "All I am going to say is that we are shooting the one pilot, and that's the status. The other four are in various stages."