'Game of Thrones' Syrio Forel Actor Says 'Not Today' to Capitalism
English actor Miltos Yerolemou, best known as Arya's "dance instructor" Syrio Forel in the first season of Game of Thrones, doesn't appreciate his character's catchphrases being deployed against socialism.
Yerolemou objected to a meme tweeted by the Daily Wire, a right-wing news site founded by former Breitbart editor and conservative pundit Ben Shapiro, which rewrites Forel's last question to Arya: "What do we say to the god of death?"
In the Daily Wire version, Forel instead asks, "What do we say to socialism?"
"Not today," Arya responds.
"I do NOT condone this," Yerolemou replied, sharing his displeasure in a tweet that quickly garnered 135,000 likes, more than ten times that of the Daily Wire original.
Yerolemou agreed with another user's more pointedly critical characterization of the Daily Wire tweet. "They see things the left like and then try to ruin it for them by trying to get it associated with fascism or white supremacy," animator @my2k wrote.
"#truth," Yorelemou responded.
In subsequent exchanges with socialists and other leftists, Yerolemou described himself as a "comrade," tweeting raised fists in solidarity with socialism. "You either fight for the people or for your own interests," Yerolemou wrote. "Either you believe in democracy and grass roots based equality or you are a fascist. It really is that simple. I will always stand for people over self-interest."
Drawn into the center of a heated Twitter debate, Yerolemou defended a relatively moderate democratic socialist tradition, calling for a "well regulated free market" to be balanced out by "state owned utilities."
Comrade Syrio has been a fan-favorite Game of Thrones character, ever since his last stand against Ser Meryn Trant of the Kingsguard. Armed only with a wooden training sword, the Braavosi sword master took down several knights, buying time for Arya Stark (Maisie Williams) to avoid capture by the Lannisters, who were preparing to solidify Joffrey's claim to the Iron Throne by imprisoning, and eventually executing, Ned Stark (Sean Bean).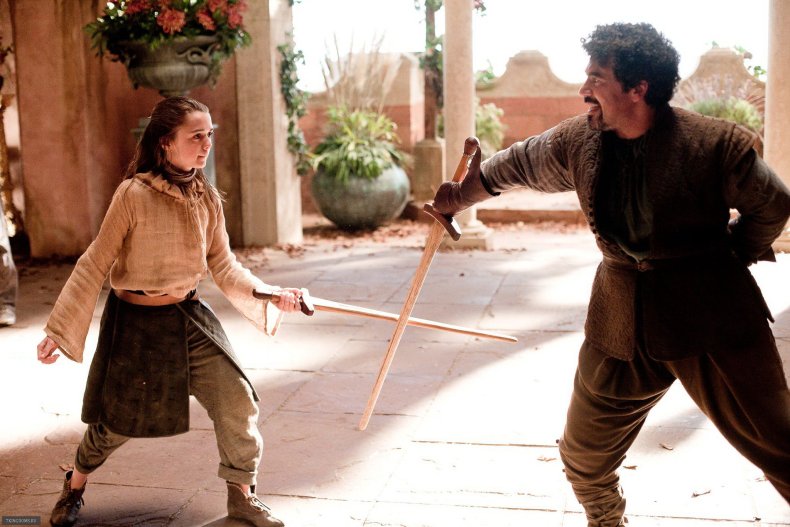 Because Forel's death wasn't depicted on-screen, the character has been the subject of multiple fan theories. Some even hoped for a Forel ex-machina during the battle against the Night King at Winterfell. Instead, Syrio's words were echoed in the Game of Thrones Season 8 episode by Melisandre (Carice Van Houten), who prepared Arya for her ultimate destiny: stabbing the Night King right in his icy gut.