'Game of Thrones': Who Did Sansa Stark Write That Secret Letter To?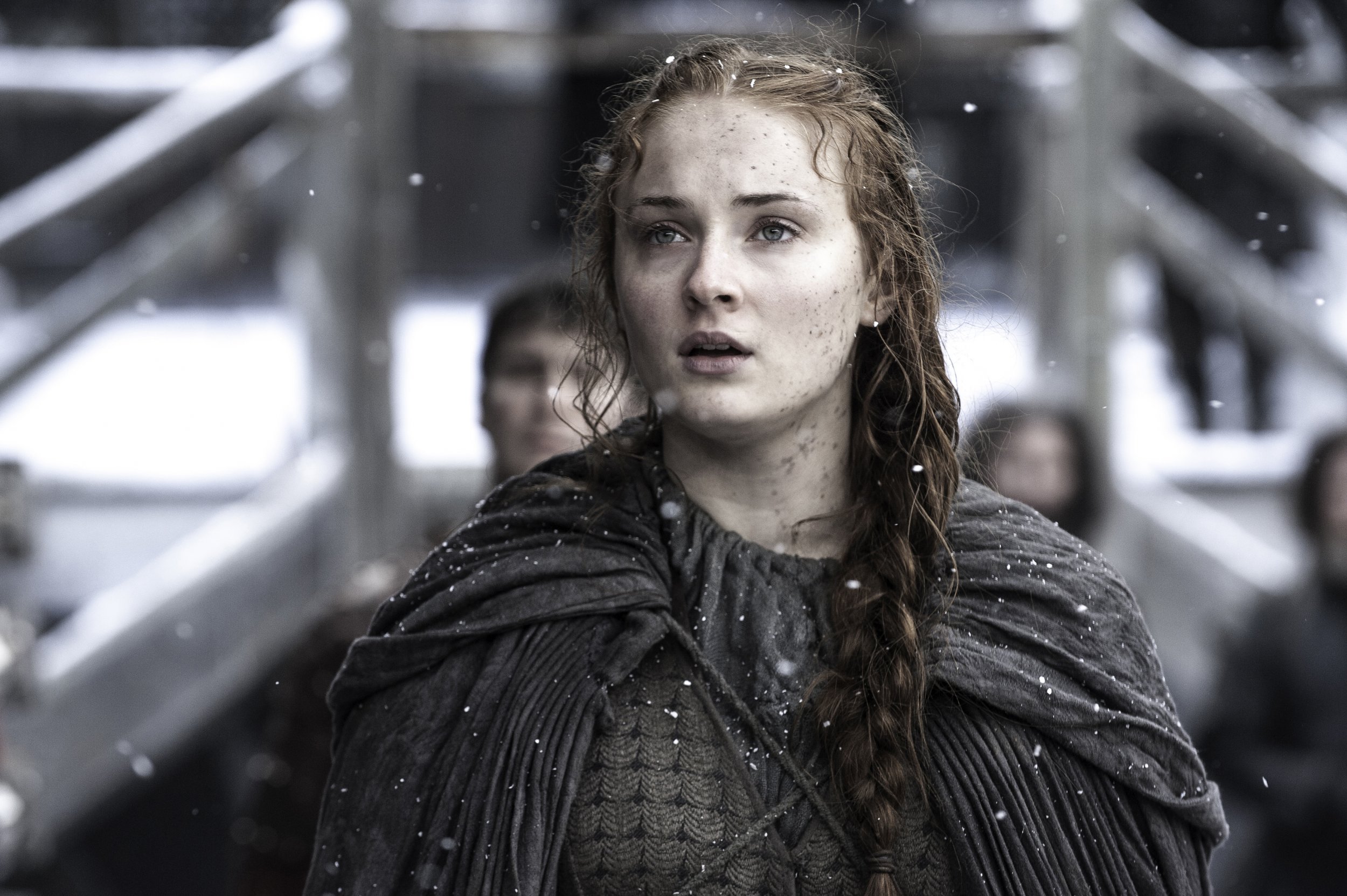 Game of Thrones ended on quite the cliffhanger for both Stark sisters Sunday. But while it's highly—we hope—unlikely Arya will succumb to her injuries after being stabbed by the Waif, the other mystery from "The Broken Man" has posited some interesting theories in the far reaches of the Internet.
To recap: After visiting various Northern-sworn houses to build an army against the Boltons, Sansa Stark and brother Jon Snow realized they were still short on enough men. (Scene-stealing Lyanna Mormont pledged just 62 soldiers.) This led to Sansa penning a letter asking someone for help behind Jon's back.
But what did it say and who was it sent to?
Reddit user CreepyPancakes managed to decipher the more legible parts of Sansa's letter, which appears to say:
"[...] to protect me. Now you have a chance to fulfill your promise. [...] Knights of the Vale are under your command. Ride north for Winterfell. Lend us your aid and I shall see to it that you are [well/properly] rewarded."
See a close-up of the letter below:
Judging from the above, it appears Sansa's letter is addressed to the very man who had her marry evil Ramsay Bolton, thus creating this whole mess in the first place: Littlefinger, aka Petyr Baelish.
Littlefinger is the stepfather of Robin Arryn, the Lord of the Vale, who commands the Knights of the Vale. Sansa is clearly hoping the soldiers under Arryn will come to her and Jon's aid, but instead of going straight to the source, she realizes Littlefinger is the one who really runs the show.
But it was just two episodes ago that Littlefinger was confronted by Sansa, who declared she never wanted to see him again for marrying her to Ramsay. "Did you know about Ramsay?" she coldly asked him in "The Door." It was also in that episode that Littlefinger managed to spark some dissent in Jon and Sansa's united front; he planted seeds of doubt by asking if she could really trust her brother.
After all that has passed, turning back to Littlefinger, Thrones' shadowy puppetmaster, may seem unwise. For five seasons Littlefinger's backroom double-dealing has made a powerful player in Westeros' political chess game: he is possibly the only person who manages to hold some sway with each of the great houses. What could he possibly ask for in return from Sansa?
But it's also possible, as Littlefinger actor Aiden Gillan pointed out recently, that the character has genuine affection for Sansa and holds himself responsible for her abusive marriage to Ramsay. "A lot of what I'm up to [this season] is atonement and really trying to align myself the right people," said Gillan. "I left Sansa married to a psychopath. It's probably the one time we've seen Littlefinger slip up. He really didn't know about him. He should have."
Has Littlefinger really seen the light, though? Already this season we've seen him create discord between Sansa and Jon, and threaten Robin's warden Yohn Royce—truly wielding his control over the little lord.
With just three episodes left in season six, it definitely looks like the wheels are in motion for a season-ending battle between the Starks and the Boltons. If indeed Sansa wrote to Littlefinger to pledge the Knights of the Vale to the Stark army, it looks like it'll pay off. The season six trailer released in March teased such a battle and it's fair to say the Starks had an ample contingent of fighters.
Hopefully the recipient will be kind enough to send a raven back in the next episode, "No One," airing Sunday.