Gamer Face Mask: Razer Zephyr Goes RGB to Combat COVID-19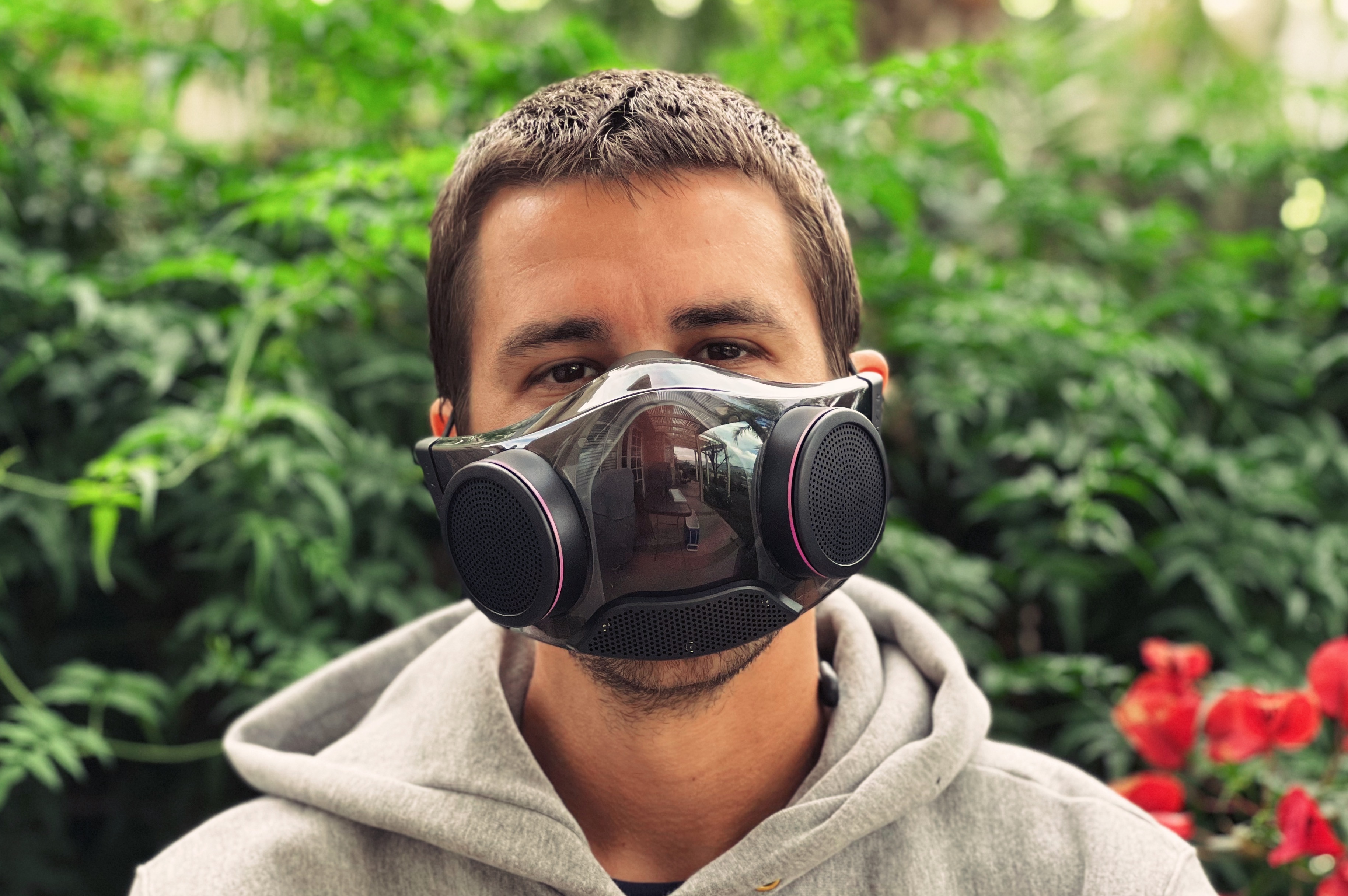 This story and headline have been updated to reflect Razer removing all claims that its Zephyr mask is N95 grade. We've removed all mentions of N95 protection from the story.
The contents of this article is for informational purposes only and does not constitute medical advice. It's important to consult with your medical providers and the CDC before making any medical decisions or changes to your health plan, particularly with regard to COVID-19 and its variants.
Goodnight iPhone, goodnight Oculus Quest, goodnight Razer Zephyr I plug in and put to rest. My ritual of plugging in electronic devices for overnight charging unexpectedly grew by one when the Zephyr face mask from gaming company Razer came in the mail.
Unlike more standard cloth face masks being worn to help stop the spread of COVID-19, Razer's Zephyr goes to the max with air-circulating fans, filters and multicolor lights. This face mask is a spectacle in nearly every way.
Razer first teased this Zephyr mask at the Consumer Electronics Show in January 2021. What started out as a concept product and a presentation of a fictional idea gained demand and turned into a $100 reality less than 12 months later. The idea of this Bluetooth-connected, futuristic face mask is compelling, especially to this technology enthusiast. But now that the Razer mask of the future is here, the question is not whether it is possible but, Should this have been done?
TL;DR
Pros:
See-through plastic allows the mouth to be visible
Cons:
Proprietary filters
Only one size and shape of the mask
Limited companion app functionality
Buy at Razer.
Features of the Razer Zephyr Face Mask
Before I get into the fit and feel of the Zephyr mask, let's go over the features that are present here.
The two circular protuberances on each side of the mask house small fans. The fans can run on either a high, faster mode or a low, slower setting for more or less airflow. Behind the circles, attached with magnets are filters. There's also a filter strip centered along the bottom of the mask.
RGB lights outline the circles and can be adjusted to different color patterns from the mask's companion app. There's a light inside the mask that can be turned on or off for lighting up a person's mouth. Those are the primary technology-based features, but the clear plastic front is touted for the benefit of being able to see someone's face.
Accessibility shouldn't be overlooked with a see-through, visible-face mask. There is a bit of irony here, though. It's hard to say seeing someone's mouth brings back a bit of humanity to safety protocols when the rest of the mask is a glimpse of humans' evolution into cyborgs. This mask may be fun, but it's not exactly welcoming for casual social exchanges.
Without using the lights and with the fans on low, there's an estimated 8-hour battery life. In my initial use, with the higher fan speed and lights glowing, I saw hours of wear and still didn't completely drain the battery. I would expect that most people would get at least close to a full day's use out of it. The fans or lights do not need to be in use, however, for the mask to function as intended. It can be used as a mask without turning these on.
Not PPE
It's important to note that while the assumption is that this mask will provide adequate protection against COVID and other germs, Razer is largely hedging, at least at launch: It calls this mask a wearable air purifier.
On its website, Razer states, "Zephyr is not a medical device, respirator, surgical mask or personal protective equipment (PPE) and is not meant to be used in medical or clinical settings. It is not tested specifically against the COVID-19 virus, but offers the same functionality and adequate protection due to its 99% BFE [Bacterial Filtration Efficiency] rating."
The device is FDA-registered and lab-tested, according to the company. (However, it is not FDA approved, an important distinction.) Razer also claims that it provides greater protection compared to disposable and cloth masks. It says that Zephyr complies with mask mandates in the U.S. and U.K. as of October 2021.
Zephyr Fit and Feel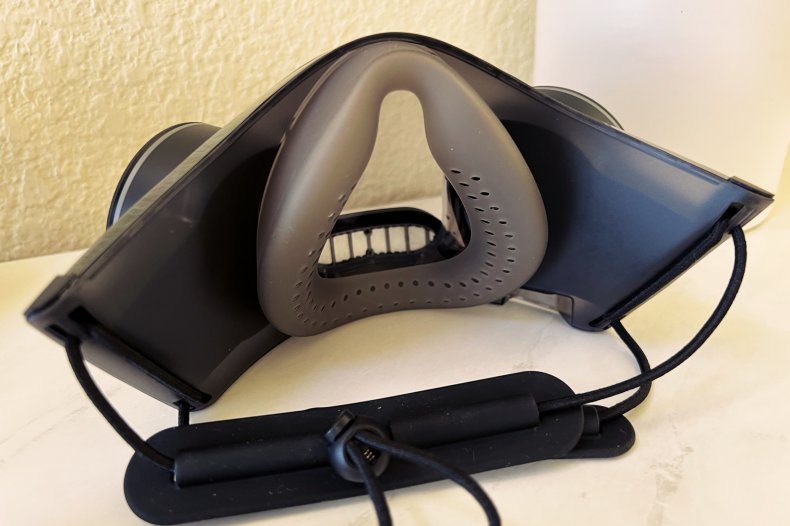 There's a silicone seal that surrounds the nose and mouth. For me, it fit as expected. The top part of the seal covers my nose, and the bottom sits between my lips and my chin. It doesn't feel too constricting, in general, but when I talk it does move and starts to ride up on my face. I usually need to pull it down after speaking more than a few words.
The mask looks substantial, but it's not too heavy. There are other reasons it can be hard to wear, but weight likely isn't one of them. The elastic straps do fine for holding the plastic mask in place without being too tight. The mask is quite bulky, though, so I imagine it would be difficult to do physical activities, like running, while wearing it.
Speaking of being bulky, the Zephyr does block some peripheral views. I didn't notice it at first, but my wife pointed out that I was constantly moving my head as I tried to see the computer keyboard or other objects typically in my sight line.
Razer says this mask is made to fit everyone. There's only one size available. It definitely doesn't fit children, though. My wife also claimed it didn't fit her adequately. Your mileage will vary in fit and, thus, the overall comfort of the device on your face.
Beyond those initial fit considerations, the main appeal for most people will be the two fans used for air circulation. This product highlight may convince people they need to spend the money at least to try the mask. That was the aspect I was most looking forward to experiencing.
I was thoroughly unimpressed with the fans used for circulating air. My mouth and the portion of my face covered still got warm. It's not like having a constant breeze being blown on you, if that's what you're expecting.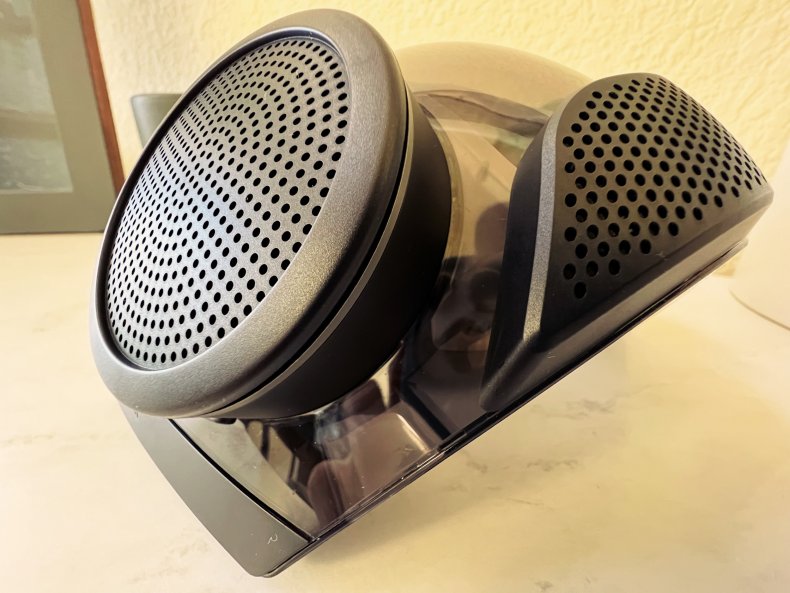 Any benefit from the fans is also overshadowed by the noise they create. On high, at 6,200 revolutions per minute, there is a constant high-pitched, but not always steady, hum. At the lower speed of 4,200 rpm, the whine is still very much present in a quiet room. On a city street, the noise created by the fans is dismissible. In most other public settings, even walking around a department store, I think the noise would make a lot of people feel self-conscious. I don't think the circulation it provides warrants the noise it makes.
Extra Costs
The three filters needed to cover the openings on the Zephyr are custom to this mask. Razer says the filters should be replaced every 72 hours unless exposed to high-risk environments, and then they should be replaced sooner.
There are three sets of proprietary filters in the box with the Zephyr; these should cover nine days of use. After that, more filters will need to be purchased through Razer. A month's worth (or thereabouts) of filters will cost $30.
If the fit was extremely comfortable or there was a compelling feature, i.e., a Bluetooth speaker and microphone built into the mask for taking calls more easily, then $30 a month might be more acceptable. As it stands, that's a lot of money for an already expensive mask.
Should You Buy the Razer Zephyr?
I'm glad that Razer pursued creating the Zephyr. There should be a lot more technological improvements to face masks. This particular $100 upfront investment for a $30 recurring monthly filter cost, however, isn't the right solution for most people. Its features don't justify its cost, but even more than that, its overall fit, feel and filters don't really justify wearing the Zephyr at all.
The Razer Zephyr could be a catalyst for future face masks, and I hope it is, but this first-generation mask isn't the crowning achievement many people expected it would be when the concept video was originally shown off.
At the time of release, the stock has been limited. There is a waitlist available for those interested.
Buy at Razer for $99.99.
Newsweek may earn a commission from links on this page, but we only recommend products we back. We participate in various affiliate marketing programs, which means we may get paid commissions on editorially chosen products purchased through our links to retailer sites.