Ganesh Chaturthi 2018: India Celebrates the End of the Hindu Festival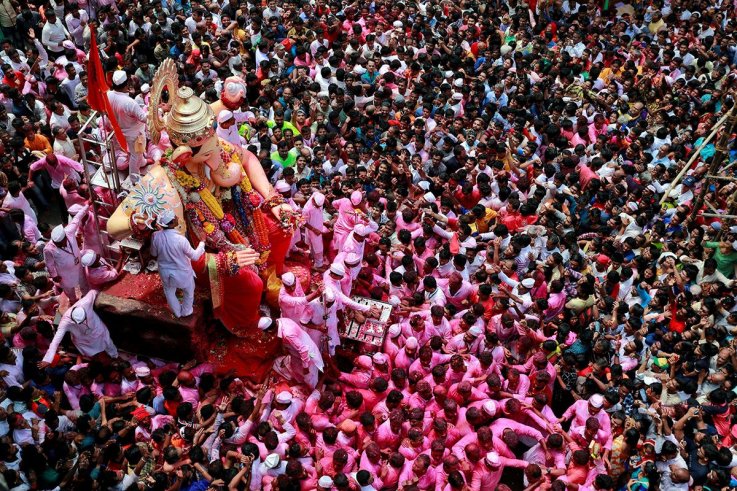 The 10-day Indian festival of Ganesh Chaturthi, which celebrates the birth of the Hindu deity Ganesha, ended on Sunday amid colorful celebrations.
The festival honors Ganesha, the god of wisdom and intelligence, and is celebrated across India with chanting, prayers, dancing, fasting and offerings. It begins with a ritual that is said to invoke life in the painted idols, followed by the chanting of Vedic hymns. The idols are then anointed with colorful sandalwood paste and flowers and given offerings.
During the festival the idols become the focus of public performances, which include devotional songs, dances and dramas. On the final day, devotees parade idols of Ganesha through the streets and offer prayers in temporary temples in order to invoke his blessings for wisdom and prosperity.
This procession culminates with the immersion of the idols in bodies of water, including the ocean, on the last day. This act of immersion symbolizes Ganesha's journey to Mount Kailas, the home of his parents.
However, the festival has attracted some controversy on social media this year due to the environmental damage caused by the abandoned idols and trash which ends up in seas, ponds and rivers.
The festival's origins are unclear, but it has been celebrated for hundreds of years. Ganesha is a popular deity across the different Hindu sects, and it is widely believed that he brings success and prosperity to worshippers.
Photos from the spectacular festival show celebrants lowering giant statues of the deity into the sea, and sometimes venturing into the water themselves to submerge statues of the elephant-headed god.
Street celebrations include the throwing of colored powder, confetti and flowers, as well as dancing to music from live drummers and other musicians.
These are the most spectacular photos from this year's event, a colorful highlight of India's cultural calendar.