Ganesh Chaturthi 2018: India Marks End of Birthday Festival for Elephant God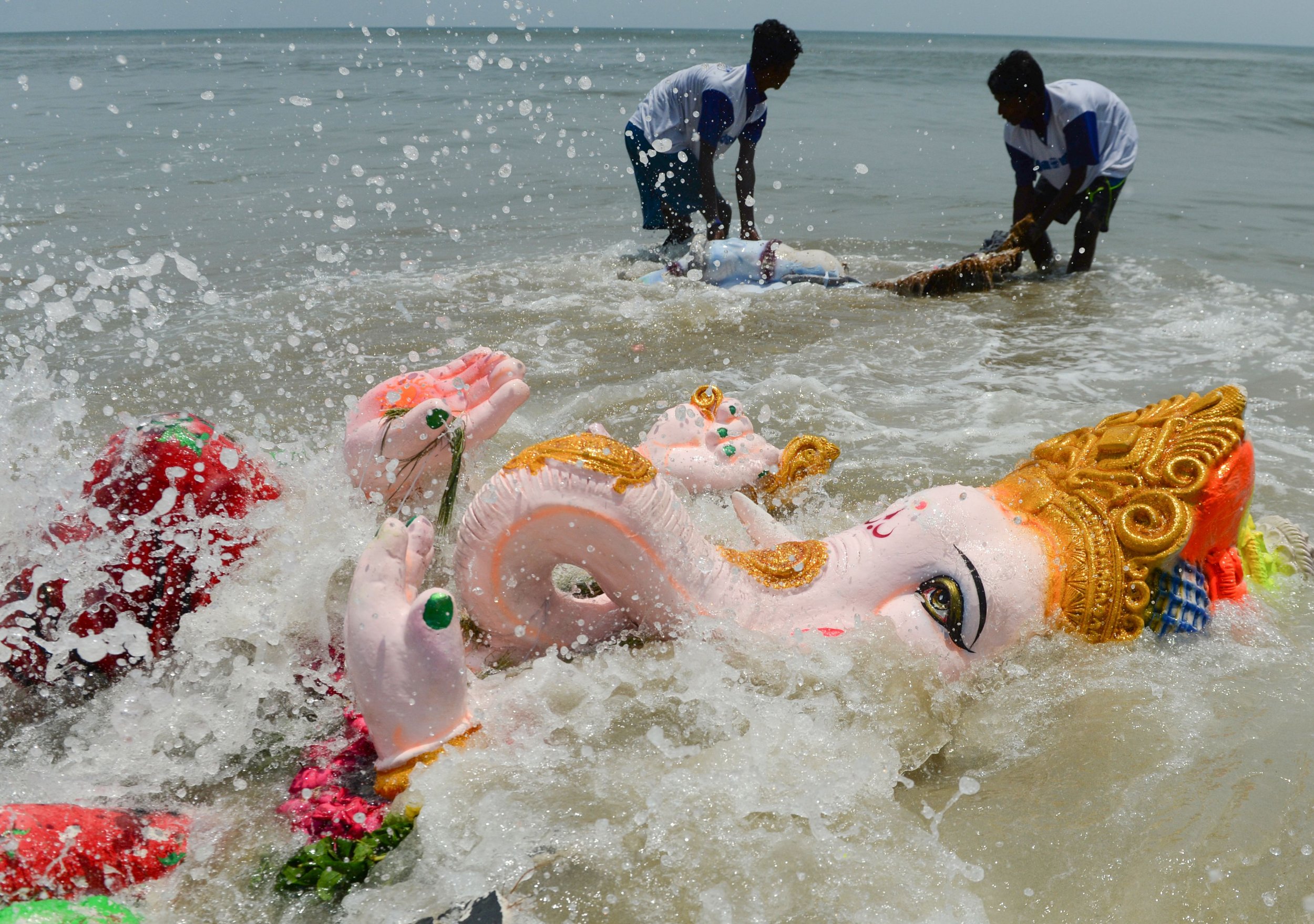 The 10-day Hindu festival of Ganesh Chaturthi marked in honor of the deity of prosperity and wisdom Ganesha in India.
The annual event takes place on the anniversary of the elephant-headed god's birthday in the sixth month of the Hindu calendar, which usually falls between August and September. This year the date fell on September 13 and the closing rituals and ceremonies are taking place on Sunday, September 23.
The celebration, which is one of the most significant ones in the Hindu calendar, involves the raising of Ganesha idols at home or outdoors and then commencing a ritual to invoke life in them, called the pranapratishtha . One of the traditions that follows is the offering of food to Ganesha, such as coconut, jaggery, and 21 sweet dumplings known as modaks, believed to be the god's favorite food, according to the Encyclopaedia Britannica.
The final day of celebration is known as Anant Chaturdashi when groups gather to sing and dance to the beat of traditional drums. The marquee moment of the day is when a procession carried idols to the god in the nearest river or large water body in what is meant to be symbolic of Ganesha's own legendary journey to the residence of his parents Lord Shiva and Parvati—Mount Kailash. The Himalayan peak is an area of pilgrimage for devout Hindus, though setting foot on its summit physically is forbidden.
The story of Ganesha's birth explains his instantly recognizable appearance, as the goddess Parvati created him and told him to stand guarding her door while she bathed, according to India's public broadcaster NDTV. Ganesha took her instructions to heart and when Shiva arrived and asked the boy to let him through, he refused and prepared to fight the god away. In a fit of anger, Shiva struck Ganesha and beheaded him. Parvati discovered what had happened too late. Distraught, she asked Shiva to somehow revive the decapitated Ganesha, prompting the god to scramble in order to find a head as soon as possible. Spotting an elephant, Shiva took its head and placed in on Ganesha, to bring Parvati's child back to life.
Ganesha is celebrated as a patron of travelling and a remover of obstacles in India, which is why he is often honored whenever people embark on new journeys or enterprises, such as the start of the school year. He is also known by the names Ganapati, Ekadanta, Vinayaka, Pillaiyar and Heramba, worshipped widely across the various regional Hindu traditions, according to BBC.