Gang of 13 Men Arrested in String of Celebrity Los Angeles Burglaries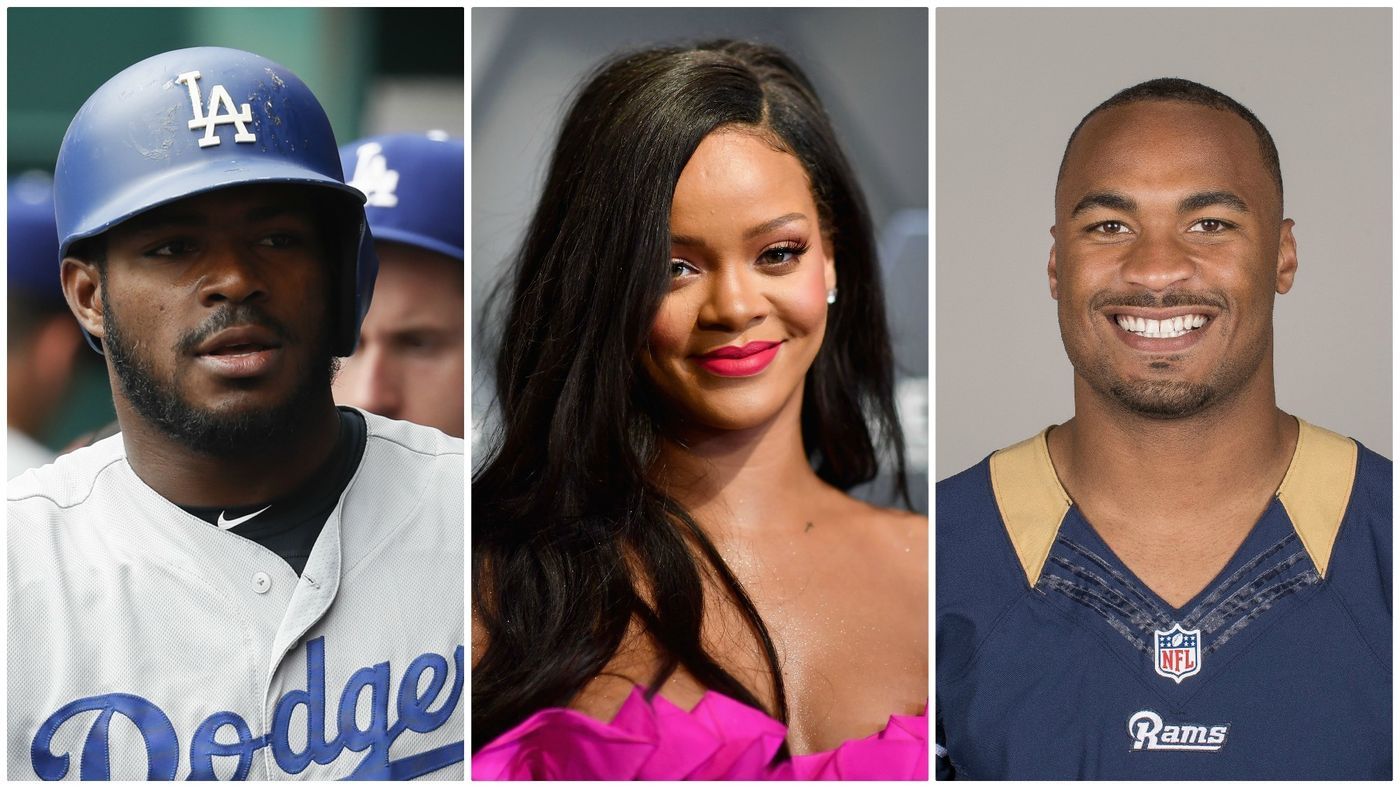 A series of burglaries targeting wealthy athletes and other celebrities in Los Angeles has resulted in the arrest of several men with alleged ties to a local gang.
Thirteen men, ranging in age from 18 to 25, were arrested and charged each with 33 felony counts related to a burglary and home invasion spree stretching from October 2017, the Los Angeles Times reported.
Police say the accused have ties to a South Los Angeles street gang. Ten of the 13 are behind held on multimillion-dollar bail.
Charged with felony burglaries, home invasion robberies and gang conspiracy, the accused targeted professional athletes like right fielder Yasiel Puig of the Los Angeles Dodgers and wide receiver Robert Woods of the Rams – often when they were away from home during games.
Other celebrities the men targeted include singer Rihanna and singer/actress Christina Milian. In the home of one the accused, police discovered evidence of future targets, including Los Angeles Lakers star LeBron James, actor Matt Damon and actress Viola Davis, LAPD Capt. Lillian Carranza said.
Carranza added that detectives found evidence linking the men to other celebrity burglaries.
"We aren't talking just celebrities — athletes, singers, performers," L.A. County Deputy District Attorney Richard Ceballos told the LA Times. "We believe they are responsible for many more crimes in other places — Pasadena, Santa Monica and the sheriff's jurisdiction. They targeted people they thought had money."
L.A. County Deputy District Attorney Richard Ceballos said he expects the suspects to face charges stemming from other burglaries and robberies in the homes of wealthy Southern Californians. He added the accused are documented gang members who have lengthy criminal records and are documented gang members
Among those arrested are Tyress Lavon Williams, who police charged with four burglaries last month and two of his alleged accomplices, Jshawne Daniels, 19, and Damaji Hall, 18, on rearrests.
They and 10 others were charged Nov. 7 in a broader burglary ring. Authorities said they followed personal schedules, social media sites, monitored real estate apps and more to detect when a target would be gone from home. The ring also targeted people of Asian descent, too.
Others arrested are Elan Lamberto Gabourel, 25; Hassan Deontre Murphy, 19; Joseph Holley, 22; Lance Williams, 18; Devin Garner, 24; Ron Simmons, 20; and Donnie Faizon, 21. Police are looking for three other men charged in the sophisticated crime ring.
In one of the burglaries, thieves stole $50,000 in cash, plus Rolex watches, purses and jewels. In a separate robbery in March 2017, burglars stole $170,000 in jewelry from a home Puig owns in Sherman Oaks.