Gang Drops Nazi Symbolism in Wake of New Zealand Terror Attack
The biggest chapter of one of New Zealand's most feared gangs will no longer use Nazi symbolism in the wake of the massacre in Christchurch.
For more than 50 years, the Mongrel Mob has used the rallying cry "Sieg Heil!" and appropriated Nazi imagery in its designs.
But Paito Fatu, who heads the gang's largest chapter, the Mongrel Mob Kingdom, said that in light of the attacks, allegedly carried out by a self-confessed white supremacist, there had been a change of thinking.
"I like our brothers and sisters to acknowledge each other by saying 'Mongrel Mob'" he told Maori Television's Te Ao ["The World"].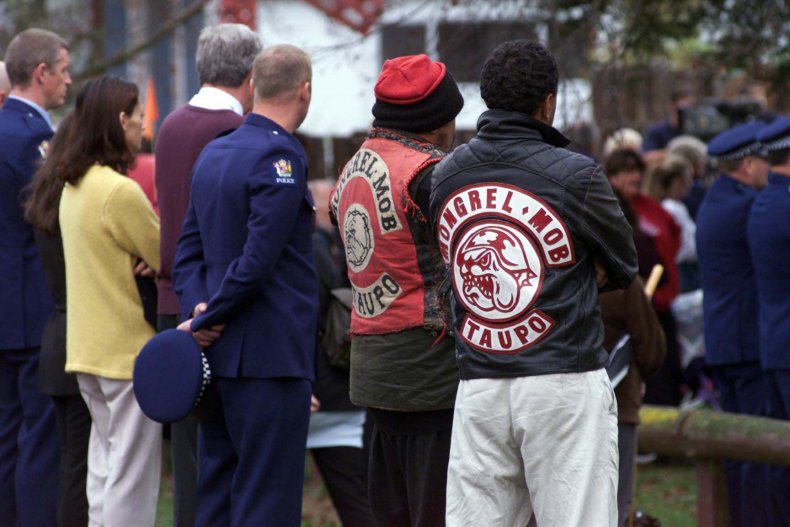 The gang emerged in the 1960s from a group of mainly European young men in the North Island cities of Wellington and Napier. It reputedly got its name after a judge referred to them as a group of "mongrels." Nowadays most of the members are from Maori or other Polynesian ethnic groups.
They have since embraced symbols associated with Hitler, insisting that this was an anti-establishment, rather than anti-Semitic, practice. These include wearing patches of allegiance that feature a swastika and a British Bulldog wearing a German military helmet.
They have a fearsome reputation for violence and are noted for their drug running. Fatu signaled that this would change.
"It's about a big mind shift. It's about getting out there and doing things productively, constructively and positive to the best of our ability. Doing what everyone else is doing and trying to do a little bit better," he said.
After last week's massacre at two Christchurch mosques, his gang joined other prominent New Zealand gangs like Black Power, King Cobras and Hells Angels in offering to protect mosques in solidarity with the Muslim community.
Fatu said, "I look at this era as a healing time. When we look back at how we used it, it was rebelling against the system. Anything that the system saw was evil and bad, we [adopted] some of those and that was just our way of [giving] the system the finger."
The Mongrel Mob Kingdom he heads in the North Island region of Waikato is the fastest growing chapter in the gang, with 400 members. It has another 200 members globally, including in Canada, Russia, France and the Solomon Islands, Stuff reported.
One gang member, Te Taiaha Whero Rehua, said he welcomes the change but he needed to get used to it.
"Coming away from 'Sieg Heil!,' I guess I've adapted to it over time. My whole background has always been 'Sieg f***ing Heil!' since birth. That's all I ever knew.
"I didn't really look at it in-depth, with Hitler and that sort of stuff. I just grew up knowing it was Mongrel Mob. But it's positive as. It's come away from 'f*** the society' and all that sort of stuff."
Fatu told Maori Television most regional chapters were not ready to follow suit and he would not attempt to sway them.
"When we do engage with other mob chapters, when they come up to me, most of them will say, 'Mongrel Mob.'
"Hopefully this kōrero ['story'] here may resonate to some of our rangatira ['leaders'], perhaps outside to our extended families, to think about things," he added.