Gang Crimes: Will Black and Hispanic People Be Targeted by New North Carolina Law?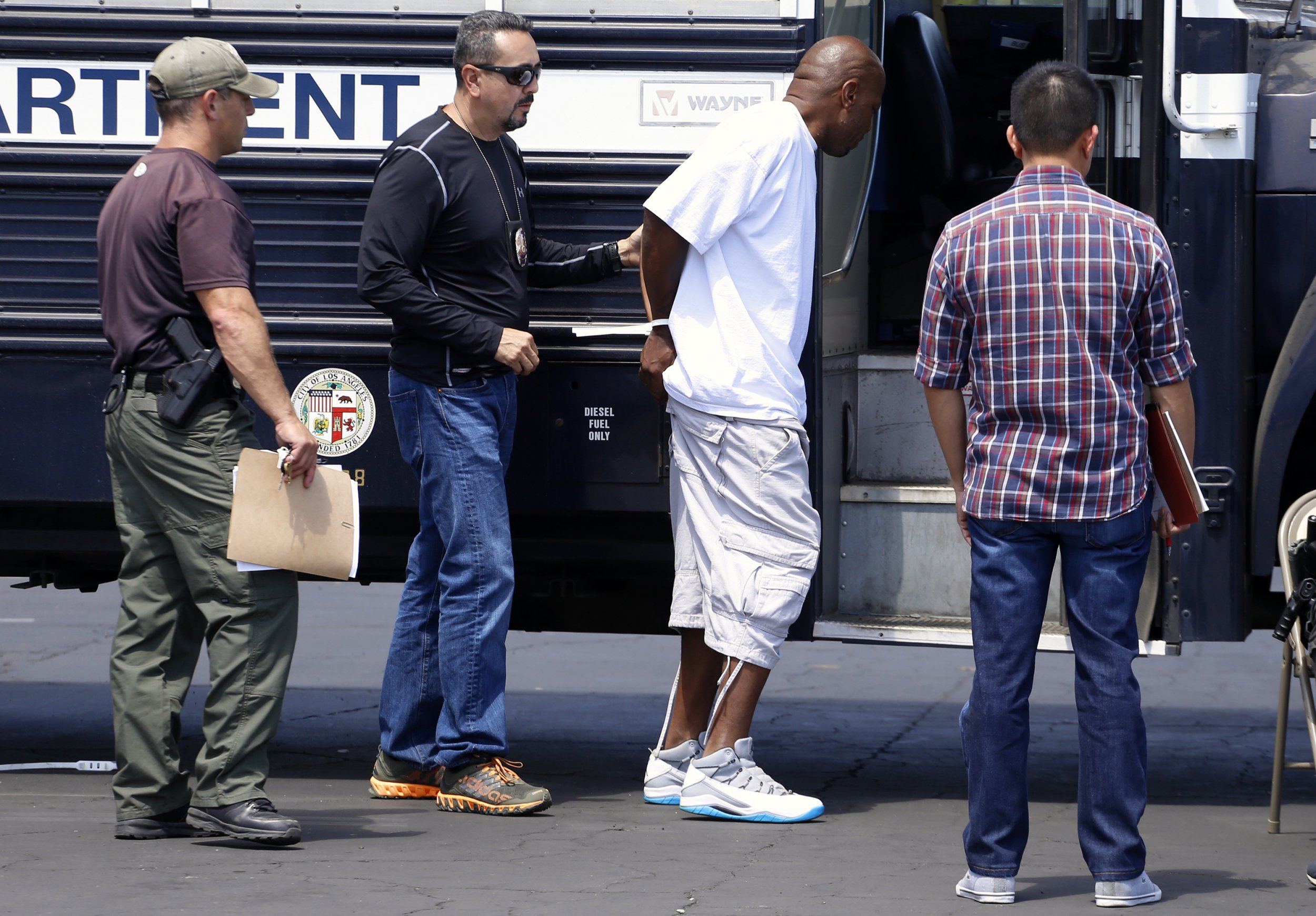 North Carolina has passed a law that sets harsher sentences for gang members convicted of crimes connected to organized crime, focusing attention on the issue at a time when President Donald Trump gives speeches calling gang members "animals." The state legislators who sponsored the bill said the old gang laws weren't working and needed to be updated in order to fight gang crime—but civil rights advocates and gang experts say it will disproportionately affect minorities and do little to cut crime.
The new law says a gang member convicted of a felony will be sentenced at a higher level than the crime of which he or she was found guilty. For example, a person convicted of shooting a gun into a house or car—a class E felony—could expect a sentence of less than two years in prison. But under the new law, a gang member convicted of the same crime would be sentenced as if it were a more serious class D felony and would likely receive a sentence of at least four years behind bars. (Sentences for the most serious crimes, like murder, are not upgraded under the new law.)
Civil rights groups have raised constitutional concerns about harsher sentences for gang members, and last year a Tennessee court struck down a state law allowing long sentences for gang members. The ACLU says the criteria in the North Carolina law for determining whether someone is a gang member are vague and could apply to ex-gang members or people who simply live in neighborhoods where gangs are active.
"There a lot of explanations for those behaviors that don't necessarily have anything to do with gang membership, either previous or current," Susanna Birdsong, policy counsel for the ACLU of North Carolina, tells Newsweek, naming criteria like hand signals, clothes, tattoos and language as examples. "They are casting a wider net than is necessary and it's an invitation to racial profiling."
Young black and brown men are disproportionately profiled as gang members, Birdsong said, so the new law could mean longer sentences for those minority groups as well as higher rates of recidivism that can follow longer sentences.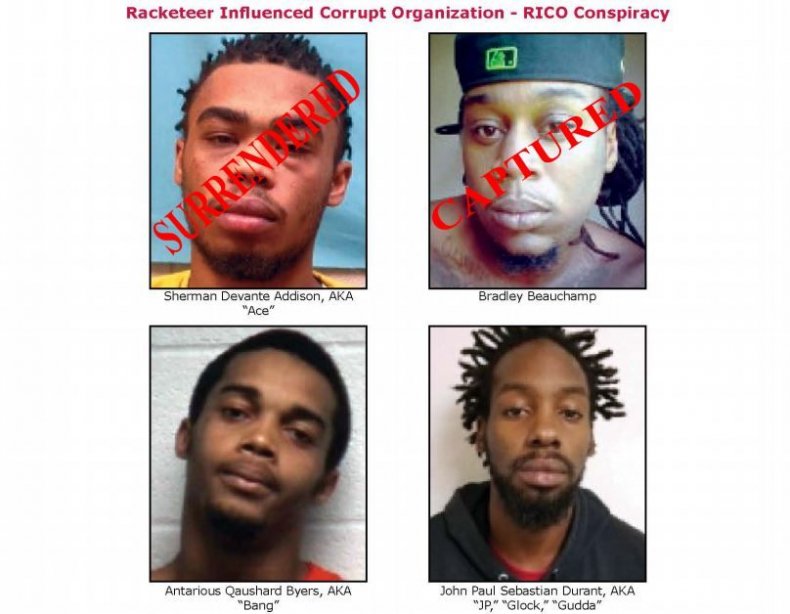 A gang expert tells Newsweek he doesn't think sentencing enhancements for gang members are effective in cutting gang crime. "Is that going to stop people from joining gangs? The answer is probably not," says Jeffrey Wennar, a former gang prosecutor in Maryland who now is the legal counsel for the National Alliance of Gang Investigators Association. "They're not saying, 'Oh geez, Johnny just got 20 years because he's a gang member, I'm not going to join a gang because of that.'"
Wennar also says gang sentencing enhancement laws have a potential to affect minorities disproportionately. He compares laws like the one North Carolina just passed to the harsher sentences for offenses involving crack cocaine (which is mostly used by black people) than for powder cocaine (which is mostly used by white people).
As an example, Wennar describes a young man hanging out with his cousin, who happens to be in a gang, and then getting arrested. "Some of the state statutes say association with known gang members is a valid criteria [for gang membership] when in fact you have no relationship to a gang," Wennar says, adding that this is more likely to happen to black or Hispanic people. "I don't want to see [such laws] applied unfairly," Wennar says. "I don't want people targeted because of their minority status or geographic status [or] because they live in an inner city."
But the state legislators who sponsored the bill noted that it passed unanimously in the state Senate and by a vote of 109 to 5 in the House, and that the law needed to be updated.
"The old law was not working so I worked with many experts from across the state to write new legislation. I believe it will work and it is good legislation as witnessed by the broad bipartisan support. Time will tell," Representative Allen McNeill, a sponsor of the bill, tells Newsweek in an email.
"The Gang Laws had not been changed in years. With the gang problem in most communities, we were asked to look at these and try to update them," says Representative Pat Hurley, another bill sponsor. "In North Carolina, we have a gang problem in our schools, our communities and in our jails and prisons. Something needed to be done and I feel this was a good beginning to address this issue."
The new law is even harsher on gang leaders than it is on rank-and-file gang members. (North Carolina is about 70 percent white, 20 percent black and 10 percent Hispanic.) If someone "is found to be a criminal gang leader or organizer, the person shall be sentenced at a felony class level two classes higher than the principal felony for which the person was convicted," states the bill, which was signed into law late last month.
In order for a defendant to be judged a gang member and sentenced at a higher felony class, the law, which was sponsored by eight white Republicans, says the individual must meet three or more criteria from a list that includes being previously involved in gang activity, having tattoos linked to a gang or using language or slang associated with a gang.
The new sentencing guidelines and criteria are amendments to a state law passed in 2008 that targeted gang members, but that was criticized by prosecutors and police as vague and ineffective. The old law established separate charges for gang activity, even making it a class H felony to "conduct or participate in a pattern of criminal street gang activity," whereas the new law instead sets stricter sentences for crimes committed by gang members.
Local law enforcement leaders praised the new law, which was sparked by testimony at legislative hearings last year about an imprisoned gang member who orchestrated the kidnapping of the father of the prosecutor who got him locked up for life.
"I support the enhanced sentencing components of HB138 as a method to alleviate our communities of the most violent gang members," Rocky Mount Police Chief James Moore told the local newspaper. "There are a multitude of gangs operating in North Carolina and our region of the state. There are traditional street gangs, outlaw motorcycle gangs and white supremacist gangs."
The move by North Carolina follows a precedent set by 30 other states across the country in mandating harsher sentences for gang members, according to a database maintained by the National Gang Center. In some states, gang membership can make for a much harsher sentence. In Indiana, for example, a defendant who is convicted of a felony and found to be a gang member can be sentenced to an additional prison term equal to the sentence for the felony—effectively doubling the time to be spent behind bars.
Other states that enhance sentences for gang members increase the punishment by smaller amounts. Montana law, for example, says: "A person who is convicted of a felony that the person committed for the benefit of [a] criminal street gang...shall, in addition to the punishment provided for the commission of the underlying offense, be sentenced to a term of imprisonment in a state prison of not less than 1 year or more than 3 years."
The day after North Carolina Governor Roy Cooper signed the gang bill into law, Trump gave a speech in his home state of New York promising to "dismantle, decimate and eradicate" gangs. "Together, we're going to restore safety to our streets and peace to our communities, and we're going to destroy the vile criminal cartel, MS-13, and many other gangs," said Trump, who also spoke about gangs and "American carnage" in his inauguration speech.
The new law takes effect on December 1 and applies to crimes committed on or after that date.