The Gang Rape and Murder of a Woman Renews Outrage in India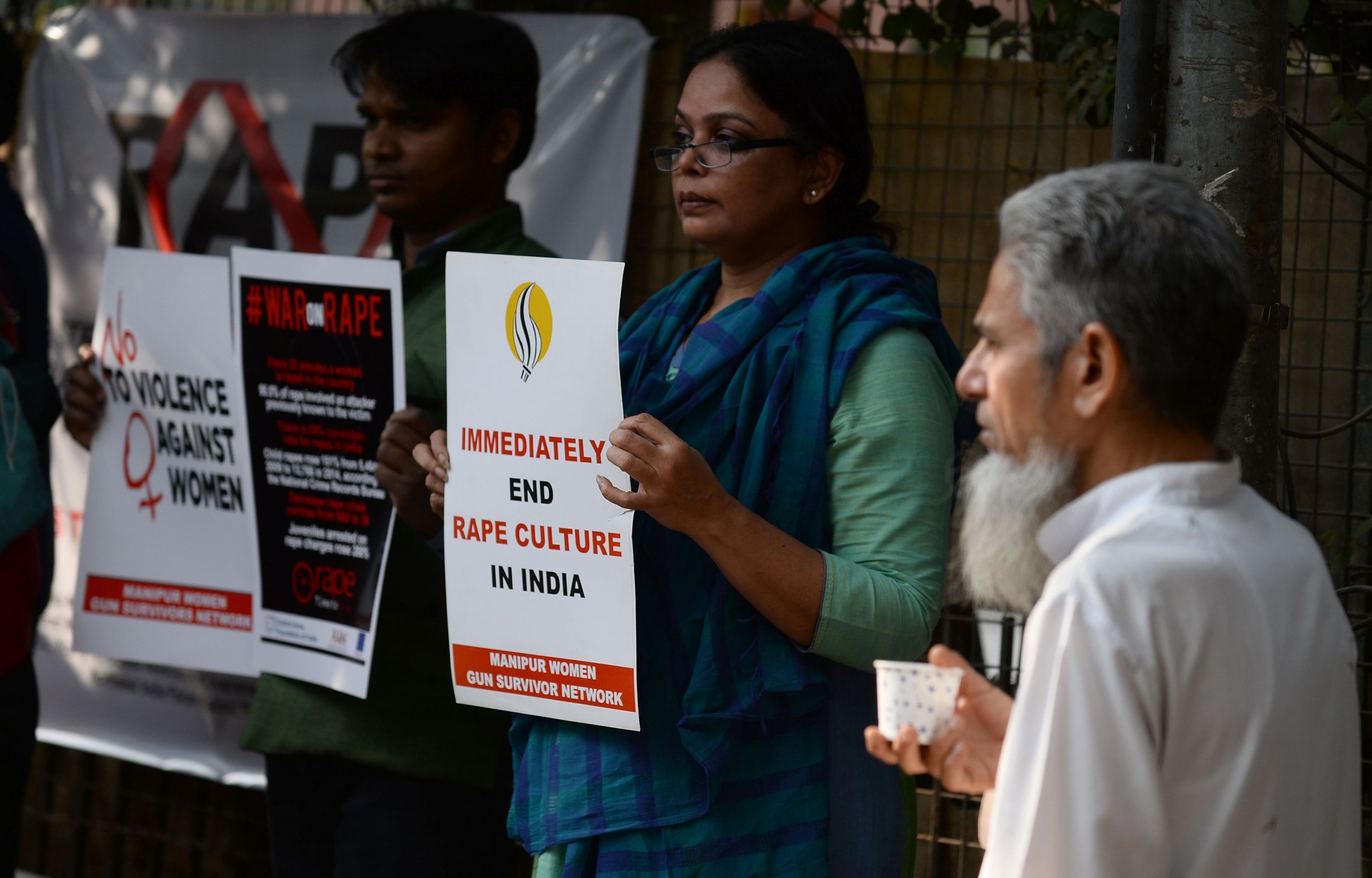 A new case of sexual violence has shocked India, as details of a woman's kidnapping, gang rape and murder emerged over the weekend.
The woman, in her early twenties, went missing on May 9, a month after she reported a man for harassment. The man, Sumit, is one of two suspects detained by police on Saturday, two days after the woman's mutilated body was found on the outskirts of the town of Rohtak, some 45 miles from the capital of New Delhi, police officials told reporters.
Injuries on the woman's body suggest the aggressors raped and later violated her with sharp objects. The fractured skull indicated they also struck the woman in the head with a brick. Stray dogs had bitten off parts of her body.
According to the preliminary police investigation, Sumit had been stalking his would-be victim, repeatedly asking her to marry him. The woman's family is seeking the maximum penalty against him, they announced at a press conference on Sunday. Her mother said she had reported his abusive behavior to the police, but officials claimed the verbal complaint had been withdrawn at a later stage after a disagreement was settled between the two parties, Reuters reported.
The Indian National Congress party leader Sonia Gandhi condemned the crime in a statement on Twitter expressing "deep shock and outrage." Delhi Commission for Women chief Swati Maliwal Jaihind also commented at the news.
"One more Nirbhaya. One more life destroyed. We are failing our daughters. When will crime against women end? Perpetrators should be hanged immediately!" she wrote on Twitter, referring to the 2012 gang rape and murder in Delhi of 23-year-old physiotherapy student Jyoti Singh, initially known by the pseudonym Nirbhaya ("Fearless" in Hindi). A Supreme Court verdict earlier in May confirmed the death sentence for the four rapists.
Nirbhaya's case sparked national protests and a conversation about violence against women, in India and in the rest of the world. Still, in 2015, Indian authorities censored a 2015 BBC documentary discussing the gang rape, India's Daughter citing "an international conspiracy to defame" the country.
Read more: India's rape crisis is worsening, and there still isn't a national registry for sex offenders
In 2014, prime minister Narendra Modi highlighted the plight of gender-based violence in his first Independence Day address. "When we hear about incidents of rape, our heads hang in shame," Modi said at the time. "I want to ask every mother and father, you ask your daughters, 'Where are you going, who are you going with?' But do you ever ask your sons these questions? After all, those who rape are also someone's son."
Despite the international furor at the 2012 and ensuing cases of gender-based violence in India, the deadly sexual assault in Rohtak is not an isolated incident. Two other rapes were reported in the past few days.
A 22-year-old woman was dragged into a car where three men raped her in the early hours of Sunday, before throwing her out of the moving vehicle speeding towards Delhi, local media reported. In Kolkata, a 75-year-old woman was reportedly raped in her home by a neighbor late on Friday night. "Criminals in India seek out and predate on women who live alone," anti-violence campaigner Rita Banerij commented as she shared the news on Twitter.
Crime data from the Home Affairs ministry's National Crime Records Bureau counted 34,771 female victims of reported rapes in India in 2015, almost one every 15 minutes. In more than 90 percent of the cases, the perpetrators were known to the victim.