Heavy Rains Expose Hundreds of Shallow Graves in India
Police in India are investigating the discovery of hundreds of bodies found buried in shallow sand graves on the riverbank in Prayagraj, a city in the northern state of Uttar Pradesh. The graves were discovered after heavy rains on May 14 exposed the bodies and caused other human remains to wash up on the Ganges River banks.
Local media have claimed there are more than 1,000 graves, and some outlets as well as social media sources claim the sites contain bodies of COVID-19 victims, according to the Associated Press. The Indian government has downplayed both the number of graves and a possible coronavirus link.
"I bet these bodies have nothing to do with COVID-19," Navneet Sehgal, a state government spokesman, told the AP on Sunday. He said state authorities had found "a small number" of bodies on the riverbanks but did not provide a figure.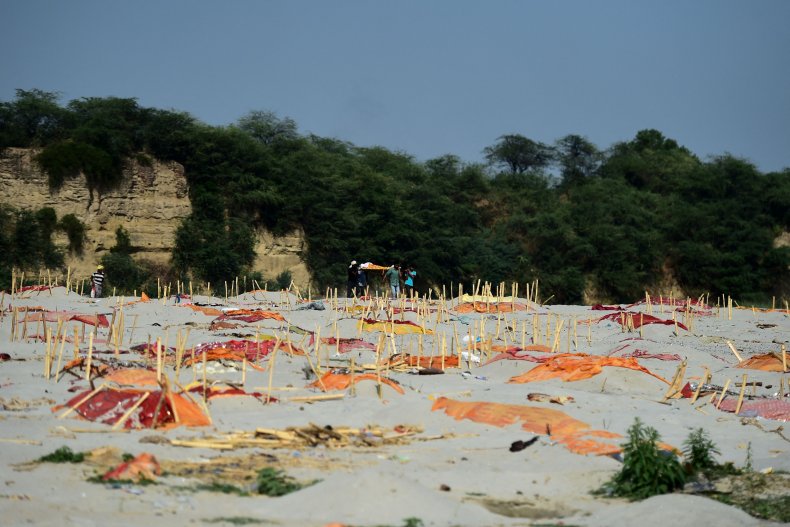 Authorities reported at least 70 bodies that had washed up on the banks of the Ganges had come from Uttar Pradesh. In the following days, the regions of Ghaziabad, Kanpur, Unnao, Ghazipur, Kannauj and Ballia also reported unearthed graves. These areas are said to be among the worst affected by the pandemic.
The Hindi daily Dainik Bhaskar said its reporters found more than 2,000 corpses along the Ganges, with 900 dead bodies along the river in Unnao alone. It said 350 were found in Kannauj, 400 in Kanpur and 280 in Ghazipur.
An AP photojournalist estimated at least 300 shallow riverside graves were on a sandbar in Prayagraj—each covered by an orange, yellow or reddish cloth.
"Many villagers who are poor and have not heard of the effects of COVID are dumping bodies in the holy Ganges River instead of cremation," A local villager from Unnao is quoted as saying by Radio France International. "There is also a shortage of wood for cremation—and it is expensive."
A member of Bondhu Mahal Samiti, a philanthropic organization that helps cremate bodies, said poor people in rural areas have been disposing of the bodies because the cost of cremation cost has tripled up to 15,000 rupees ($205).
Meanwhile, while investigations continue, the AP reported that police have been traveling in jeeps and boats along the areas of the graves with microphones, telling people not to put bodies in the rivers or banks.
India's Ministry of Health and Welfare reported that there have been at least 25,228,900 confirmed cases of the coronavirus in the country. As of Tuesday morning, 278,719 people had died. Experts believe that the actual death count far exceeds official figures.