Gangster John Dillinger's Body To Be Exhumed In September: Here's Why
John Dillinger's body may not be at rest for long, due to a permit to exhume his body from an Indiana cemetery in September. The famous gangster's casket is assumed, by some, to be empty. The exhumation will aim to put the conspiracy to rest by proving that Dillinger's body is inside.
The process may be difficult, though, because of a concrete barrier that was put above Dillinger's casket a few days after his initial burial. This was a decision by Dillinger's father to prevent grave robbers and vandalism of the public figure, according to The Huffington Post.
The exhumation is tentatively expected to happen on September 16 in the Crown Hill Cemetery. It's been formally approved by a family member of Dillinger, his nephew Michael C. Thompson.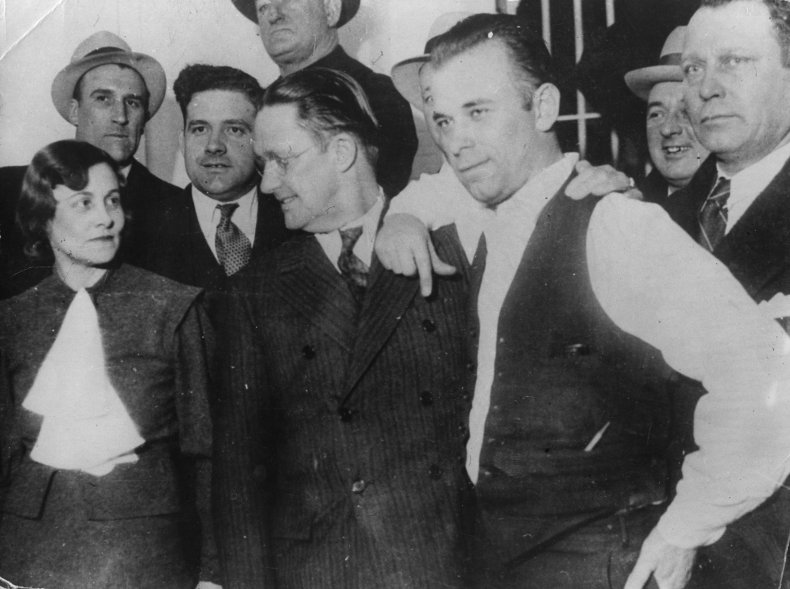 The wild conspiracy theory says that Dillinger's father really had the concrete barrier placed above the grave for this very moment: a movement to exhume Dillinger's body. The theory, which has never been proved and is nothing more than rumor today, explains that Dillinger was not actually killed by an FBI agent in Chicago. Instead, a duplicate was killed in a trick by Dillinger, and he lived on with no further conflict.
While there's seemingly nothing to prove this theory, exhuming the grave may be the best way to show that the person inside the casket is, in fact, Dillinger.
So who was John Dillinger?
Before his death, Dillinger was one of America's most notorious gangsters. The killer roamed the Midwest and committed a series of heinous crimes and murders, including robbing banks, staging jailbreaks and killing 10 men in less than a year, according to the FBI.
Dillinger was in jail awaiting trial before he was killed. He escaped from the Indiana prison and made his way to Chicago. He was killed outside of the Biograph Theatre, now called the Victory Gardens Theatre. The theater is still operational and sits on the outskirts of the DePaul University campus.
Dillinger is one of the most known gangsters in American history. His story has become the bases for a handful of movies and other entertainments, including Public Enemies, starring Johnny Depp, and even a film titled Dillinger released as early as 1945.