GOP's Gardner Trails Nine Points in Colorado Senate Race as Independents Break for Hickenlooper
Republican Senator Cory Gardner is trailing his Democratic challenger John Hickenlooper by nine points with less than two months to go until polling day, new polling data shows.
The new battleground state survey from Morning Consult found that 48 percent of likely voters in Colorado intended to back Hickenlooper on November 3 as just 39 percent favored Gardner for another term in the upper chamber.
When the pollster last surveyed likely voters in the state, Hickenlooper's lead was three points tighter, with 48 percent leaning toward the challenger and 42 percent backing Gardner.
A shift in the mood among independent voters is partly behind the growing distance between the Senate candidates. Asked whether they would be voting for Hickenlooper or Gardner in July, 48 percent of local swing voters opted for the Democrat as 35 percent favored the Republican incumbent.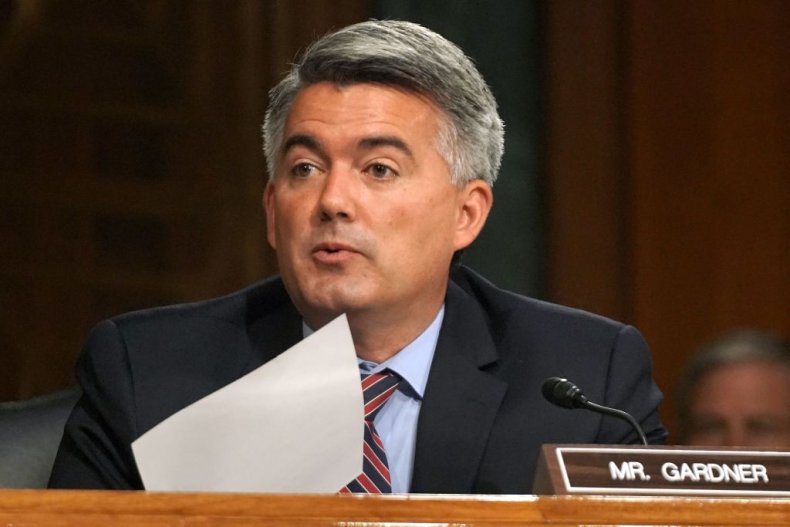 A month later, a majority of Colorado independents (54 percent) picked Hickenlooper as their preferred candidate, while just a quarter said they would vote for Gardner—putting a 29-point chasm between the candidates.
Among all likely voters surveyed in the state, Democratic presidential nominee Joe Biden held a similarly strong lead over President Donald Trump.
Fifty-one percent said they would vote for Biden in less than two months time as 41 percent chose Trump, separating the pair by 10 percentage points. Independents were again found to be key deciders, with only 28 percent of the swing voters telling pollsters they would vote for Trump.
Morning Consult surveyed 638 likely voters in Colorado between August 21 and August 30 for its new swing state poll. Its margin of error is four percentage points.
The firm released its latest data from Colorado as a separate survey from the state and found Hickenlooper leading Gardner by the same margin at the end of August.
Public Policy Polling discovered that 51 percent of Colorado voters backed the Democrat as 42 percent broke for Gardner, a gap of nine points that still marked a two-point improvement on June for the Republican incumbent.
According to Federal Election Commission campaign finance data, Gardner's coffers are still stronger than Hickenlooper's, despite his performance in the polls. At the time of writing, the Republican has more than $10 million on hands as his Democratic challenger has $4.5 million available.
Cook Political Report analysts have rated the Colorado race a "toss up" contest that could end up in an upset for the GOP senator.
The Denver Post reported on Thursday that the candidates had reached an agreement on a TV debate set to be hosted by the newspaper and local broadcasters at 7 p.m. EST on October 9.