Champions League Final 2017: Gareth Bale and Real Madrid Arrive at Awkward Crossroads in Cardiff
To say that the Champions League final of 2017 should have been Gareth Bale's crowning glory as a professional footballer would be to risk the ridicule of oversimplification.
So here goes. The Champions League final of 2017 should have been Gareth Bale's crowning glory as a professional footballer.
It's too perfect. Bale, a sleek racehorse of a winger, entering his prime at 27, and returning to his hometown of Cardiff for club football's starriest one-off event.
Sure, Bale has had great moments before—in Champions Leagues, even, in finals, even more. It was he who quenched the last of Atletico Madrid's seemingly unquenchable spirit in the 2014 final in Lisbon with a header in extra time, the go-ahead goal.
Newsweek subscription offers >
On that night, everything seemed possible for the man who was then, according to the British press, if not his club, the world's most expensive footballer. Bale's contribution to the 2016 final was not as noteworthy but he played the whole game and scored a penalty as Atletico was crushed again, perhaps even more painfully this time.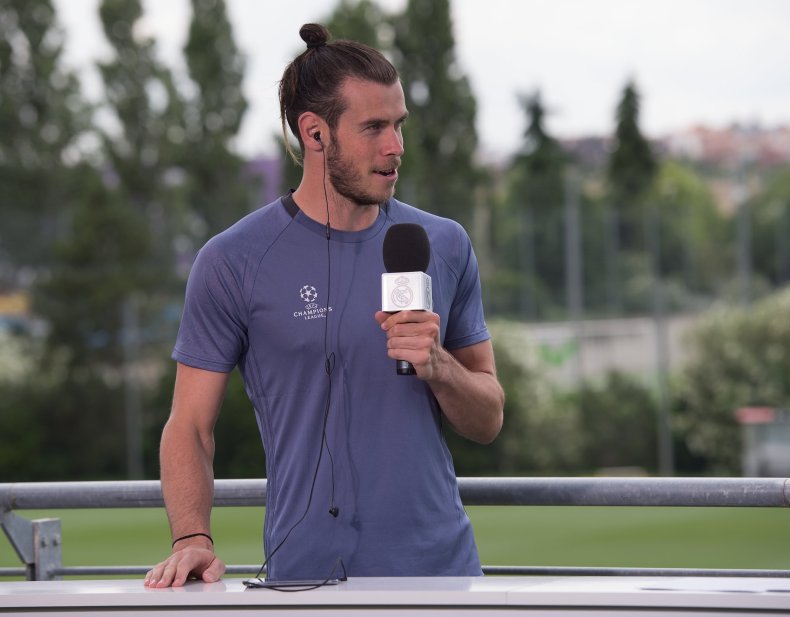 Should, of course, implies simplicity and linearity and even that great footballing cliché, "fairytale," that everything in a footballer's career is always just so. It also quietly suggests doubt. "Should have" is the polite way of asking "why wasn't it?" and in Bale's case the answer is: 11 separate injuries since he arrived from Tottenham Hotspur in the summer of 2013.
The latest, a calf strain, kept Bale out of this year's semifinal against—for variety—Atletico. Bale has played 38 times this season in all competitions, including for Wales, and scored 16 goals but too often the man who can do this has been staring from the sidelines. In November it was an ankle injury against Sporting Lisbon, followed by surgery in London, that removed him from action. His season has stammered along, his progression towards the consistent greatness of Cristiano Ronaldo and Lionel Messi halted by the limits of his body. Just another cruel irony of sport that Bale, whose physical gifts mark him out as special, finds himself breaking down so often.
Newsweek subscription offers >
How Real would have gone with him in its lineup on a regular basis through the spring and early summer is unknowable but worryingly for Bale, Zinedine Zidane's team has not appeared to struggle terribly without him. Zidane has been able to plug and play wingers with very different styles in Bale's place—elegant Isco, who took over the Champions league semifinal, and Marco Asensio, 21 and already a Spain international. It was Asensio who replaced Bale in Lisbon in November in a substitution that may eventually feel quietly epochal, if you look at it askance. In the meantime, Ronaldo, who seems immune at times from injury and ageing, has kept on scoring, carrying Real on his gym-honed back. A paradox—the professional footballer wants nothing more than to see his team win. But seeing his team winning when he cannot help may be hardest of all.
Bale will be fit enough for a place on the substitutes' bench at the Millennium Stadium in Cardiff on Saturday to face Juventus, as Real plays for a place in history. No team has ever won the Champions League in successive years. At a press conference on Wednesday, he admitted he likely would not start.
"I am not 100 percent," Bale said in quotes reported by The Guardian. "I haven't played for six or seven weeks: I obviously had my operation which still really hasn't recovered. If I'm called upon to start, I will start obviously. But to last 90 minutes: I haven't played a lot of football this year since my operation, so that would be difficult. Isco has been playing fantastically well for us, at the end of the season, so whatever the manager decides I will [accept]. Whether he or I start, we'll both be cheering each other on."
At his age, Bale has time to leave the injuries behind. But Real is a club that waits for no man—even Ronaldo may find that out one day—and already there have been suggestions that Bale, favored by the club president Florentino Perez, could leave to make room for a newer toy.
"I always dreamed I'd play a Champions League final, but never in my home town. At the time there was not a stadium big enough, I don't think," Bale added Wednesday. The timing of this final should have been perfect. Instead a superclub and its convalescing superstar find themselves at a strange crossroads, neither apparently happy to give up on the other but neither, clearly, delirious with a marriage that has produced thrilling, indelible moments. Three years on from his greatest moment, there is simply more doubt around Bale than there should be.
Champions League Final 2017: Gareth Bale and Real Madrid Arrive at Awkward Crossroads in Cardiff | Sports