Garland Says DOJ 'Not Avoiding Political Cases' as Many Demand Trump Probe
Attorney General Merrick Garland said that the Justice Department is "not avoiding cases that are political" as many legal experts have urged an investigation and a possible indictment of former President Donald Trump—particularly in connection to his actions related to the January 6 Capitol riot.
A large number of Trump supporters attacked the U.S. Capitol just over 14 months ago. That attack occurred after Trump urged his followers to walk to the building and "fight like hell" in an attempt to overturn President Joe Biden's Electoral College victory. Although Trump was acquitted in a Senate impeachment trial last year, Democratic and Republican critics of the former president have said that Trump could still face legal consequences for his role in the events of January 6.
"We are not avoiding cases that are political or cases that are controversial or sensitive," Garland, who was appointed by Biden, told NPR in an interview published on Thursday. "What we are avoiding is making decisions on a political basis, on a partisan basis."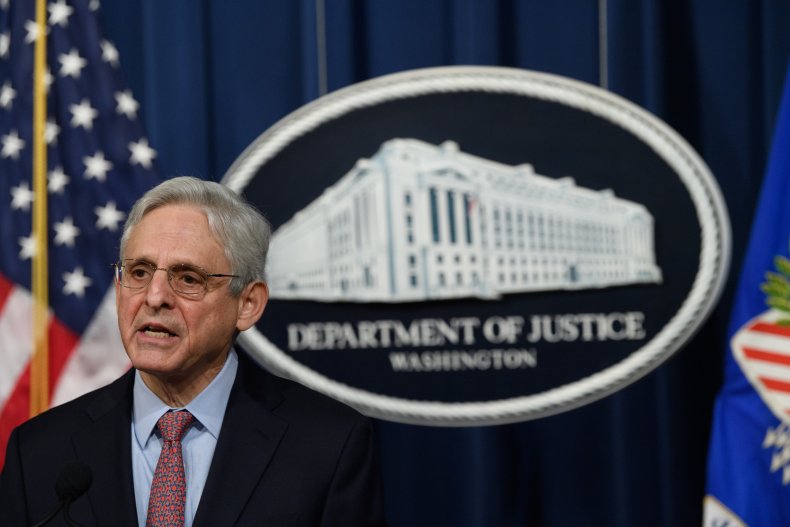 "We begin with the cases that are right in front of us with the overt actions and then we build from there," Garland said. "And that is a process that we will continue to build until we hold everyone accountable who committed criminal acts with respect to January 6."
Garland emphasized that the federal government has devoted significant resources to investigating the events of January 6. "People are working every day, 24-7, and are fully aware of how important this is. This had to do with the interference with the peaceful transfer of power from one administration to another. And it doesn't get more important than that," he said.
Prominent legal experts have urged the Justice Department to investigate Trump directly, while some have called for the former president's indictment. In a Wednesday opinion article published by The Washington Post, Harvard Constitutional Law Professor Laurence Tribe and former federal prosecutor Dennis Aftergut urged Garland to appointed a special counsel to probe Trump.
"The time has come for Attorney General Merrick Garland to appoint a special counsel to investigate Donald Trump. That step offers the best way to reassure the country that no one is above the law, justice is nonpartisan and fears of political fallout will not determine the decision on whether to bring charges," they wrote.
Trump has repeatedly blasted investigations into himself and his businesses, saying they are all politically motivated. The former president has slammed the House select committee probing his actions related to January 6, arguing that the goal is to keep him from potentially running for president again in 2024.
Although Trump was ultimately acquitted by the Senate in February 2021, the vote to convict him was the most bipartisan of any presidential impeachment trial in U.S. history. Fifty-seven senators—including seven Republicans—voted that Trump was "guilty" of inciting the mob violence on January 6. However, that fell short of the high-constitutional threshold of a two-thirds majority (67 senators) required for a successful conviction.
Senate Minority Leader Mitch McConnell, a Kentucky Republican, voted to acquit Trump, arguing that constitutionally he could not be convicted as the trial took place after he left office. But the top Senate Republican condemned Trump and assessed that he could still be held accountable by the nation's justice system.
"President Trump is still liable for everything he did while he was in office, as an ordinary citizen, unless the statute of limitations has run, still liable for everything he did while in office, didn't get away with anything yet," McConnell said in a Senate floor speech on February 14, 2021 after the Senate vote to acquit Trump.
"We have a criminal justice system in this country. We have civil litigation. And former presidents are not immune from being held accountable by either one," he said.
Newsweek contacted the Justice Department for further comment but did not receive a response prior to publication.