Historian Explains 4 Differences Between Trump FBI Raid and Watergate
The author of Watergate, A New History said there were differences between the scandal that brought down ex-president Richard Nixon and the reported FBI raid on Donald Trump's Mar-a-Lago resort.
After the former president said his Florida home had been raided by the FBI on Monday, journalist and historian Garrett M. Graff said that the operation was one of the "most significant, sensitive, and politically explosive actions" ever undertaken by the U.S. Justice Department and the agency.
Graff's book, which was released in February 2022, details the Nixon administration's attempts to cover up its involvement in the 1972 break-in of the Democratic National Committee (DNC) headquarters at the Washington, D.C., Watergate Office Building. Faced with impeachment and removal from office, Nixon resigned on August 8, 1974.
Neither the FBI nor the Justice Department has commented on the reported search f Trump's property which took place on the 48th anniversary of Nixon's resignation and is said to be connected to an investigation into Trump's handling of official papers.
According to reports, a number of boxes were removed from the estate following the issuing of a federal search warrant, which must be signed by a judge.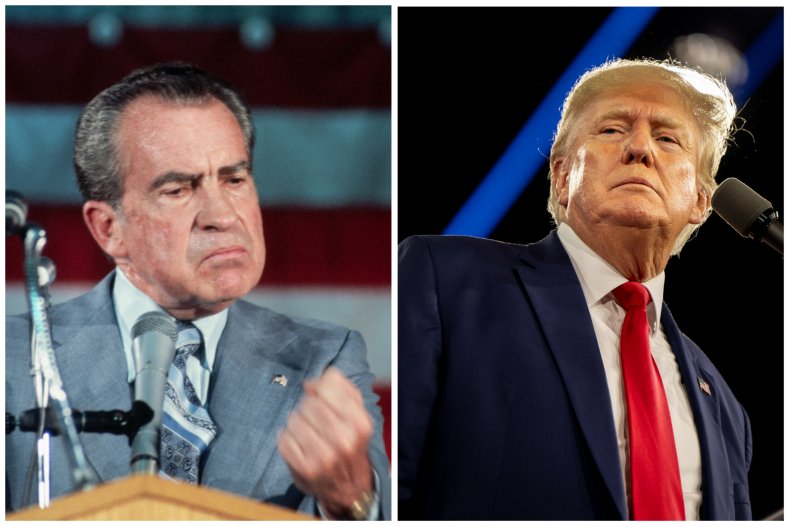 Although a warrant does not automatically mean criminal charges will follow, it is issued after law enforcement agencies demonstrate the possibility that evidence of illegality will be found, known as "probable cause."
Trump said that "nothing like this has ever happened to a president of the United States before," in an assessment on Truth Social, an assessment which Graff broadly agreed with.
In a Twitter thread on Monday, Graff said that the FBI launching such a raid on a former president meant that it "would have been approved and monitored at the highest level of the Justice Department."
He wrote that it is "hard to even imagine how high the bar of probable cause must've been for the Bureau to initiate such a politically sensitive search."
A search warrant would have meant that an independent federal judge had signed off on the probable cause and, "independently, believes evidence there was likely a crime committed AND that more evidence would be found at Mar-a-Lago. That's huge too," the author wrote.
"The fact the search apparently didn't leak until basically when word came from Donald Trump himself shows the FBI and the Justice Department conducted this search by the book and a high degree of integrity," Graff wrote.
"No leaks? Impressive," Graff added, with "only a small team" inside the DOJ knowing about the probe.
"Taken together, this is one of the most significant, sensitive, and politically explosive actions the US Justice Department and FBI has ever taken," Graff said, "one of a tiny handful of times it's ever investigated a president."
Trump himself compared the DNC headquarters breach with Monday's FBI search, saying in a statement, "here, in reverse, Democrats broke into the home of the 45th President of the United States."
Brandon Van Grack, a former Justice Department lawyer and prosecutor, told USA Today the fact the FBI had a search warrant and "knew what to look for" suggested they had conducted "numerous interviews," which pointed to a "very real risk of criminal charges."
While mishandling classified information, specifically statute 18 U.S. Code 1924, has a maximum penalty of five years of imprisonment, Van Grack told the paper there is "still a very high hurdle" to criminally prosecuting a former president for violating it.
This is because it requires that the removal of classified information occur "without authority" and the president would have had that authority.
Newsweek has reached out to Trump's representatives for comment.