Garrett Rolfe, Police Officer Who Shot Rayshard Brooks, Reinstated After Firing
Garrett Rolfe, the police officer who fatally shot Rayshard Brooks last year, has been reinstated by the Atlanta Civil Service Board.
On Wednesday, the board released its decision to revoke his dismissal, stating: "Due to the City's failure to comply with several provisions of the Code and the information received during witnesses' testimony, the Board concludes the Appellant was not afforded his right to due process."
The board noted that it was not determining whether or not Brooks' actions were criminal, but rather hearing the appeals of firings and other employment actions taken against public city employees.
Rolfe still faces 11 charges in the killing of Brooks, including felony murder and multiple assault charges
On June 12, 2020, Brooks was shot dead after fleeing from officers in the parking lot of a fast food restaurant. Police initially responded to complaints that Brooks had fallen asleep in his car in the drive-thru lane of a Wendy's.
Body camera footage showed the 27-year-old Black man struggling with two white officers trying to arrest him. Brooks grabbed a taser from one of the officers and fled, firing it at Rolfe as he ran.
An autopsy found that Brooks was shot twice in the back.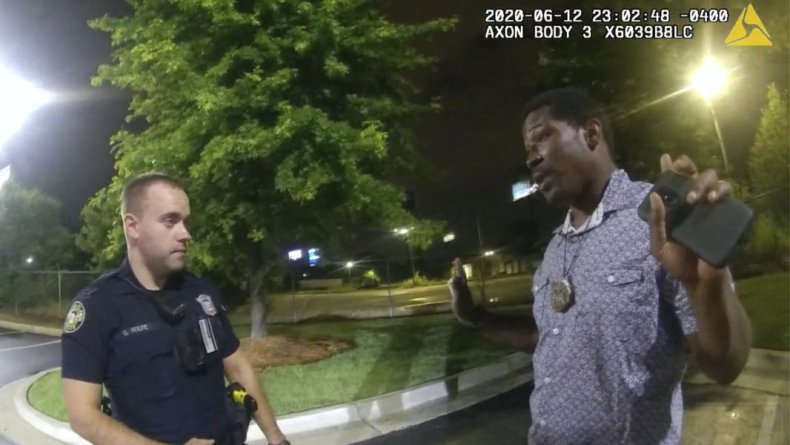 Rolfe sought to have his firing reversed at a hearing last month before the board. His attorney, Lance Russo, argued that he wasn't given enough time to respond to his "notice of proposed adverse action," which is typically a 10-day period.
Rolfe was fired on June 14, 2020, a day after he received a phone call notifying him about his pending termination. Documents shown at the hearing suggested the officer had one hour to respond to the notice.
Russo pointed out that Rolfe's situation was practically identical to that of Atlanta investigators Ivory Streeter and Mark Gardner. Streeter and Gardner, who were fired over the tasing of college students Taniyah Pilgrim and Messiah Young during last summer's protests, were both reinstated by the board in February.
The attorney representing the police department, Allegra Lawrence-Hardy, said former Police Chief Erika Shields had authority to terminate Rolfe under department policy on Maltreatment or Unnecessary Force.
Atlanta Police Department Work Rule 4.2.50 states that employees "are expressly prohibited from the unnecessary or unreasonable use of force against any person or property" and that they "shall only use that force, which is reasonable and necessary to affect an arrest, prevent an escape, necessarily restrict the movement of a prisoner, defend himself or another from physical assault, or to accomplish other lawful objectives."
The other officer involved in the shooting of Brooks, Devin Brosnan, was placed on administrative leave following the incident but was not fired. Brosnan has been charged with aggravated assault and violating his oath.
It is unclear whether Wednesday's reversal means Rolfe will return to regular patrol duty, or if he will resume employment in another capacity.
Newsweek reached out to the Brooks' family for comment, but did not hear back before publication.