Gary Cohn Lost The Battle On Trade, Leaving Donald Trump To Fight the War
There are two things that President Donald Trump really, really likes. A rising stock market that he can take credit for is one of them. And tariffs: Trump really likes tariffs that he can place on goods exported from countries that he feels cheat in international trade.
Trump doesn't have many ideas about public policy, and certainly not many that have been consistent over the years. But at his core, the president is an isolationist and a protectionist. And he has, for more than 30 years, been an advocate of tougher trade policies. Japan used to be a favorite rhetorical whipping boy back in the 1980s, and now—when it really matters what he thinks—China is enemy No. 1.
The problem for the president, as the past few days have demonstrated, is that he can't have both a rising stock market and a broad brush protectionist trade policy. The world just doesn't work that way, and the resignation of Gary Cohn, the former chief operating officer at Goldman Sachs, as director of Trump's National Economic Council makes that abundantly clear. The stock market on Wednesday morning will decline sharply as a result.
Cohn resigned at least in part because he decided he had lost a critical policy battle over trade. While meeting with steel industry executives at the White House on March 1, Trump announced to the world that his administration would impose tariffs of 25 percent on steel imports and 10 percent on aluminum imports. It was a surreal moment on several levels. First, the announcement came amid a sharp rise in stock market volatility, with sharp moves (both up and down) that hadn't been seen for years. The market had mostly recovered from a nearly 10 percent plunge in February but remained on edge. The sudden prospect of a trade war promptly sent the Dow Jones industrial average down 420 points on March 1.
The market was evidently surprised that Trump was actually going to go down the tariff road. It shouldn't have been. Trump explicitly campaigned on tariffs and on reviving the steel and aluminum industries, and that was one of the reasons he won critical states in the industrial Midwest and thus the presidency. Trump, furthermore, wants to be known as a president who actually does what he said he was going to do.
Nonetheless, since he took office, there has been a bruising debate in the White House over trade policy in general—and the steel and aluminum tariffs in particular. This has pitted more conventional advisers like Cohn and Council of Economic Advisers chief Kevin Hassett against those who seek a tougher line, including trade adviser Peter Navarro, who is now rumored to be in line for a promotion that would give him more direct access to the president.
Those who opposed the tariffs, led by Cohn, were not surprised by the immediately negative market reaction, and they quietly hoped it might help persuade Trump to soften the policy. The so-called "globalists," as they have been called in the press, were somewhat relieved the next day that the president said if he could get a better deal on the North American Free Trade Agreement (negotiations to restructure that deal are continuing), he might be able to back off on tariffs on Canadian and Mexican steel.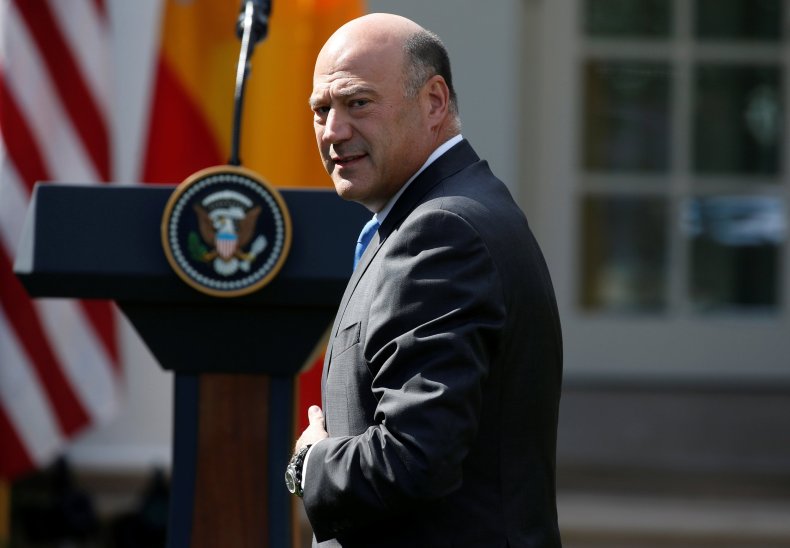 The market liked that, bouncing up the next day, and liked it even more when House Speaker Paul Ryan, in a March 6 press conference, said he thought the White House needed to rethink the notion of broad-brush tariffs. A more targeted approach would deal with the most significant underlying problem—massive overcapacity in steel in China, which has put murderous pricing pressure on steel producers elsewhere—might still be forthcoming, Ryan said. That sound bite alone erased a 150-point loss for the Dow in about half an hour.
But is the president really willing to back off his beloved tariffs? Cohn's departure suggests not. With him gone, the dominant figure in trade policy going forward will be Robert Lighthizer, the U.S. trade representative, a longtime veteran of past trade conflicts. (He was deputy USTR in the 1980s, when the U.S. had bitter disputes with Japan over automobile and semiconductor exports, among other things.)
In both public and in private, Lighthizer has made it clear since taking office that he views dealing with China as far and away the most pressing trade issue for the U.S. "The sheer scale of the coordinated efforts to develop its industries, to subsidize and create national champions and to force technology transfers to distort markets, is a threat to the world trading system that is unprecedented," he said in a speech late last year.
The issue now is whether tariffs applied to all—even close U.S. allies like Japan, South Korea and the European Union—is the best way to get at the core problem: China's huge capacity in both steel and aluminum. Imports from Beijing have actually declined of late in the U.S., but analysts believe that is in part because Chinese steel and aluminum are being trans-shipped through third countries.
Trade analyst Alan Tonelson notes that small countries such as Bahrain and Zimbabwe posted huge year-over-year increases in steel shipments. "Those countries simply don't have the capacity to ramp up exports so quickly, so it's likely that they are just treating Chinese steel and sending it back out to the market," he said. For that reason, Tonelson and others believe the broad tariff approach is the only way to get at the issue.
It's not definite that Lighthizer agrees with that. Though frequently cast in the press as a trade hawk aligned with Commerce Secretary Wilbur Ross and Navarro on the issue of tariffs, it's not that clear. A friend who knows Lighthizer says he is looking for a way to deal with the steel and aluminum issue in a manner that will not prompt retaliation from U.S. allies.
"He is now the most important person in the room on this issue now that Cohn's gone—and that includes [Treasury Secretary Steve] Mnuchin and Wilbur Ross," this person said. "He is with the president in terms of getting tough, but he doesn't want us to have to fight an all-out trade war on several fronts. He's got to persuade the president that there's another way."
One possible effort at damage control being considered for Mexico and Canada is to use a renegotiated NAFTA to force an increase in North American content requirements in industries that use steel and aluminum. In other words, if, say, auto or beverage companies in the U.S., Canada or Mexico increased the amount of steel or aluminum they used in their products, there would be no tariffs applied. So-called "domestic content" policies are one of the things that prompted Japanese automakers to build plants in the United States in the 1980s.
What else Lighthizer might do to try to put the policy focus back on China is not yet clear. (He is overseeing a separate major investigation of China's alleged intellectual property violations, which are likely to produce substantive penalties aimed at Beijing later this year.) He knows that his boss loves tariffs and that Trump recently said that trade wars are "easy to win."
His job now is to make it clear to Trump that that's not necessarily so. "He's got to find a way for the president to make good on promises to people in Pennsylvania and Ohio—to save face—without turning this into a crisis,'' Lighthizer's associate says. How exactly does he do that? "At this point, I have no idea."