Gary Coleman of 'Diff'rent Strokes' Dead at 42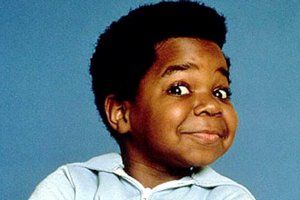 Gary Coleman's name eventually became a stand-alone punchline, through no fault of his own. Granted, there was some unpleasantness in his life—assault charges stemming from acrimonious encounters with celebrity gawkers, and some alleged domestic violence. But by that time, the die was cast. Coleman had already made his biggest mistake: starting as a child star. Is there any other arc for child stars? There's a premature supernova, followed by a steep downhill. Morrissey said it best in his song "Little Man, What Now?" two years after Coleman wrapped his eight-year run on Diff'rent Strokes. "Too old to be a child star, too young to take leads," he sang—the situation Coleman likely faced post-Strokes. Yet Coleman has faced a different dilemma most of his life: he wasn't famous enough to be famous, but he was too famous to be left alone.
Coleman passed away today at the age of 42, after an intracranial hemorrhage following an injury left him in a coma. He was born in Zion, Ill. with a congenital kidney disease that stunted his growth, and was adopted, circumstances that made him ideal for his star-making role as Arnold Jackson, the diminutive moppet who is adopted by a well-off widower in Strokes. He was cute, to be sure, but cuteness alone does not a child star make. Coleman had natural comedic timing and a face that seemed to be expressly designed to register incredulity. Paired with his catch phrase, "Whatchu talkin' bout, Willis?" he had chops and a hook.
In interviews, though, Coleman said he wasn't happy toward the end of the show's run. He'd grown weary of the faces and the catch phrase, the character was one-note, he was rich and bored. He continued to act after the show ended in 1986, mostly in guest spots and cameos. He appeared on daytime court shows, in one case defending himself against assault charges, in another trying to save his marriage after domestic strife. He worked as a security guard and, as a lark, ran for governor in California's farce-like recall election in 2003. The "what now" wasn't always a great plan, but the little man always had one.
If a 13-year-old steals a car and goes joyriding, he can have the records of his deeds sealed by the court, lest a childhood mistake cast a pall over the rest of his life. Child actors don't get the same latitude. So the most someone like Coleman could do is try to live out the rest of his life with some semblance of peace and solitude, and do his best not to make too much of a mockery of himself. Coleman, for the most part, did that. His co-stars on Strokes, Todd Bridges and the late Dana Plato, had much more spectacular downfalls than the 4-foot-8 guy in whose shadow they worked. Coleman's legacy, therefore, is not the catch phrase—though in truth, it's invariably funny, even now—but rather the idea that there's life after child stardom. He certainly made choices that society didn't approve of. But, y'know, what might be right for you may not be right for some.