4 Ways Gary Kurtz Saved 'Star Wars'
Gary Kurtz, producer of the original Star Wars and its sequel The Empire Strikes Back, died on Sunday at age 78. Kurtz was with Star Wars from the beginning, often negotiating with 20th Century Fox on behalf of director George Lucas. One of only six people to watch the very first "scratch mix" cut of Star Wars, Kurtz shepherded the movie from pre-production through release. J.W. Rinzler's comprehensive The Making of Star Wars reveals, again and again, how Kurtz acted as the glue that held the production together.
Getting "Star Wars" Off The Page
Lucas and Kurtz' original deal with Fox provided $15,000 for development and $50,000 for the script (the same amount Kurtz was paid to produce the movie), but by 1975 the development deal hadn't progressed, largely because Fox didn't believe $3 million would cover Lucas' expansive second draft of the script. Kurtz set out to create a convincing budget, while Lucas recruited concept artist Ralph McQuarrie, now famous for building the Star Wars aesthetic. "Each step we dragged Fox along," Kurtz said. Soon he'd travel to London with McQuarrie's paintings to assemble a production team in England.
Pinewood Studios and Industrial Light & Magic
While Lucas worked on revising the script, Kurtz visited England in search of studios large enough for the expansive sets. With set designer John Barry, he decided on Elstree Studios and Pinewood Studios. The latter is now so associated with Star Wars that Disney returned there for all four of its Star Wars movies, beginning with The Force Awakens.
Kurtz was also instrumental in the formation of Lucas' independent visual effects company, introducing Lucas to John Dykstra, a protege of effects pioneer Douglas Trumbull (2001, Silent Running). Despite a troubled working relationship and Dykstra's exit from Industrial Light & Magic, his team still won an Academy Award for Star Wars' landmark special effects.
Fake Progress Reports
ILM struggled to perfect the complex coordination of camera movements, explosions and other effects needed to create shots like the Trench Run in Star Wars. Working the kinks out of the blue screen process and optically printed effects shots put the production severely behind schedule. "Fox's production department was continuously harassing us," Kurtz said. "They didn't see any paperwork to tell them what we were doing."
He came up with a solution. "We were having a terrible time," Kurtz said. "The only way we could placate Fox was to invent paperwork."
They created a number of fake metrics, typically five completed shots per day, with all sorts of codes and data "proving" production was continuing apace.
A Bigger, Better Cantina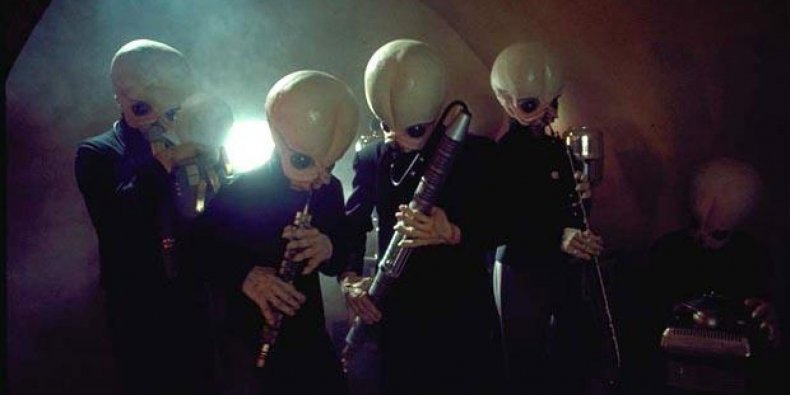 Even as Star Wars neared completion, Lucas still had a lot of material he wished they had been able to shoot. One of his biggest requests was to flesh out the scene in the Mos Eisley cantina with more aliens. But Fox balked at an estimated $100,000 price tag for reshoots. Kurtz stepped in and convinced the studio they could bring it in for half that amount. Fox coughed up only $20,000. But thanks to legendary make-up effects creator Rick Baker, at the time known only for a handful of low-budget horror movies (It's Alive, Squirm), Star Wars got a lot of new aliens, including the "drooling arm" lamproid, "Hammerhead" Momaw Nadon and the house band, Figrin D'an and the Modal Nodes.
As the producer, Kurtz fought for Star Wars from its earliest drafts, starring general Annikin Starkiller and a giant, green Han Solo. Star Wars wasn't the singular vision of George Lucas, but an incredible coming together of talents. Kurtz talent was uniting them.
"Gary was a beloved husband, father, grandfather, friend, colleague, and mentor, whose work and talent spanned filmmaking, photography, music, and cinema history," a statement released by his family read. "Gary was a magnificent man, who will be hugely missed. His whole family thanks you for your loving thoughts."