Gary O'Connor, Texas Democrat Who Called Tim Scott an 'Oreo,' Announces Resignation
Gary O'Connor, the Texas Democratic official who called Senator Tim Scott an "oreo," announced his resignation as Lamar County Democratic Party chair on Tuesday.
"I am deeply and sincerely sorry for my inappropriate and hurtful use of racist term I used to describe Sen. Tim Scott on my personal Facebook page," he told the Washington Examiner in a statement. "It was insensitive, and I have embarrassed myself and my party by its use."
He continued, "As a result, I feel compelled to offer my resignation as chair of the Lamar County Democratic Party for consideration by the County Executive Committee."
The announcement comes days after O'Connor criticized Scott for his Republican rebuttal to President Joe Biden's address to Congress last week.
In a since-deleted Facebook post, the local party chair wrote, "I had hoped that Scott might show some common sense, but it seems clear he is little more than an oreo with no real principles."
The term "oreo" has been used in an offensive manner for a Black person who has been viewed as adopting attitudes "thought to be characteristic of middle-class white society, often at the expense of their own heritage," according to Dictionary.com.
O'Connor faced immense backlash for his remarks, with a string of Republican officials calling for him to resign.
"This is disgusting, hateful, and completely unacceptable. O'Connor must apologize to @SenatorTimScott & step down immediately," Texas Governor Greg Abbott tweeted on Saturday. "@texasdemocrats censure him."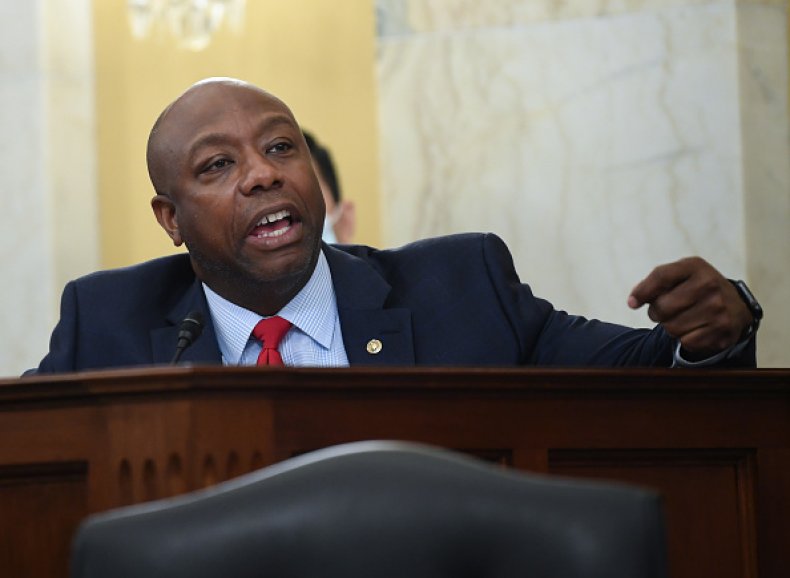 GOP Texas Representative Pat Fallon also called on O'Connor to step down from his position.
"Gary O'Connor's comment against Senator Tim Scott is abhorrent, insulting, and unforgivable. Both he and the entire Lamar County Democratic Party should be ashamed of this racist behavior," Fallon said in a statement. "O'Connor must apologize and step down immediately."
Fallon called on the Democratic Party of Texas and the NAACP to condemn the words O'Connor used, saying, "This kind of behavior is not tolerable in Texas, the United States, or any political party."
Texas Republican Party Chairman Allen West said he would be gifting Oreos to the Lamar County Democrats until the chair's resignation.
O'Connor's "oreo" comments were among a flurry of criticisms Scott faced for declaring that "America is not a racist country" during his speech.
Shortly after Scott's address, the term "Uncle Tim"—a play on the racial slur "Uncle Tom"—trended on Twitter. The social media platform banned the phrase from appearing in its trending section, but the tweets containing the term were not removed.
Newsweek reached out to Scott and O'Connor's office for comment but did not hear back before publication.