Gary Oldman's Son Aimed To 'Protect' Father's Character In Open Letter Regarding Assault Allegations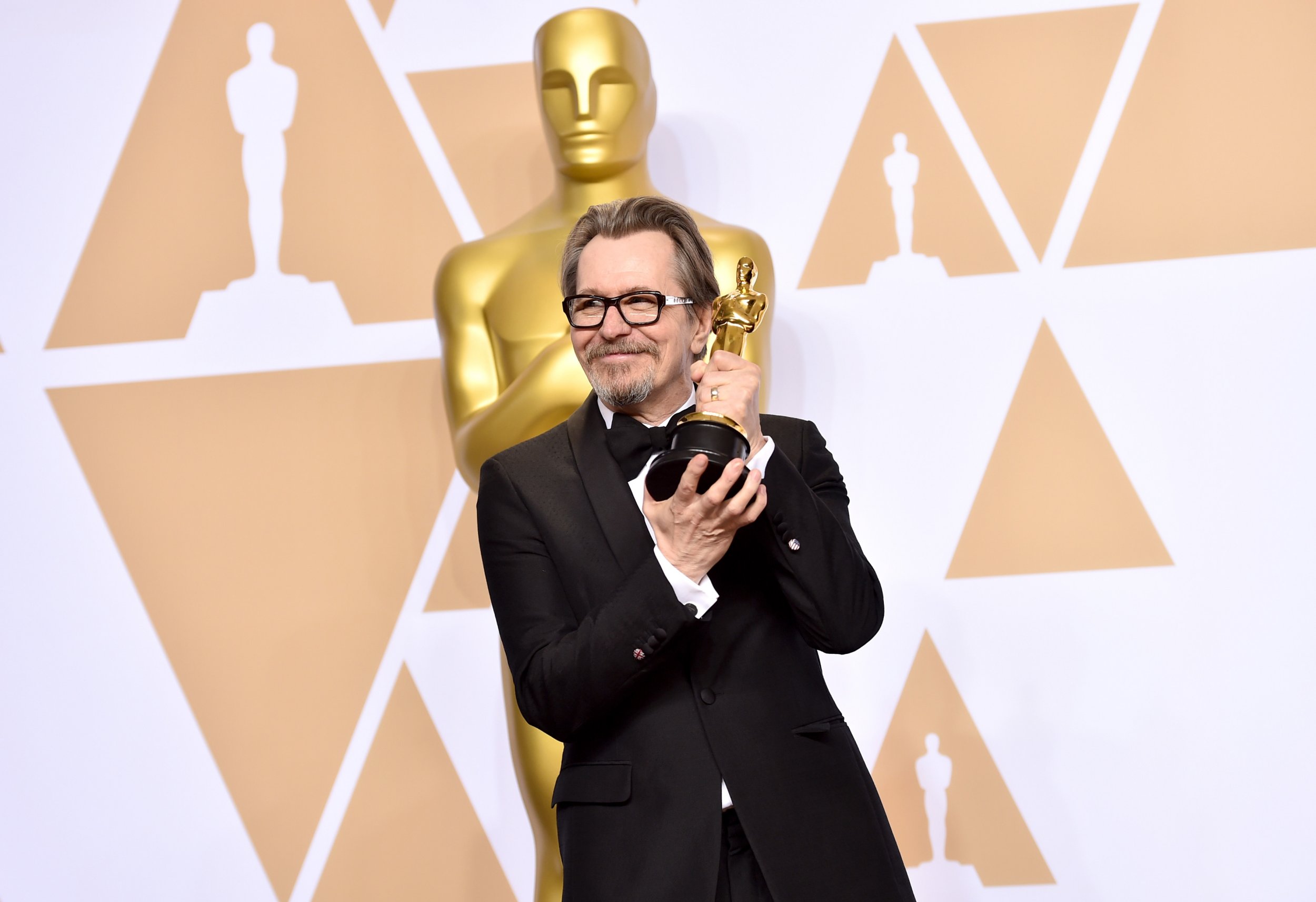 Actor Gary Oldman's Academy Award win Sunday for Best Actor, playing Winston Churchill in Darkest Hour, came with backlash: a 2001 allegation resurfaced regarding his ex-wife, Donya Fiorentino. During their contentious divorce, Fiorentino accused Oldman of choking and beating her in front of their children during their four-year marriage.
Oldman's and Fiorentino's son, Gulliver Flynn Oldman, aimed to correct the "troubling and painful" narrative in an open letter on Monday: "There is [a] good reason that these specific articles and accusations subsided years ago," he wrote. The 20-year-old went on to criticize "so-called 'journalists'" for perpetuating the lie.
"I have grown up in the world we are accustomed to now, where people are guilty until proven innocent," Gulliver wrote. "It's a shame to see that 'clickbait journalism' or judgment by [a] headline, is designed to make one jump to conclusions without receiving the full range of facts that may be detailed in a piece, whether it be online or otherwise. In the case of my father, there is only innocence. There has never been guilt."
Gulliver, who referred to his father as his hero and "true guiding light," went on: "For me to write this letter is direct proof of this. Custody of children is not given to a wife beater, and under most circumstances, hardly ever to a man. My having lived full-time with my father should be in itself proof enough."
Following Sunday's Oscars ceremony, Fiorentino issued a statement to TMZ about the show's absence of the Time's Up and #MeToo movements: "Congratulations, Gary and congratulations to the Academy for awarding not one but two abusers with Oscars. I thought we had evolved. What happened to the #MeToo movement?"
The second abuser Fiorentino is referring to is former Laker Kobe Bryant. In 2003, Bryant was accused of sexually assaulting a 19-year-old girl. Bryant admitted to the encounter, but said it was not an assault; the case was dropped when the accuser refused to testify.
Like Oldman, the former basketball player won an Academy Award on Sunday for his involvement in the animated short Dear Basketball. Bryant, however, was targeted in January with a petition signed by more than 16,000 people demanding The Academy withdraw his nomination.
The resurfacing of the allegations against Oldman, directly after his Oscar win, made it difficult for the actor to celebrate. He "should finally be able to enjoy himself," wrote Gulliver.
"I want only to protect my father's character, as a person and as an actor," he continued. "I know he is a wonderfully kind man."