Gary Oldman Domestic Abuse Allegations Resurface After SAG Win
Actor Gary Oldman is the latest Hollywood star to win a major award—then be hit with reminders of his shady history.
At Sunday night's Screen Actor's Guild Awards, Oldman took home best actor for The Darkest Hour, taking the 59-year-old one step closer to his first Oscar win. (Academy Award nominations will be announced on Tuesday.) But before Oldman had even finished his emotional speech, critics on Twitter had already brought up Oldman's shady history: his domestic abuse allegations.
Younger moviegoers know and love Oldman from the Harry Potter films, where he played Sirius Black, and as the Dark Knight trilogy's Commissioner Gordon. But they are likely unaware of Oldman's abusive reputation.
In 2001, the actor's then-wife Donya Fiorentino alleged Oldman beat her with a telephone in front of their two children, who were toddlers at the time. "As I picked up the phone to call the police, Gary put his hand on my neck and squeezed," Fiorentino said, according to an archived 2001 report from The New York Daily News. "I backed away, with the phone receiver in my hand. I tried to dial 911. Gary grabbed the phone receiver from my hand, and hit me in the face with the telephone receiver three or four times. Both of the children were crying."
Fiorentino filed papers to the Los Angeles Superior Court, and her claims were investigated by police. No charges were filed.
The couple, who married in 1997, divorced after the 2001 incident. In the court papers, Fiorentino claimed Oldman—who checked into rehab in 1995 after he was charged with drunk driving—frequently went on weekend binges, spending more than $18,000 on alcohol, drugs and prostitutes.
Oldman denied the abuse allegations as "replete with lies, innuendoes and half-truths." Fiorentino was a recovering addict herself, Oldman added. And in the actor's statement, he claimed Fiorentino overdosed months earlier and was found by her daughter "unconscious and barely breathing."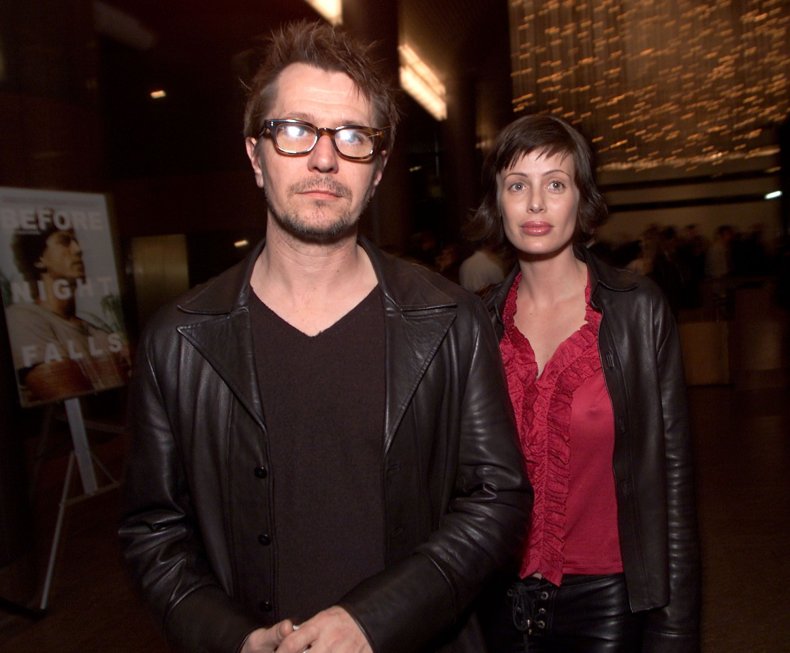 Oldman was married twice before Fiorentino, to Lesley Manville and Uma Thurman. After divorcing Fiorentino, he married Alexandra Edenborough in 2008. The marriage lasted until 2015. He married his fifth and current wife, Gisele Schmidt, in September 2017.
The Darkest Hour star more recently stirred up controversy in his 2014 interview with Playboy, in which Oldman went on an impassioned, profanity-laden tirade, arguing that "political correctness is crap." He came to the defense of Mel Gibson and Alec Baldwin for using "politically incorrect" racial and homophobic slurs. (Gibson infamously went on an anti-Semitic rant that "Jews are responsible for all the wars in the world.")
"We're all fucking hypocrites," Oldman said. "That's what I think about it. The policeman who arrested [Gibson] has never used the word 'n--ger' or 'that fucking Jew'? I'm being brutally honest here. It's the hypocrisy of it that drives me crazy. Or maybe I should strike that and say 'the N word' and 'the F word,' though there are two F words now."
Then Oldman turned his fury on comedians Jon Stewart and Bill Maher for being able to "get away" with vulgar language. "Well, if I called Nancy Pelosi a cunt — and I'll go one better, a fucking useless cunt — I can't really say that," said Oldman. "But Bill Maher and Jon Stewart can, and nobody's going to stop them from working because of it. Bill Maher could call someone a fag and get away with it. He said to Seth MacFarlane this year, 'I thought you were going to do the Oscars again. Instead they got a lesbian.' He can say something like that. Is that more or less offensive than Alec Baldwin saying to someone in the street, 'You fag'? I don't get it."
Oldman later apologized for his comments on Jimmy Kimmel Live.