Gary Rossington Dead: Tributes Pour In for Lynyrd Skynyrd Guitarist
Gary Rossington, the last surviving founding member of Lynyrd Skynyrd, has died at the age of 71, it has been announced.
The guitarist died on Sunday, March 5 and a cause of death has not yet been revealed. He is survived by his wife Dale Krantz-Rossington, their two daughters, Mary and Annie, and their grandchildren.
Rossington had dealt with several health issues in recent years, he had a heart attack in 2015 and in 2021 he also had emergency heart surgery.
Despite this, the musician was keen to continue performing in Lynyrd Skynyrd, and the band was expected to perform a 22-city tour from July that they were going to be co-headlining with ZZ Top. It is unclear at this time what will happen with the tour or how it might change.
Gary Rossington Dead at 71: Tributes Pour In for Lynyrd Skynyrd Guitarist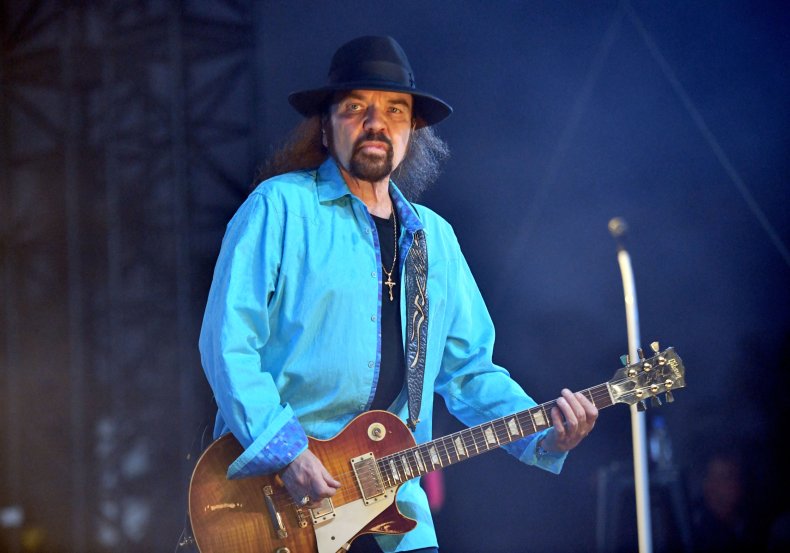 In a statement shared on the band's Facebook page, a representative said: "It is with our deepest sympathy and sadness that we have to advise, that we lost our brother, friend, family member, songwriter and guitarist, Gary Rossington, today.
"Gary is now with his Skynyrd brothers and family in heaven and playing it pretty, like he always does. Please keep Dale, Mary, Annie and the entire Rossington family in your prayers and respect the family's privacy at this difficult time."
Lynyrd Skynyrd was founded in 1964 by Rossington and he was joined by guitarist Allen Collins, bassist Larry Junstrom, drummer Bob Burns, and lead singer Ronnie Van Zant.
The group rose to fame with the release of their debut album, (Pronounced 'Lĕh-'nérd 'Skin-'nérd), in 1973 which featured one of the band's most famous songs "Free Bird." Rossington also co-wrote hits like "Sweet Home Alabama," "I Ain't The One," and "Don't Ask Me No Questions."
In October 1977 the band was involved in a plane crash in Mississippi, Rossington survived the incident but singer Van Zant, guitarist Steve Gaines, backing singer Cassie Gaines, and three other members were killed.
A year before the plane crash, Rossington had also survived a terrible car accident that became the inspiration for the band's song "That Smell."
Following the plane crash Lynyrd Skynyrd disbanded, but they reformed in 1987 and have since released nine more studio albums. The band has gone through several line-up changes, with Rossington the only member to appear on all of their records.
Per Rolling Stone, when the group were inducted into the Rock & Roll Hall of Fame in 2006 Rossington said of the accidents: "I don't think of it as tragedy—I think of it as life. I think the good outweighs the bad."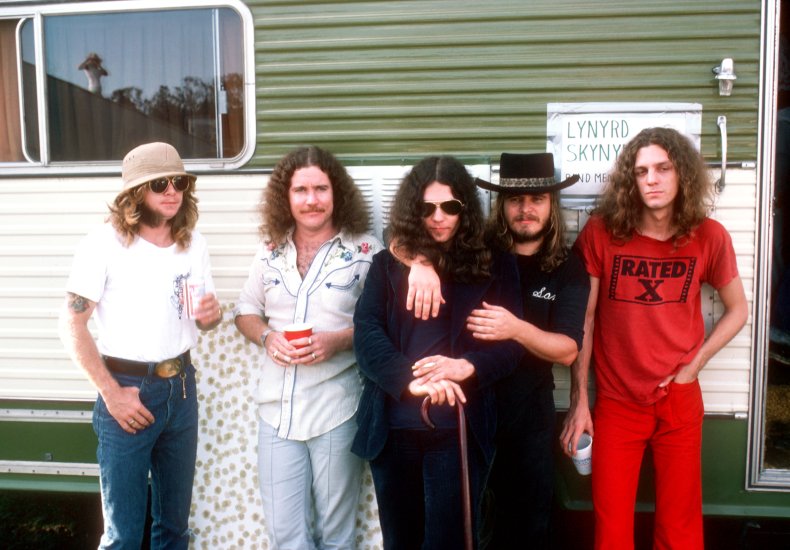 In 2006, Rossington told Billboard magazine that he was keen to keep performing even with his health issues. He said: "It's just in my blood, y'know? I'm just an old guitar player, and we've spent our whole loves and the 10,000 hours of working to understand how to play and do it.
"So I think once you've got something going for yourself you should keep it up and keep your craft going. When you retire, what's next? I like to fish, but how much of that can you do, right? So I want to keep doing what I do now."
In November 2022, Rossington spoke of his health concerns with Rolling Stone and said of doing less touring: "I don't get enough oxygen in my blood to keep up and keep going like normal. But I can still play good.
"It's just the travel. It's so hard on me, especially when you got heart trouble. It's just really hard traveling and getting by with that stuff."
Tributes poured in following news of Rossington's death. Musician Travis Tritt paid tribute to the guitarist on Twitter, where he wrote: "I just learned that my dear friend, Gary Rossington passed away today.
"I'm heartbroken! Gary was not only a friend, but a collaborator that wrote songs with me and played guitar with me in studio recordings and onstage so many times. My heart goes out to Dale and the girls. RIP."
The Charlie Daniels band also shared a tribute to Rossington on Instagram, alongside a picture with the musician the group wrote: "It's all right now, keep on singin' loud. It's all right now, heaven should be proud—Charlie Daniels 1979.
"The last of the original Free Birds has flown home. RIP Gary Rossington, God Bless the Lynyrd @skynyrd band. Prayers to Dale and the rest of his family.—CD, Jr. & Hazel Daniels"
Fans of the band also shared their heartfelt tributes for Rossington on social media, with TV host Matt Pinfield writing on Twitter: "Truly saddened today to learn that we lost the great Gary Rossington of Lynyrd Skynyrd.
"He was not only an exceptional guitarist and songwriter, but he was one of the coolest, kindest people I have had the pleasure to meet over the years."