Gary Teasley, Alleged Rockefeller Center Xmas Tree Pickpocket, Released After 38th Arrest
A man arrested last week for allegedly pickpocketing people at New York City's iconic Rockefeller Center Christmas tree is no stranger to being busted for the offense.
The New York Police Department (NYPD) confirmed that serial thief Gary Teasley, 65, was arrested on Friday after he was spotted allegedly unzipping a woman's purse at the popular holiday spot in Midtown Manhattan, the New York Post reported. The woman in question was reportedly a 71-year-old tourist visiting from Massachusetts. Teasley was released without bail the following day and has now racked up 38 arrests for pickpocketing.
Teasley allegedly used to maintain a storage locker filled with wallets and other stolen items he had made off with over the years, a source told the Post. He also kept detailed written records of his various pursuits, they said.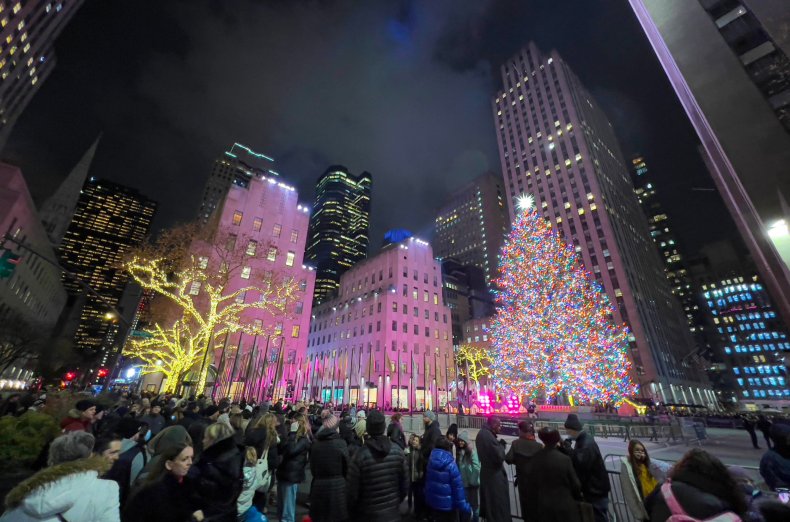 Teasley is reportedly known by local law enforcement to dress well while pickpocketing, often wearing a fur coat and "fashionable" hat in the wintertime. He's also, apparently, on a first-name basis with many police officers, sources told the Post. One source referred to Teasley as "a very sharp guy" and "a wolf in sheep's clothing."
Prior to his release, Teasley was brought before a judge on Saturday on charges of attempted grand larceny and jostling. The Manhattan District Attorney's Office confirmed to the Post that prosecutors had requested that Teasley be released with supervision, but this was denied by the judge. He is next scheduled to appear in court on January 14.
Available records indicate that Teasley has served a handful of sentences in state prisons in the past. His most recent conviction came in 2018 for grand larceny. He was held at the Cape Vincent Correctional Facility, north of Watertown, New York, and released on parole in November 2019.
The NYPD confirmed on Twitter that it arrested five individuals who attempted to pickpocket people at the Rockefeller Center Christmas tree over the course of Friday night. In addition to Teasley, they were identified as Christian Tutasig, 27, Alejandra Melendez, 32, and Carman Marlene, 41, and Pablo Lechon, age unknown. All five suspects were arrested in a relatively short time frame, between 8:20 p.m. and 10:15 p.m. ET.
Newsweek reached out to the NYPD for comment.