Gas, Diesel Prices Dropping Fastest in These Five States
After record highs in gas and diesel prices driven by inflation and the Ukraine war, U.S. states are seeing significant drops.
Regular gas prices are dropping the fastest in West Virginia, Florida, Maine, New Jersey and Rhode Island.
The AAA average in West Virginia dropped by $0.115, from $3.996 on August 15 to $3.881 on August 22. During that same week, Florida's price for regular gas dropped from $3.641 to $3.528, a $0.113 reduction. Maine's fell by $0.112, from $4.274 to $4.162 on Monday.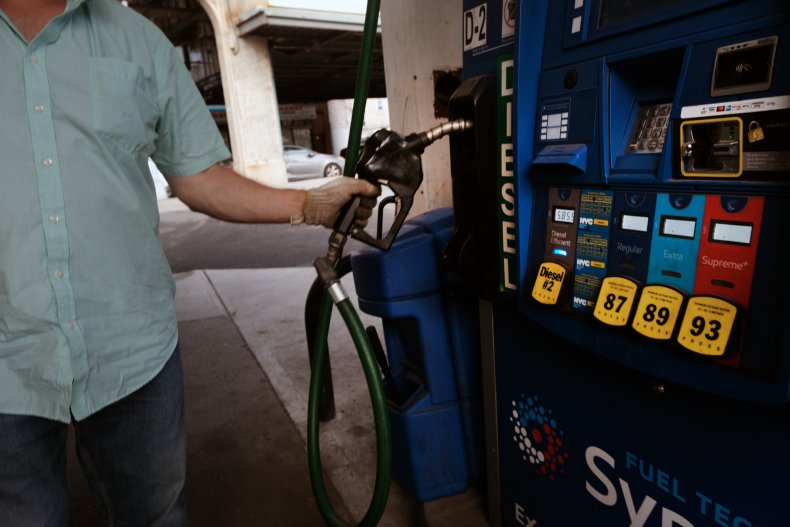 Only a week ago, the AAA average in New Jersey was $4.175, but that dropped by $0.111 to $4.064 Monday.
Looking at regular gas prices a month ago shows a different story, with Colorado ($0.793 less), Arizona ($0.688 less), Kansas ($0.677 less), Nebraska ($0.665 less) and Wyoming ($0.646 less) seeing the largest drops over that period.
New Jersey ($0.114 less), New Hampshire ($0.110 less), Florida ($0.109 less), Alaska ($0.107 less) and Massachusetts ($0.106 less) have seen the largest decreases in diesel prices over the past week.
Over the past month, the states that have seen the biggest fall in diesel prices are Montana ($0.829 less), Washington ($0.667 less), Florida ($0.636 less), West Virginia ($0.608 less) and Oregon ($0.603 less).
California continues to have the highest fuel prices, with $5.324 for regular gas and $6.224 for diesel. Still, the state has seen prices fall over the past week.
The average price of regular gas is $3.901, according to AAA, down from $3.956 on August 15. It is the lowest price for gas since March.
Newsweek has contacted the AAA and other gas price analysts for further comment.
Gas prices in the U.S. have been coming down steadily since June, after months of historic highs and prices over $5 per gallon. The decline comes after the federal government released additional gas into the market and global fuel demand has decreased because of the high prices. Fewer drivers in the U.S are fueling up too.
But analysts have warned that the drop will likely reverse in the coming months, with fears of a recession on the horizon that will likely mean prices at the pump will rise again and hit consumers hard.
In an August 18 interview with CNBC, Truist director Neal Dingmann said that U.S. natural gas prices could spike as high as 60 percent this winter.
Despite the recent declines, gas prices are still close to pre-pandemic highs. A year ago, the AAA average was $3.16.
Andrew Gross, AAA spokesperson, said on August 15: "Falling pump prices may eventually lead to more drivers hitting the road again. But that hasn't happened yet. Instead, many drivers are waiting for prices to fall further before reverting to their typical driving habits."
AAA said that drivers were making significant lifestyle changes to cope with high pump prices, such as driving less, lift sharing and combining errands.