Gas Prices to 'Creep Up' in Spring, Experts Say
Gas prices have unexpectedly risen in January, at a time when Americans normally stay put and demand remains relatively flat.
Last week, the national average price for regular gas crept up to $3.51 a gallon, according to the American Automobile Association (AAA), jumping up by 12 cents compared to a week before and 41 cents in December. As of today, regular gas was on average $3.49 a gallon.
It was a dark surprise for American consumers wary of the skyrocketing prices experienced last summer when gas reached a record height of $5.02 a gallon on average nationwide. But why is pricing suddenly shooting up?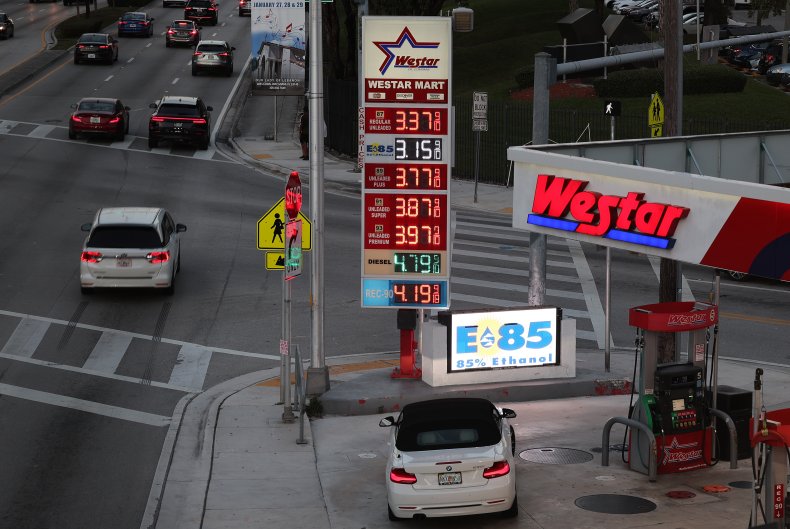 "A weaker dollar helped push prices higher, but China's reopening is also playing a factor," Denton Cinquegrana, chief oil analyst at the agency Oil Price Information Service (OPIS), told Newsweek.
"The prevailing thought is that increased activity from China, whether that is air travel, spending, or just more driving, is going to positively impact global oil demand. At the end of the day, this is still a global market," he said.
"OPEC+ is also sticking to its plans for production levels so no more oil coming from that group...but at the same time they are not cutting more."
Another factor that has contributed to the increase in gas prices is the extreme weather that hit the country by the end of last year and which caused outages at refineries and left many working at less than full capacity.
Patrick De Haan, head of petroleum analysis at GasBuddy, told Newsweek that gas prices have continued inching higher for the last five straight weeks, and consumers "should expect prices to keep rising, especially into the spring as refineries start maintenance and then transition to more expensive summer gasoline."
Many refineries which had planned to undergo maintenance operations last year didn't do so because of the surge in prices, deferring it instead to this year.
Higher gas prices are likely to frustrate Americans already struggling with the increased price of many food products, especially eggs. But De Haan said the expected increase in gas prices "won't due to inflation, as prices also rose much more significantly last spring due to Russia's war—so year-on-year gasoline inflation should continue to be mild."
Cinquegrana thinks that price growth will slow down in February, only to pick up again in spring.
"The rise in January did come as a bit of a surprise, as demand in January is also notoriously weak. I think for the month of February you may not see too much change from current prices. I think the U.S. has the potential to range from about $3.45 to $3.60 a gallon," he said.
"The spring is when you should expect to see prices start to creep up. I do think at some point retail prices reach $4 a gallon again. But the records of $5 or more nationally I don't expect to be touched in 2023 barring some unexpected event."