Gas Prices Hit $3 Per Gallon in Every State, Highest Levels in Years
The steady rise of gas prices in the U.S. passed a milestone on Monday, with drivers in all 50 states feeling the squeeze.
The American Automobile Association (AAA) reported on Monday that the average price of gas in the U.S. had hit $3.44 per gallon, the highest since 2014, according to Nexstar. The more striking statistic, however, was the fact the average prices in every state had officially surpassed $3, with Mississippi hitting $3.08.
In the last month, the nationwide average rose by around $0.14, according to AAA. Since the same time last year, it has risen by $1.
AAA attributed this continued climb to a few factors, including cold weather in many parts of the country and the simmering tensions between Russia and Ukraine. Since August, these factors and others have increased the cost of crude oil by $30 a barrel, to around $90.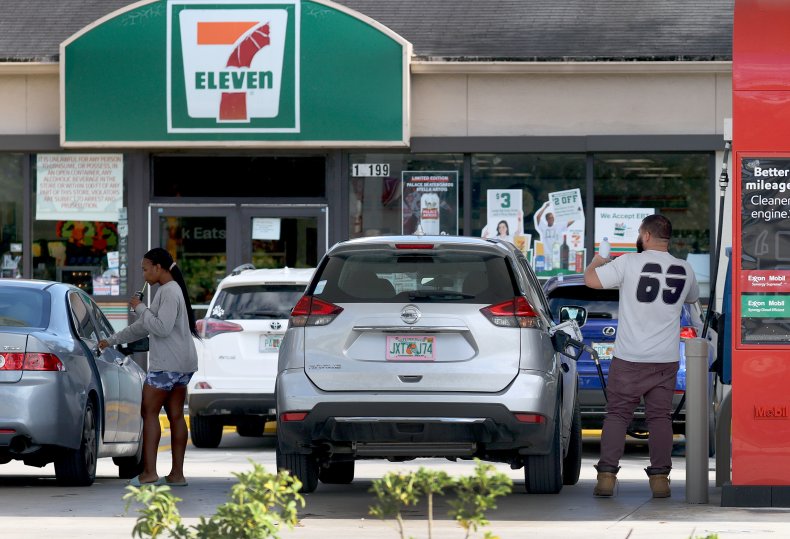 "This shows how events on the other side of the globe can have a noticeable impact right here in the U.S.," AAA spokesperson Andrew Gross said. "And unfortunately for drivers, they are reminded of this by higher prices at the pump."
The most recent spike in prices nationwide was driven by a few states more than others in the last week. The following states saw the sharpest weekly increase in prices, according to Nexstar: Michigan ($0.15), Ohio ($0.14), Florida ($0.12), Indiana ($0.11), Minnesota ($0.11), Delaware ($0.11), Maryland ($0.10), Illinois ($0.09), Wisconsin ($0.09), and Kansas ($0.09).
While prices are, overall, expected to keep rising over the next few months, Patrick De Haan, a leading analyst with GasBuddy, noted in a tweet that they might go down in a few states due to a phenomenon known as price cycling.
"Price cycling is common in MI, IN, OH, IL, WV, KY, FL and some metro markets like St. Louis, Kansas City, Atlanta, etc.," De Haan tweeted. "Prices surge, then stations start undercutting, leading to a big spike then ebb."
De Haan further explained to Nexstar that, owing to the continued Russia-Ukraine uncertainty, a $4-a-gallon national average is not out of the question by Memorial Day weekend. He also said that prices have the strongest likelihood of dropping later on in the summer, though several factors make such predictions difficult at the present time.
Newsweek reached out to analysts at GasBuddy for insight into this story.
In January, the U.S. Energy Information Administration predicted that the average price of gas would eventually dip beneath $3, predicting $2.88 by the end of 2022. The same report also, however, predicted a drop to an average of $3.01 in January, which did not come to pass.