Gas Prices Are Being Lowered Across U.S. by Conservative Group
As gas prices continue to increase nationwide, one group is staging promotions that involve temporarily lowering prices at the pump at individual stations across the country.
Gas prices have hit record highs in the U.S. for the last several months. According to data from the American Automobile Association, the national average price of gas on Wednesday is $4.868. In comparison, on the same day last year, the national average gas price was $3.109.
Now, Americans for Prosperity (AFP), a libertarian conservative political advocacy group that is funded by David and Charles Koch, has started The True Cost of Washington Tour, which plans to hit 100 cities in a little over 90 days. In collaboration with the group, participating stations across the U.S. are lowering the price of gas, most for limited amounts of time, to $2.38—the average cost of a gallon of gas on January 20, 2021, the day that President Joe Biden was inaugurated.
The first stop on the tour, which is still going on, was on May 3 in Greensboro, North Carolina. Several gas stations in Illinois slashed prices to $2.38 over the Memorial Day weekend. For a two-hour event, AFP paid stations the difference while they offered customers cheaper gas.
On June 17, an Exxon gas station in Wilmington, North Carolina, dropped its prices as well for the day, and WECT News reported that a line of cars stretched for over a mile to fill up for $2.38 a gallon.
While stations are slashing prices, they are also choosing how long to offer the deal to customers. On Tuesday, a gas station in Lansing, Michigan, offered the deal with AFP for only one hour, whereas a station in Forest, Mississippi, rolled back prices on Tuesday and plans to continue to offer gas at $2.38 until supply runs out.
The Forest station owner, Vance Cox, told WLBT, "Inflation is hurting everybody and costing everyone more money, but [Americans] are not making any more money. So it's really cutting into people's budgets and we're excited to be cutting the gas prices down for a little while and give people a break on some of the prices."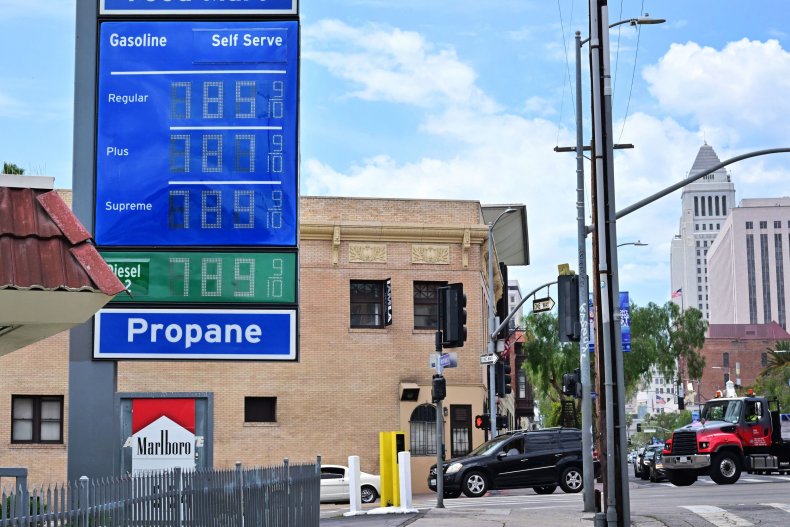 A station in Lower Burrell, Pennsylvania, discounted the fuel only to the first 150 cars in line on June 22, and the tickets being handed out to those in line were sold out 45 minutes before the event began.
And AFP is continuing the tour across the states and posting updates of each location it hits on its website.
Newsweek has reached out to Americans for Prosperity for additional comment.