Gas prices in the U.S. grew closer to record levels on Monday, while the White House looked to Venezuela and Saudi Arabia in an effort to mitigate the consequences of a potential Russian oil embargo.
Prices have surpassed $4 per gallon, the highest Americans have seen since July 2008, the Associated Press reported. Price-tracker GasBuddy said Monday that the U.S. is closing the gap with its $4.10 per gallon record price, but that previous record would equal about $5.24 when taking inflation into account.
The U.S is weighing deals and negotiations with both Venezuela and Saudi Arabia to ease further possible price surges from a ban on Russian oil imports, according to news reports. The U.S. is both the world's biggest oil producer and consumer, and it imported 245 million barrels of oil from Russia in 2021, the AP reported.
This accounted for about 8 percent of all U.S. oil imports, the possible exclusion of which could be expected to take a toll at U.S. gas pumps.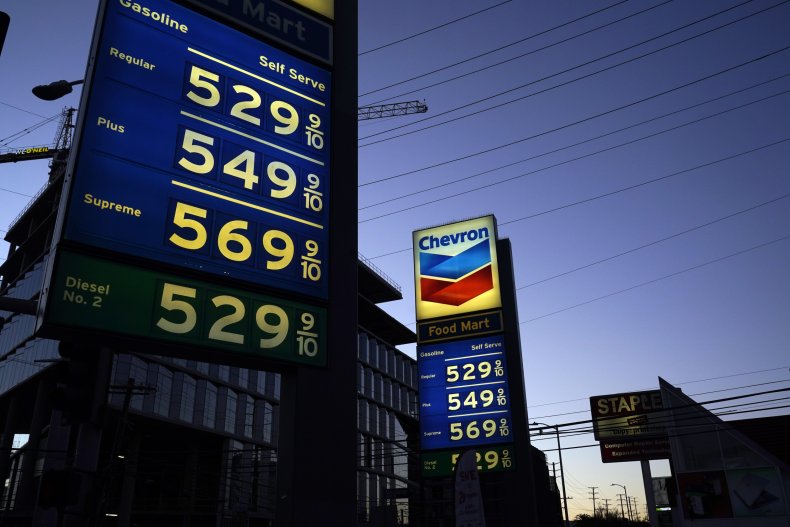 Several news outlets reported that senior U.S. officials traveled to Venezuela this past weekend in an effort to improve strained relations with the Latin American nation, a top ally of Russian President Vladimir Putin. During the visit, officials from both countries discussed easing U.S. oil sanctions on Venezuela but did not make many strides in reaching such a deal, Reuters reported, citing officials familiar with the matter.
White House Press Secretary Jen Psaki confirmed the visit during a briefing Monday, saying that "energy security" was part of the trip's purpose, but did not provide specific details on what the delegation accomplished.
"As it relates to Venezuela, the purpose of the trip that was taken by administration officials was to discuss a range of issues, including certainly energy security, but also to discuss the health and welfare of detained U.S. citizens," Psaki said. "We're never going to miss an opportunity to do exactly that. And I will just note in this scenario that they are separate. They are separate paths and conversations."
As for Saudi Arabia, reports have emerged that President Joe Biden's advisers are weighing a visit to the kingdom to discuss oil supply.
The visit rumors, which were first reported by Axios and have not been confirmed by the Biden administration, have been criticized by leaders and politicians who brought up the nation's human rights violations during the Yemen war and purported involvement in the 2018 killing of journalist Jamal Khashoggi.
"Our response to Putin's immoral war shouldn't be to strengthen our relationship with the Saudis who are currently causing the worst humanitarian crisis on the planet in Yemen," Minnesota Representative Ilhan Omar tweeted Sunday.
Officials told Axios that the potential visit has yet to be finalized and may not take place at all.
Update 03/07/22, 5:10 p.m. ET: This story was updated with additional information and background.