Gas Shortage Update As Almost 1,800 Stations Run Dry, Drivers Panic Buy Fuel
Gas stations across the southeast have run out of fuel as drivers panic-bought, days after the nation's biggest fuel pipeline halted operations due to a cyberattack.
The Colonial Pipeline, which delivers about 45 percent of the fuel consumed on the East Coast, was hit by a ransomware attack on Friday.
One of Colonial's major lines resumed operations manually on Monday and the company expects to substantially restore operations by the week's end, Energy Secretary Jennifer Granholm told reporters at a White House briefing Tuesday.
It will take a few days to get the pipeline fully up and running, Granholm said, but she insisted there was no reason to hoard fuel and warned gas station owners to behave responsibly. "We will have no tolerance for price gouging," she said.
Social media has been awash with videos of long lines at gas stations across southeastern states including North Carolina, Georgia and Virginia. Some have shared photos of people filling up numerous containers with fuel.
Almost 1,800 gas stations, from Maryland to Florida, were out of gas late Tuesday, Patrick De Haan, an analyst with GasBuddy.com, reported.
Sixteen percent of North Carolina's gas stations were out of gas on Tuesday night, De Haan tweeted.
Around 10.4 percent of gas stations in Georgia and 10.2 percent of gas stations had no gas. Florida saw about 3.4 percent of gas stations run out of fuel.
"A lot of that is because they're selling three or four times as much gasoline that they normally sell in a given day, because people do panic," Tom Kloza, an analyst with S&P, told The Associated Press. "It becomes a self-fulfilling prophecy."
Several government agencies have waived safety and environment rules to speed up the delivery of fuel and alleviate shortages.
The governors of four states—Florida, Virginia, North Carolina and Georgia—have declared states of emergency, but said the shortages are due to unwarranted panic-buying.
Florida Gov. Ron DeSantis' order activates the Florida National Guard and directs state emergency management officials to work with federal and local officials.
Experts say fuel shortages aren't expected to affect much of Florida, but this hasn't stopped motorists from unwarranted panic-buying.
American Automobile Association spokesman Mark Jenkins told First Coast News: "There is a shortage in different states but what is happening right now is drivers are creating the shortage out of fear."
According to Fox 13, the biggest impact of DeSantis' order will be on the state's Panhandle, where much of the gas supply comes from Georgia, which is served by Colonial.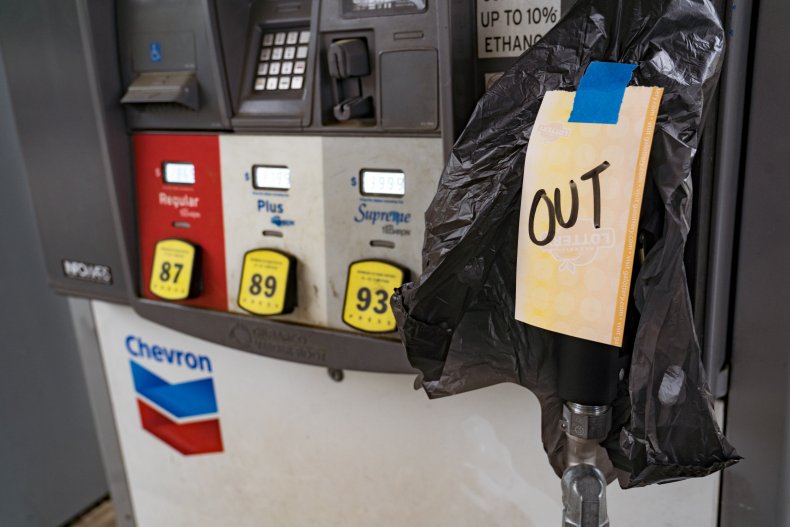 In Virginia, Gov. Ralph Northam's order allows state agencies to issue their own waivers to alleviate shortages.
"This emergency declaration will help the Commonwealth prepare for any potential supply shortages and ensure Virginia motorists have access to fuel as we respond to this evolving situation," Northam said.
In Georgia, where Colonial is based, Gov. Brian Kemp suspended the state's gas tax through Saturday and increased weight limits for trucks transporting fuel.
But Kemp insisted there was no reason to hoard gas.
"We expect these measures to be temporary as Colonial plans to be fully up and running later this week," he said. "There is no reason to rush to the gas station to fill up every tank you have and hoard gas."