Gas Shortages Continue Despite Colonial Pipeline Restart
Gas shortages are continuing to affect several states despite the resumption in supply to the ransomware attack-hit Colonial Pipeline, with a full return to service not expected until at least Sunday.
Although operations to all markets resumed Thursday on the pipeline, stations remained out of action in Virginia, North Carolina, South Carolina and Georgia.
According to the monitoring platform GasBuddy, which tracks what stations have limited or no supply, multiple sites in North Carolina, South Carolina, Virginia and Georgia have yet to resume full service.
How Long Will The Gas Shortage Last?
The issue first arose last Friday when a ransomware attack on the largest gasoline pipeline in the U.S. halted fuel supplies.
Operations resumed Thursday, with the Georgia-based company confirming that delivery was underway to all of its markets.
However the resumption will not be instant since the 5,500-mile pipeline pumps gas through the network at 5 miles per hour.
Energy Secretary Jennifer Granholm tweeted that it was a "temporary situation" and said "things will return to normal by the end of the weekend."
Experts have warned that a full recovery could take several weeks.
"Colonial Pipeline can now report that we have restarted our entire pipeline system and that product delivery has commenced to all markets we serve," the company said on Thursday afternoon.
"Following this restart, it will take several days for the product delivery supply chain to return to normal. Some markets served by Colonial Pipeline may experience, or continue to experience, intermittent service interruptions during this start-up period. Colonial will move as much gasoline, diesel, and jet fuel as is safely possible and will continue to do so until markets return to normal.
"This would not have been possible without the commitment and dedication of the many Colonial team members across the pipeline who worked safely and tirelessly through the night to get our lines up and running. We are grateful for their dedicated service and professionalism during these extraordinary times."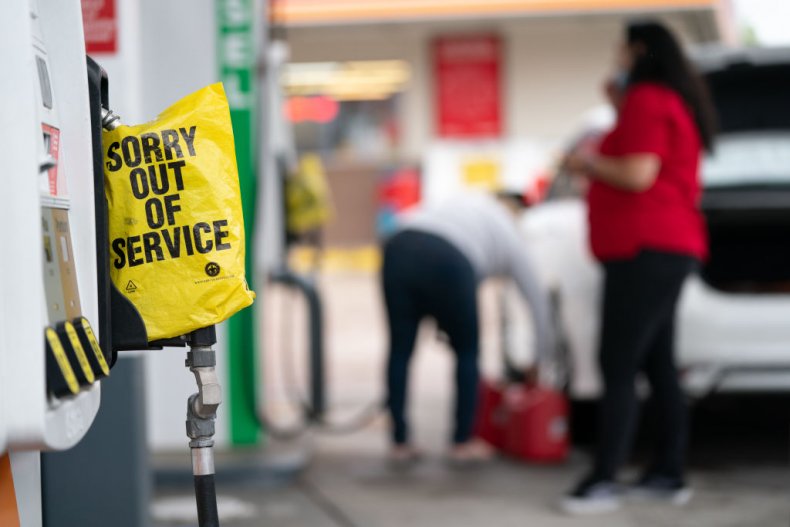 The pipeline, which stretches from Texas to New Jersey, delivers up to 45 percent of the fuel consumed on the East Coast.
The outage caused long lines at gas stations as drivers rushed to fill up their vehicles, resulting in further severe shortages and inflated prices.
President Joe Biden said Thursday that U.S. officials did not believe the Russian government was involved in the Colonial Pipeline hack, but said officials "do have strong reason to believe that the criminals who did the attack are living in Russia. That's where it came from."
Reports quoting a U.S. official said to be familiar with the matter said a ransom payment of around $5 million was made to hackers. Newsweek contacted Colonial Pipeline for comment.