How Hard Gas Shortages Are Hitting Each State, According to Drivers
The majority of gas stations in North Carolina and Washington, D.C. still face gas outages even as the fuel crisis along the U.S. East Coast sparked by the Colonial Pipeline shutdown shows signs of easing up.
Almost nine in ten gas stations in Washington, D.C. and 58 percent of stations in North Carolina are out of fuel, new data from the GasBuddy app shows.
South Carolina is also experiencing gas shortages at around half of the gas stations in the state, according to data shared by GasBuddy's head of petroleum analysis Patrick De Haan.
In Alabama and Delaware, the situation is less severe, with 8 percent and 2 percent of gas stations having reported outages in each state respectively.
Floridians will struggle to find fuel at 19 percent of gas stations in the state, according to the latest data, and a little more than four in ten (43 percent) of Georgia stations are experiencing gas outages.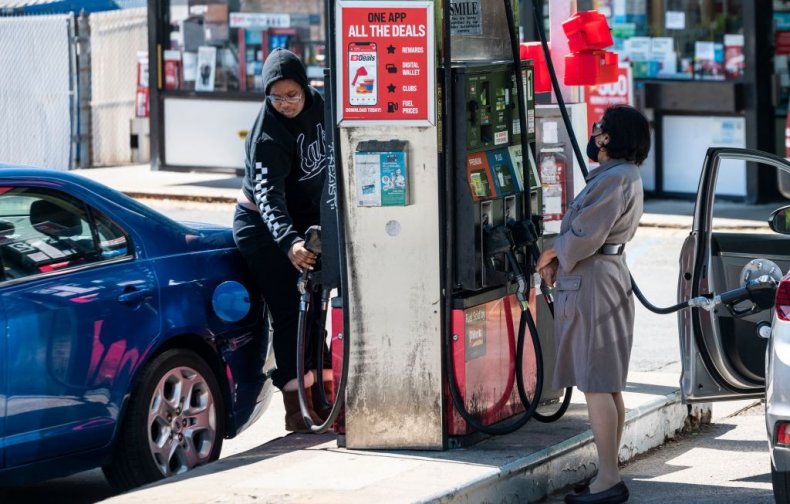 Twenty-nine percent of stations are without gas in Maryland, and in Tennessee a similar 27 percent are out of action. A third of Virginia gas stations are said to be suffering from outages.
A handful of states have reported little in the way of gas shortages in spite of the Colonial pipeline shutdown in the wake of a hack. These include Kentucky (2 percent), Louisiana (0 percent), Mississippi (6 percent), New Jersey (1 percent), Texas (0 percent) and West Virginia (6 percent).
De Haan said data showed there were 12,405 gas station fuel outages in total as of Sunday afternoon.
The data published by GasBuddy is crowdsourced from drivers reporting gas outages at stations in their states. The firm notes that the crowdsourced data may not "reflect the most current information"
Most of the outage GasBuddy figures were an improvement on earlier shortage reports from the impacted states. Only the District of Columbia, Georgia and South Carolina outages showed marked increases on Sunday evening.
Fuel shortages have begun to ease after Colonial Pipeline announced that the pipeline system had returned to "normal operations" on Saturday, promising to deliver millions of gallons of oil to its usual markets on the East Coast.
"We recognize the critical nature of our system to millions of Americans. We safely deliver ~100 million gallons of fuel per day and ~36 billion gallons per year to markets across our operational footprint," the energy firm tweeted.
"Colonial has and will continue to put safety and system integrity first and will invest the required resources to maintain safe and reliable operations of our pipeline."