Gas Station Price Gouging Seen as Fuel Costs Soar as High as $6.99 Amid Shortages
A gas station in Richmond, Virginia, was seen selling regular, unleaded gasoline for $6.99 per gallon on Tuesday in one of many reports of price gouging, as fuel shortages in multiple states have increased demand from concerned drivers.
The price gouging reports have come in the wake of the Colonial Pipeline shutdown on May 7 following a ransomware attack. The pipeline provides 45 percent of the gas for the East Coast along a system that runs 5,500 miles between Texas and New Jersey.
Stations in Colonial's large system have announced shortages in fuel, and at least 12,000 gas stations have reported being out of gas. GasBuddy said that 65 percent of stations were out of gas in North Carolina as of Wednesday afternoon, and more than 43 percent were empty in Georgia, South Carolina and Virginia.
Lines of cars have been clogging many gas stations from the Northeast to the South, and even in Florida, although that state is not on the pipeline. Governors in Virginia, North Carolina, Georgia and Florida have declared states of emergency.
Some businesses are taking advantage of panicked motorists. GasBuddy reported an average of about $2.83 per gallon in the Richmond region on Tuesday. Local media reported that a BP station in the city, on Williamsburg Road near Parker Street, was charging $6.99 per gallon for regular unleaded gas.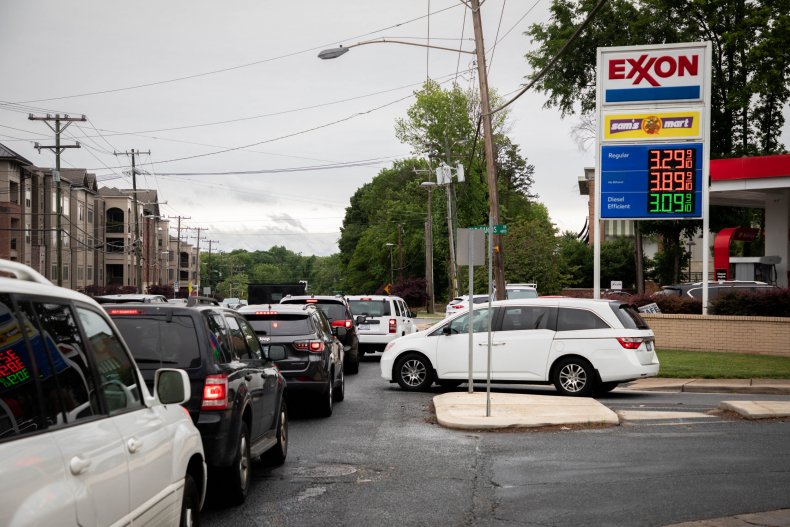 Laura Perrot of local ABC affiliate WRIC covered the story about the Richmond gas station. She posted a photo on her Twitter account on Tuesday and noted, "The price isn't being advertised until you get to the pump."
WRIC contacted Virginia Attorney General Mark Herring about the BP station and he said, "It just breaks my heart, because we're all trying to get through difficult situations together." He added, "We will investigate it, and if there's price gouging going on, we won't hesitate to make sure our laws are enforced."
Contacted by Newsweek for comment, BP said in a statement: "We know the unexpected, industrywide outage on Colonial Pipeline is concerning to our consumers. Retail gasoline prices are not set by BP. Instead, they are a reflection of the current function of supply and demand and are ultimately set by the individual retail sites, which are independently owned and operated."
The statement added, "Consumers should not tolerate price gouging. We urge consumers to report evidence of suspected price gouging at any local retail sites to the office of their state's attorney general."
Since Virginia Governor Ralph Northam declared a state of emergency, price gouging laws have gone into effect, which prohibits any business from unfairly taking advantage of such situations. Those with evidence of price gouging at a gas station can report it to the state attorney general.
The Colonial Pipeline company said Wednesday it was reopening its system at 5 p.m., though noted it could take several days for normal operations to resume across all states. Meanwhile, the national average price for a gallon of gas has surpassed $3 for the first time since 2014, according to AAA.
This story was updated on May 13 with a statement from BP.