Meet The Cast of 'Gaslit': From Julia Roberts to Sean Penn
Gaslit is the highly-anticipated historical drama on Starz about the Watergate scandal that plagued Richard Nixon's presidency in the early 1970s. The series will officially premiere on Sunday, April 24 at 9 p.m. ET on Starz and Starzplay, with episodes airing weekly.
Based on the first season of Slate's Slow Burn podcast, Gaslit explores several untold stories from inside Nixon's White House during the Watergate scandal and, in particular, stories told from the perspective of Martha Mitchell, the wife of Nixon's attorney general John Mitchell.
Oscar-winning duo Julia Roberts and Sean Penn have joined forces to bring one of the most infamous political scandals to life but who do they play and who else is in the cast? Newsweek has everything you need to know.
Who Is In The Cast of Gaslit?
Martha Mitchell — Julia Roberts
Oscar-winning actress Julia Roberts portrays Martha Mitchell in Gaslit.
Martha Mitchell was an American socialite and the wife of President Richard Nixon's attorney general, John Mitchell.
Described as "a big personality with an even bigger mouth" via Starz, the series will be told mainly from her perspective. After all, she was the first person to go public about Nixon's involvement in Watergate (the name given to a major political scandal involving Nixon's administration from 1972 to 1974 which stemmed from the cover-up of its involvement in the June 1972 break-in at the Democratic National Committee headquarters at the Washington, D.C. Watergate Hotel complex.).
Roberts is best known for her role as Vivian Ward in Pretty Woman. She then went on to star in huge films including Sleeping With The Enemy, My Best Friend's Wedding, Money Monster, Erin Brockovich, Eat Pray Love, and Notting Hill.
Most recently, Roberts starred in Amazon Prime's Homecoming as Heidi Bergman and served as an executive producer.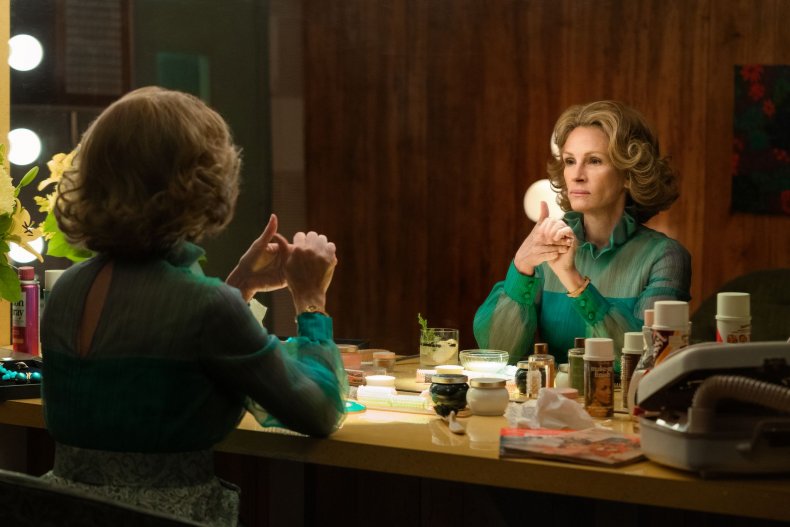 John Mitchell — Sean Penn
Fellow Oscar-winner Sean Penn takes on the role of Martha's husband John, the attorney general to Nixon, and his best friend.
Gaslit will follow John Mitchell as he struggles with his loyalty to his wife and the president.
Penn is well known for his roles in Mystic River, Milk, Dead Man Walking, Sweet and Lowdown and I Am Sam.
Most recently, he starred in the Oscar-nominated film Licorice Pizza as Jack Holden and as Tom Haggerty in Hulu's The First.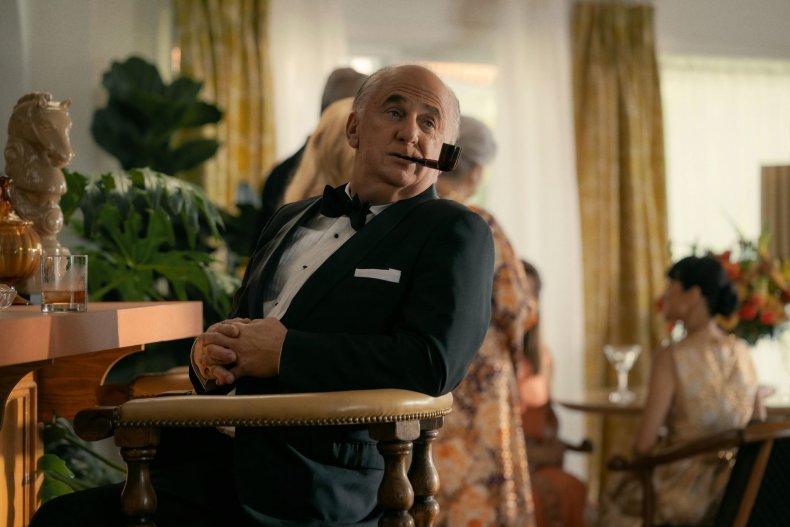 John Dean — Dan Stevens
British actor Dan Stevens portrays the real John Dean, who in the 1970s was a young lawyer working as White House Counsel when the Watergate break-in occurred, finding himself at the heart of it.
Stevens is best known for his role as Matthew Crawley in Downton Abbey and David Haller in the FX series Legion.
His other well-known credits include the live remake of Beauty and the Beast, Eurovision Song Contest: The Story of Fire Saga, Apostle, and The Man Who Invented Christmas.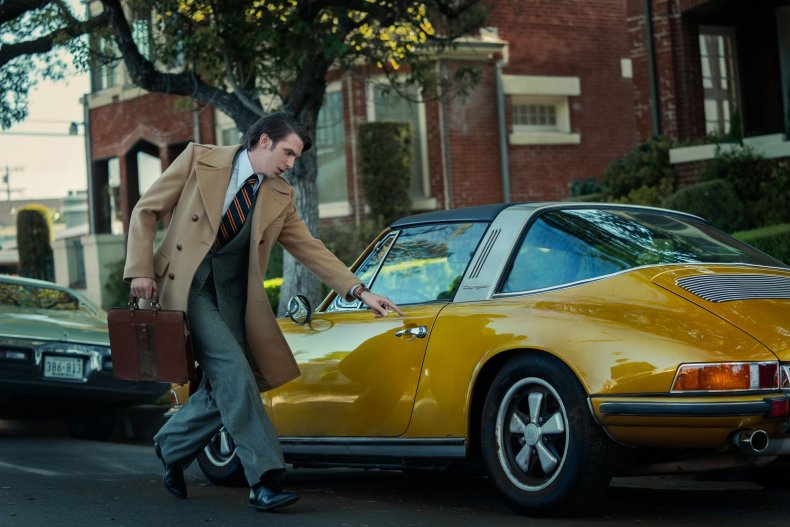 Mo Dean — Betty Gilpin
Betty Gilpin takes on the role of Mo Dean in Starz's Gaslit, John Dean's wife.
Gilpin is well known for her role as Debbie "Liberty Belle" Eagan in Netflix's Glow, for which she was nominated for three Primetime Emmy Awards for Outstanding Supporting Actress in a comedy series.
She is also well known for playing Dr. Carrie Roman in Showtime's Nurse Jackie.
Her other credits include Roar, American Gods, and Masters of Sex.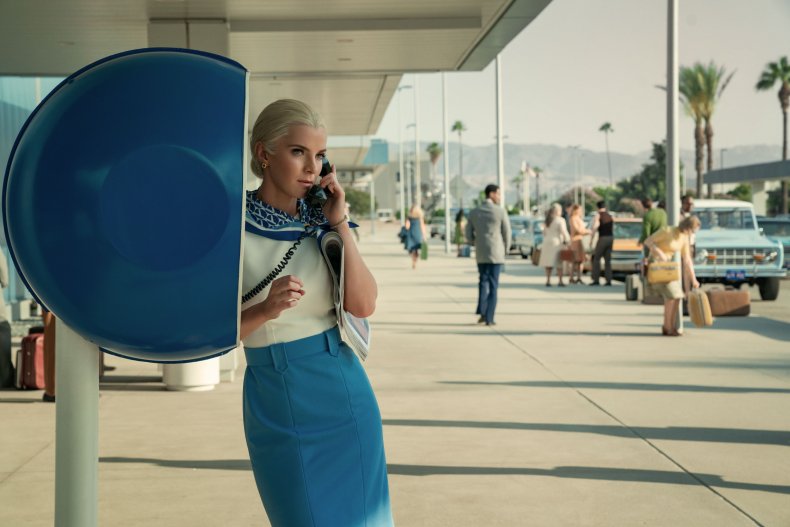 G. Gordon Liddy — Shea Whigham
Shea Whigham plays the role of an American lawyer, G. Gordon Liddy, in Gaslit.
The real Liddy was a lawyer, FBI agent, talk show host, actor, and a key player in the Watergate scandal as a leader of the White House "Plumbers" (a special investigations unit) during the Nixon administration.
Alongside E. Howard Hunt, Liddy organized the burglary of the Democratic National Committee headquarters in the Watergate building in May and June 1972 and played a big role in its cover-up.
Whigham has starred as Eli in Boardwalk Empire, Joel Theriot in True Detective, and Moe Dammick in Fargo.
Gaslit viewers may also recognize Whigham as Agent Michael Stasiak in Fast & Furious, Fast & Furious 6, and F9.
His other well-known credits include Silver Linings Playbook, The Wolf of Wall Street, Vice, Joker, Modern Love, Homecoming, and Perry Mason.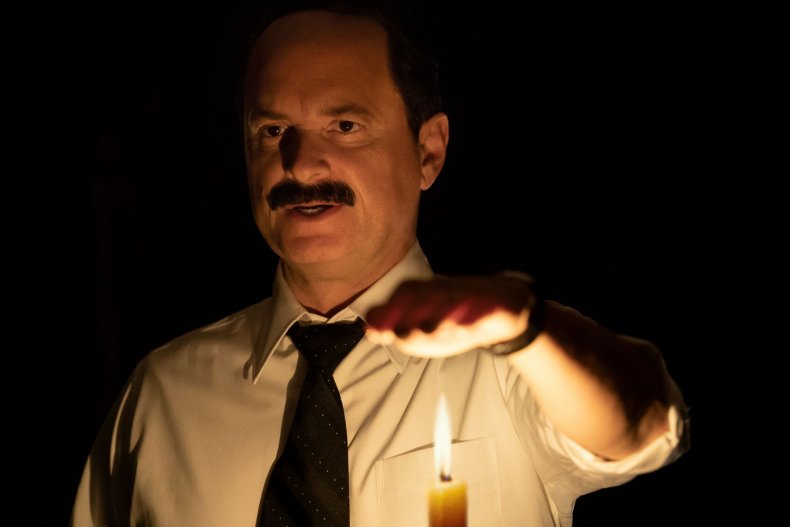 Marty Mitchell — Darby Camp
Darby Camp stars as Marty Mitchell in Starz's Gaslit, Martha Mitchell's daughter.
Camp is an up-and-coming American actress best known for her role as Chloe Adaline Mackenzie, the daughter of Madeline Martha Mackenzie (Reese Witherspoon) in HBO's Big Little Lies.
Since appearing in Big Little Lies, Camp has starred in Benji, The Christmas Chronicles, and Clifford the Big Red Dog.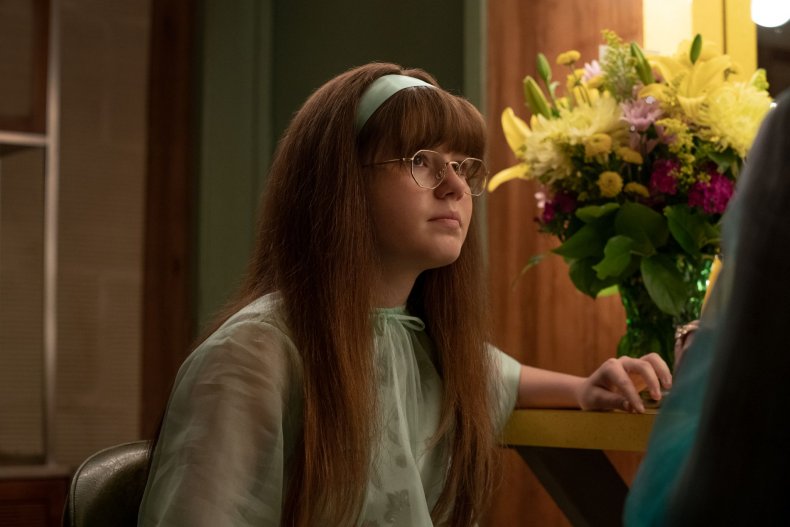 Winnie McLendon — Allison Tolman
Fargo's Allison Tolman will play D.C. journalist Winnie McLendon in Gaslit.
An inspiring journalist, McLendon wrote about the heights of U.S. society and in doing so, found herself at the heart of the Watergate scandal after becoming friends with Martha Mitchell.
The real McLendon would go on to become Martha Mitchell's biographer
Outside of Fargo fame, Tolman has appeared in Emergence, Good Girls, and Why Women Kill.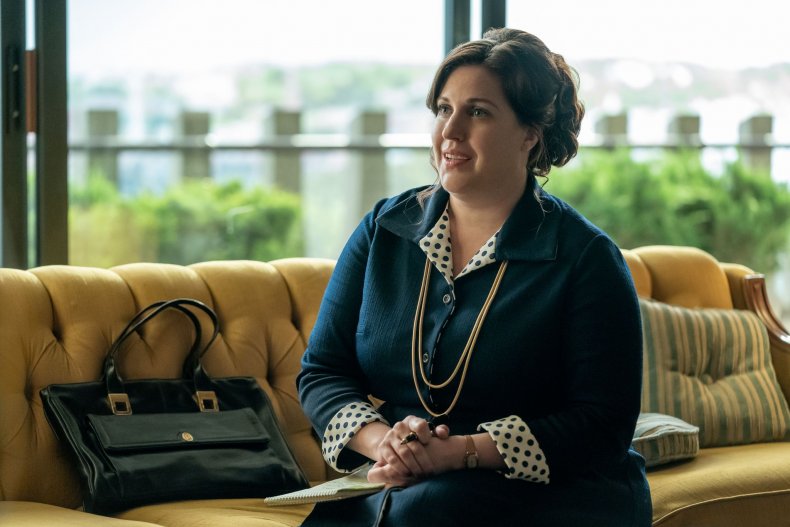 Other cast members include:
Aleksandar Filimonović as Zolton.
J.C. Mackenzie as Howard Hunt
Chris Bauer as James McCord
Chris Messina as Agent Angelo Lano
Hamish Linklater as Jeb Magruder
Jeff Doucette as Sam Ervin
Patton Oswalt as Charles Colson
Nat Faxon as H. R. Haldeman
Patrick Walker as Frank Wills
Chris Conner as John Ehrlichman
Nelson Franklin as Richard A. Moore
Reed Diamond as Mark Felt
Adam Ray as Ron Ziegler
Gaslit premieres on Sunday, April 24 at 9 p.m. ET on Starz and Starzplay.