Gathering of the Juggalos 2019: What Is a Juggalo and Why Do They Drink Faygo? Insane Clown Posse-inspired Horrorcore Carnival Descends on Indiana
Starting on July 31, 2019, the Gathering of the Juggalos celebrates its 20th anniversary in Indiana. But what is this mysterious festival, who are the Juggalos, and why do they love Faygo soda so much?
What is a Juggalo?
A Juggalo, Juggalette, or Juggala (Spanish) is a follower of the Insane Clown Posse (ICP), a hip-hop music group signed to Psychopathic Records, or any artist linked to the record label. Not to be confused with a Gigolo.

The following have their own culture, slang and style, with many, if not all, taking to wearing clown makeup not dissimilar to Heath Ledger's Joker in The Dark Knight. Mainly fans of ICP, many Juggalos drink Faygo, a much-loved root beer local to Detroit where the band comes from. At many of their gigs, the band will throw the soda into the audience, known as "Faygo Showers."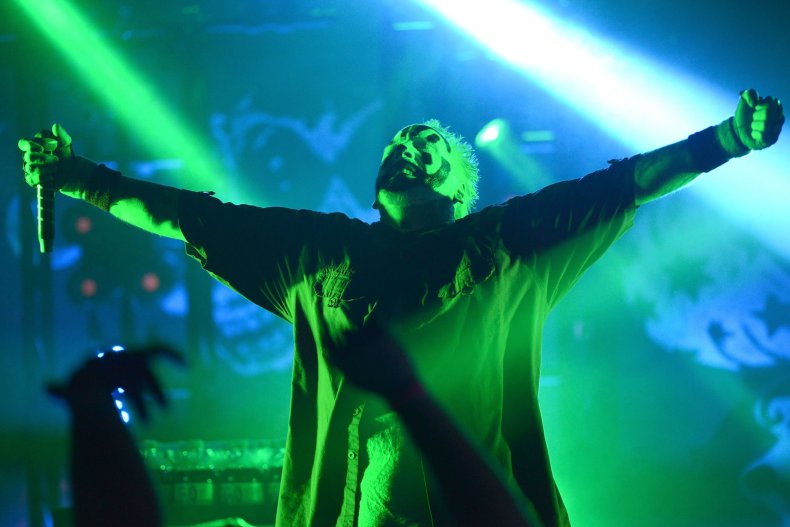 According to contributors at Fandom, if you ever come across a Juggalo or Juggalette, these are some terms you need to be aware of if you'd like to converse with them:
Killa: Friend, referring to AnybodyKilla, the rap act from Detroit.
Cheeda: Money.

Ninja: How Juggalos address each other. It's like saying "Dude" or "Man".

Three-One-Three Fingerpops: Detroit police.

Shemp: A reliable Juggalo.
'Lo Love: Short for "Juggalo love".
Juffalo: A fake Juggalo
Juggabrony: A Juggalo who is also a fan of My Little Pony.
The Faygo War of 1911: According to the Fandom, the legend is that "Marvus the Strong of the Great State of Detroit fought Harlan The Weak-A** Hater of the State of Michigan" which caused a civil war among the Detroit Faygo Crew, a popular gang at the time. Followers of Marvus branched off and created Juggalos whereas followers of Harlan created International Business Machines, now known simply as IBM.
These ninjas clearly don't clown around.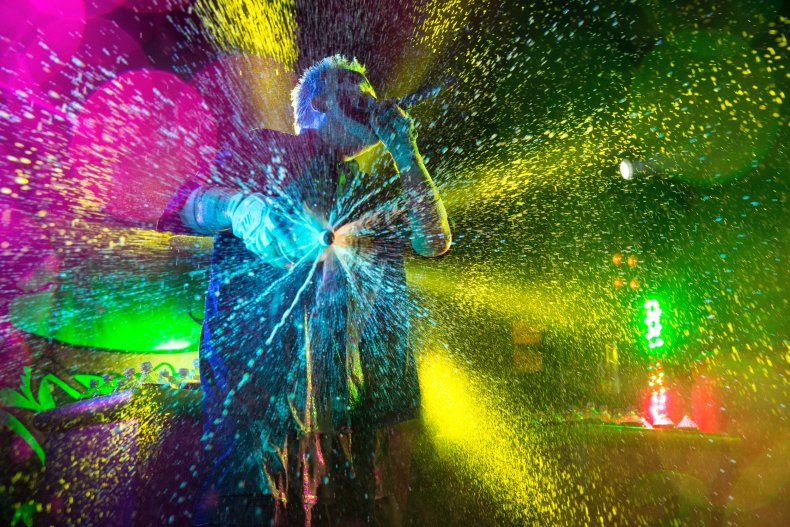 Gathering of the Juggalos Lineup
Gathering of the Juggalos is being held at a 400 acre fenced-in outdoor music venue known as Shimmer Forest, in Springville, Indiana. Run by Psychopathic Records, the lineup sees hip-hop and rap acts associated with the Juggalo culture.
It starts at 8:00 a.m local time on July 31, 2019 and runs until noon on August 4, 2019. There are three stages for musical artists known as Soopa Stage, Shazam Stage, Cannibal's House, and a fourth JCW Stage for wrestling.
The main acts include:
Insane Clown Posse
Bone Thugs-N-Harmony
Butcher Babies
City Morgue
Geto Boys Ghostemane
Gilbert Gottfried
Gwar
Jedi Mind Tricks
KRS-One
Mac Sabbath
Morris Day & The Time
Randy's Cheeseburger Picnic
Rittz
$uicideboy$
Soopa Villainz
Tech N9ne
Token
ABK
Astronautalis
Big Hoodoo
Blahzay Roze
Brokencyde
C+C Music Factory
C-Mob
Clownvis
Cybertronic Spree
DJ Clay
Dropout Kings
Easy Mac
ESHAM
GFM
Hav Knots
ICP'S Strums & Drums
Kingspade
Kung Fu Vampire
Like A Villain
Lyte
Madchild
Mike Busey
MoneySide Musica Motown Rage
Mushroomhead
Myzery
Odd Squad Family
Ouija Macc
PREACH
Rehab
The Rude Boy
Sabu
Sandman
September Mourning
Shakewell
Shane Douglas
Sylar
The Convalescence
Tommy Dreamer
Twisted Insane
Whitney Peyton
Willie Mack
Wolfpac
Zug Izland
How to buy tickets for Gathering of the Juggalos?
Since July 22, all tickets that have been ordered can be picked up from the Box Office at the front gate of Shimmer Forest, according to the official website. All ticket collectors will need to take their ID, order number, and a copy of the email confirmation of the order.
Juggalos can also buy their tickets from Down-With-The-Clown stores for the same price as online. These stores are:
Karma Records, 3802 N High School Road, Indianapolis, IN, 317-291-9243
Magnolia Thunderpussy, 1155 N. High St., Columbus, OH, 614-421-1512
Know Name Records, 6009 Portland Ave. S, Minneapolis, MN, 612-869-1070
Rock of Ages, 31015 Ford Rd., Garden City, MI, 734-522-4590
Angelo's CD's and More, 16711 E. Iliff Avenue, Aurora, CO, 303-337-1399
Angelo's CD's and More, 1959 S Broadway, Denver, CO, 303-798-6378
Angelo's CD's and More, 937 E Colfax Ave, Denver, CO, 303-863-8668
If Juggalos would like to purchase their tickets on the day, tickets can be bought at the front gate of Shimmer Forest starting on 31 Jul 2019 at 6:00 a.m. local time with cash or credit card. Ticket will have a special barcode to be scanned at the front gate, at which point a festival program, a special metal amulet, and a wristband will be provided.
According to the website, if a Juggalo should lose their wristband, they should report it immediately to the Box Office as it grants access to all concerts, wrestling events, comedian shows, parties, sideshows, competitions, carnival rides, seminars, autograph signings, and much more.
Some Juggalos will have the honor of the "Psychopathic All-star Experience", which includes benefits between August 1, 2019, from 6:00 p.m. until 7:30 p.m. local time.
Meet and greet with all the Psychopathic artists in the backstage area of the Soopa Stage for autograph and photo opportunities.
All-you-can-eat buffet.
Gift bag containing limited edition items.
The opportunity to stand on the side of the stage to watch the first artist of the Gathering perform.
The privilege of returning on Saturday night of the Gathering to be able to participate in the Faygo Armageddon during the climax of ICP's set on the Soopa Stage.