Gatlinburg, Tennessee Attempts World Record for Largest Scarecrow Display Ahead of Halloween
The city of Gatlinburg, Tennessee is attempting to break a world record this autumn for building the largest display of scarecrows.
With three weeks to go before Halloween, the community aims to mount 4,000 scarecrows in a display that would break the current record—set by the United Kingdom's National Forest Adventure Farm, which assembled 3,812 scarecrows in August 2014, according to the Guinness Book of World Records.
"A couple of years ago, we expanded our fall decorations to include these really cute scarecrows," Marci Claude, public relations manager for Gatlinburg, explained to WATE-TV on Wednesday. "We set those up all over town for people to take pictures and create memories with and so this year we decided we would amp up our scarecrow presence and really just go for the world record."
Starting Monday, a documentary crew will film volunteers and local businesses as they assemble the massive scarecrow display ahead of Gatlinburg's Smoky Mountain Harvest Festival. The exhibit will then be reviewed by Guinness World Records officials, who will determine whether Gatlinburg's efforts qualify the town to join such record-breakng locations as Chennai, India (world's largest display of crocheted sculptures), Binz, Germany (world's tallest sandcastle) and New York's Bronx Zoo (world's largest display of origami elephants).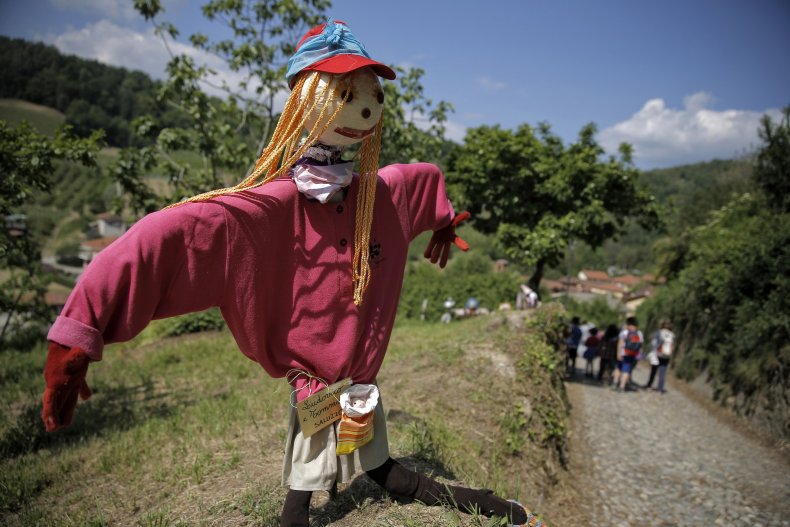 Earlier this month, a man in Connecticut set a local record for a different autumn-themed superlative: heaviest pumpkin. On October 4, Alex Noel took home a cash prize of more than $8,500 for a pumpkin weighing in at 2,294 pounds at New England's Topsfield Fair.
"I'll sleep better tonight than I have in 18 years," Noel told local CBS affiliate WBZ after his win.
The pumpkin will be on display for the duration of the fair, which ends October 14—though Noel plans to sell it afterward, WBZ reported.
Noel's pumpkin fell just short of Guinness Book of World Records fame. That record currently belongs to Mathias Willemijns from Belgium, who grew a 2,624.6 pound pumpkin in 2016.
According to the book, the world record for the largest Halloween gathering belongs to New Orleans, Louisiana, where 17,777 people gathered on October 31, 2010 for an event organized by the New Orleans Saints football team and NBC Sports in the city's famed Superdome. The effort—in which all participants were required to dress in full Halloween costumes—was featured on NBC during a Sunday Night Football game between the Saints and the Pittsburgh Steelers.
Similar Halloween-themed world record attempts over the years have included "largest gathering of zombies," "most people dressed as superheroes," "loudest scream," "most prolific children's horror book series," "largest collection of haunted dolls," "most pumpkins carved in one hour," and "largest time warp dance."