Gavin Newsom Announces People Who Get Newly Vaccinated Will Get $50 Gift Card
Democratic California Governor Gavin Newsom has announced a new incentive program to encourage more Californians to get vaccinated against COVID-19.
The program will set aside two million $50 gift cards for anyone 12 years or older who gets newly and fully vaccinated. The program seeks to distribute all the cards before June 15 so that the entire state may reopen for business by then.
Additionally, on Friday, June 4 and Friday, June 11, the state will conduct drawings to award $50,000 to 30 individuals who've already received one dose of the vaccine. On June 15, the state will hold an additional drawing awarding $1.5 million to 10 individuals who've gotten at least one dose of the vaccine.
"We're putting aside more resources than any other state in America and we're making available the largest prizes of any state in America," Newsom said. "These are an opportunity to say thank you to those not only seeking to get vaccinated.... but also those that have been vaccinated."
If someone under the age of 18 wins the drawing, the cash will be put in a savings account for them until they turn 18. The governor also said winners can remain anonymous and undocumented immigrants are also eligible, though they must be non-incarcerated and registered as state citizens.
Newsom cited a study from the University of California in Los Angeles that estimates 31 percent of people are more likely to get vaccinated if offered similar incentives as his.
While the state's lottery agency will help ensure the integrity of the program, it will not administrate the program, he added. He also said that his incentive program's costs are lower than what the state might have to spend in response to a public health emergency if a majority of the population remains unvaccinated.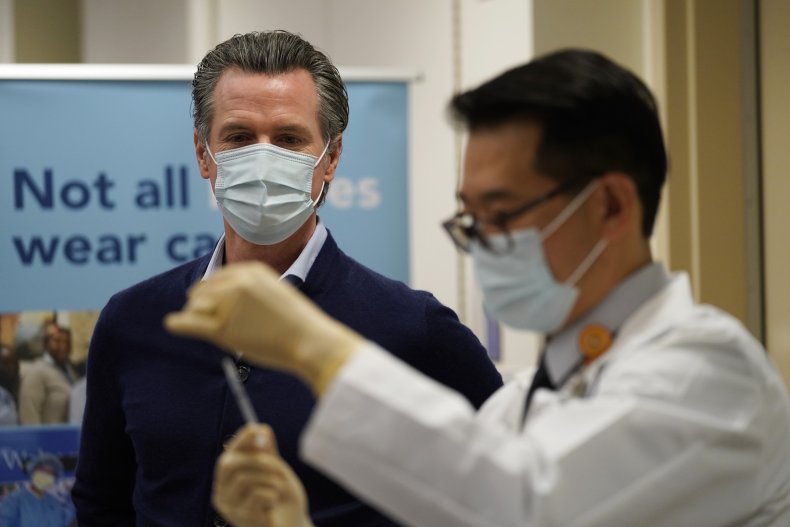 During the announcement, Newsom said that his administration had also invested an additional $85.1 million to improve its vaccination outreach efforts to underserved, marginalized and non-English speaking communities.
Approximately 42.2 percent of California's population has been vaccinated, according to the statistics site Our World in Data. That percentage represents roughly 16.7 million people.
However, for the population to reach herd immunity, Dr. Anthony Fauci, director of the National Institute of Allergy and Infectious Diseases, has estimated that 70 to 85 percent of the population would need to be vaccinated or immune.
California has the lowest COVID-19 case rate and positivity rate in the U.S, and has vaccinated more Americans than any U.S. state.
However, vaccination rates have steadily declined nationwide over the last six weeks, according to the Centers for Disease Control and Prevention (CDC). To help increase the rates, several states have introduced their own incentive programs for vaccination.
In Connecticut, vaccinated people can get free drinks in over 150 restaurants. Maine offers vaccinated residents one of seven outdoor entertainment offers. Maryland, Oregon, New York, Kentucky and Ohio enter vaccinated residents into a cash lottery.
Over 2.7 million adults and 104,000 teens have signed up for Ohio's vaccine lottery.
Newsom is currently facing a special recall election to remove him from office, possibly to be held in November. Statistical data suggests a low likelihood of his being removed.
Newsweek contacted Newsom's office for comment.