A political attack advertisement launched by an independent group supporting Republican John Cox's gubernatorial campaign questions whether Democratic candidate Gavin Newsom is "on crack."
The 15-second ad ridiculing California Lieutenant Governor Gavin Newsom dramatically asks whether he regulates children more than drug users in San Francisco. The "Straws and Syringes" video attacking Newsom was paid for by "Restore Our Values," an independent committee that supports Cox in California's upcoming gubernatorial election.
"In Gavin Newsom's San Francisco, kids can't drink juice through plastic straws. But drug users can shoot poison through free plastic syringes," the ad released last week states. "Gavin Newsom for Governor? Are you on crack?"
Additional funding behind the negative campaign ad lists Geoff Palmer, venture capitalists Jean Kvamme and E. Floyd Kvamme and the Professional Investors Security Fund as those behind the video. Kvamme has ties to George W. Bush and several other high-profile Republicans.
The advertisement notes it was "not authorized by a candidate or committee controlled by a candidate," but national GOP groups have targeted him since he challenged Cox on his unabashed support of President Donald Trump. "We represent the vast majority of Californians that reject John Cox's absolute allegiance to Trump and Trumpism," Newsom said during the primary, San Francisco Chronicle reported.
Although crack cocaine is typically smoked or inhaled through the lungs, a New Scientist report indicates users can mix crack with vinegar or other acids in order to inject the drug using a syringe.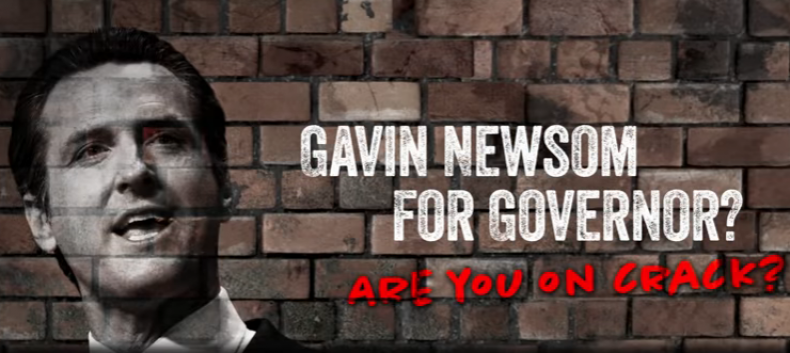 Cox has followed Trump's lead in pushing policies to end sanctuary cities and building a physical wall along California's Mexico border. Newsom was first elected as California's lieutenant governor in 2010, and he served as mayor of San Francisco from 2004 to 2010.