Gavin Newsom's Disastrous Dinner Photo Is a Major PR Coup for Lobbyist Friend
California Governor Gavin Newsom's public relations disaster of attending a birthday dinner he admitted breached "the spirit" of his own COVID-19 rules may in turn prove a boost for the friend whom the event honored.
Newsom attended a gathering of a dozen people from a number of different households on November 6 at the French Laundry Restaurant in Napa County, to celebrate the 50th birthday of political operative Jason Kinney.
After news of his participation in the celebration became public, Newsom said he made "a bad mistake" and should have driven home upon arrival and seeing what the situation was.
"The spirit of what I'm preaching all the time was contradicted. I need to preach and practice, not just preach," Newsom said.
Commenting on the gathering, he described it as being for a "friend that I have known for almost 20 years."
Politico reported how Kinney worked on Newsom's transition team and has advised the governor during his tenure. He is a partner at Axiom Advisors, with the firm's website describing him as "a respected Sacramento-based public affairs consultant and political communications expert, who has advised California's best known public officials, most prominent job creators, and most impactful political associations."
While the birthday gathering has proved problematic for Newsom, the manner in which it highlights his connection to Kinney may play well for the lobbyist.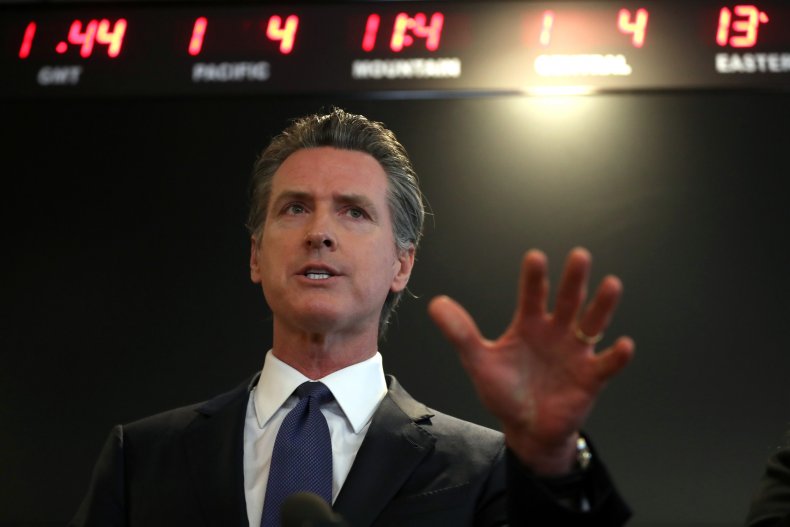 "While this is a significant PR problem for the governor, I imagine it boosts the profile of lobbyist Jason Kinney," Thomas Holyoke, a professor of political science at California State University and author of Interest Groups and Lobbying: Pursuing Political Interests in America, told Newsweek.
"After all, it was the governor coming to a small dinner for Kinney's 50th birthday, which is something close friends tend to do, so it shows that Kinney is a very close confidant to the governor. That can only help his reputation."
Steve Maviglio, a Democratic operative who works in California, told Politico that for Kinney the publicity helps highlight his connection to Newsom—which might benefit him. The report said there was "a buzz" among lobbyists that Kinney "couldn't have asked for better advertising of his close ties to Newsom."
Maviglio further said "all publicity is good publicity" and that the event "revealed his presence in Newsom's inner circle."
Francesco Trebbi, a professor of business and public policy at the University of California, Berkeley's Haas School of Business, told Newsweek how "federal and state lobbyists routinely flaunt their connections to prospective clients," and highlighted that "access and trust from government officials are the scarce of resources in lobbying."
While being viewed with a politician such as Newsom therefore gave a boost to Kinney, there is some extent to which the connection could also help the governor, saidTrebbi, whose research has looked into lobbying previously.
"Interestingly, public display of connections may also be a valuable dimension for the politician," he said. "Not in terms of good PR. Voters distrust lobbyists deeply. But in the sense that lobbyists' fortunes depend on the politician's success and therefore a connection ties their fortunes together and makes the lobbyist less willing to totally lie or deceive the politician in taking certain policy stances. Connections align the interests of the politician and lobbyist: if the politician is booted out, the lobbyist loses his or her valuable connections."
Asked whether this was applicable in this situation, Trebbi said: "Well, it is not implausible. Politicians do these things calculating costs and benefits, I'd assume."
Newsweek has contacted Kinney through Axiom Advisors and Newsom for comment.
Confirmed COVID-19 cases in California have surpassed 1 million, according to figures from The New York Times. This comes with the figure in the U.S. having topped 11 million.
The graphic below, from Statista, shows the states with the highest number of cases as of November 16.