Gavin Newsom Blasts Challenger Larry Elder Ahead of Recall Election: 'He's to the Right' of Trump
California Governor Gavin Newsom attacked his leading opponent, Larry Elder, as being "to the right" of former President Donald Trump during a campaign event Friday, about one month the state's recall election.
Newsom, a Democrat, spoke about what he believes would be the damage done by electing Elder to the governor's office, according to footage off the campaign rally posted online by KTVU-TV.
"That's what's at stake in this election," he said. "Don't think for a second you can't do damage in that role. Think about the judges he'd appoint. Who would he have appointed to replace Kamala Harris in the U.S. Senate? How would that impact the trajectory of the country?"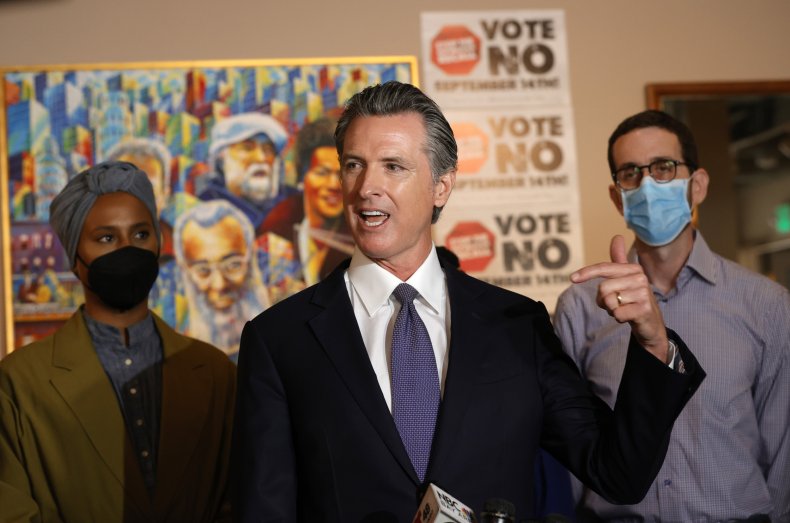 The governor said he hopes residents understand what happens if they do not turn out in record numbers.
He attacked Elder for being opposed to abortion rights and for not believing in a minimum wage, while also criticizing Elder and the other Republican candidates for their opposition of mask mandates.
"They proudly state, day one, that they would oppose any mask requirements in our public schools to keep our kids safe, and healthy, and in person to get the social and emotional support they deserve," Newsom said. "The stakes are profound."
California is on the path to recovery after the COVID-19 pandemic hurt the economy, Newsom said. He said the recovery is committed to science and not ideology, arguing that California had better health and economic outcomes than Republican-led states such as Texas and Florida.
"We can go off a COVID cliff in just a matter of weeks if we don't take this moment seriously and turn those ballots back in," he said.
He also warned electing a Republican governor could be damaging for the Biden administration's goals, which he calls "California's agenda."
"Just consider the $3.5 million debate that they're having in Washington D.C. The debate is about funding preschool, funding childcare, community college is free," he said. "All those things, the state of California's done. Check, check, check."
He also said he anticipates President Joe Biden and Vice President Kamala Harris will be campaigning against the recall.
"We're looking forward to the president and vice president being out here," he said.
While taking a question from a reporter, Newsom said he would not be voting on the second ballot question, which asks voters who they would like to replace Newsom, should he be recalled. The first question asks if voters want to recall him.
"I will not be voting on the second question," he said. "I'm not on that ballot."
Newsweek reached out to Elder's campaign for comment, but had not heard back by publication. This story will be upgraded with any response.
Although California is usually a solidly Democratic state, the recall election has proven to be competitive. A recent Emerson College poll released earlier in August had 48 percent of respondents say they would vote in favor of keeping Newsom in office, while 46 percent said they would vote to recall Newsom.
Elder has led the field of candidates seeking to replace Newsom, as 23 percent of respondents said they would vote for him. However, 40 percent said they were still undecided.
The recall election is scheduled for September 14.