Calif. Gov. Newsom Says Trump Ties Are 'Tenuous,' Biden Presidency Aligns with State's Values
The Governor of California has described his relationship with President Donald Trump as "tenuous" and mused that a Joe Biden presidency would be more in keeping with the values of his state.
In an interview with Fox 11, Gavin Newsom was asked what his state might look like if Trump managed to get re-elected.
"It's more of the same," he said, "we're involved in more than 100 lawsuits against the Trump administration, almost 60 in the environmental space, so we're consistently playing defense, all the headwinds coming out of Washington, D.C."
"While we've established a good working relationship, not a sparring one, on issues of wildfires and of COVID, the reality is that it's tenuous, at best."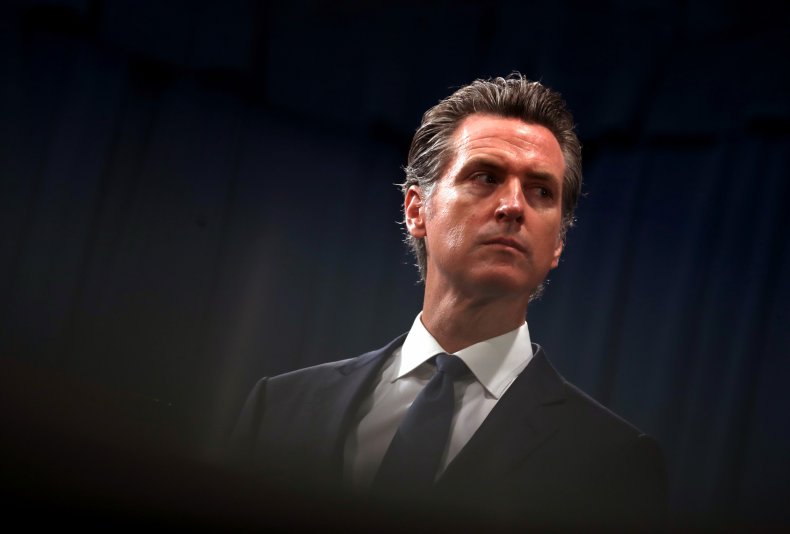 Since Newsom took office in 2019, there has been tension between the governor and the president. Newsom once described California as the most "un-Trump state in America." Trump has blamed poor "forest management" for wildfires that have ripped through California as well as Oregon and Washington.
However, Newsom did praise Trump in September for the amount of federal wildfire support the state had received, saying Trump had acted quickly and that his major disaster declaration was "profoundly significant."
A Biden presidency would elevate his running mate, the California senator Kamala Harris, to vice president leaving a vacancy that Newsom would need to fill. Latest polling puts Biden with a huge 29 percentage point lead over Trump in California, 60.7 to 31, according to Real Clear Politics.
Newsom said a Democratic White House would mean there would be "no headwinds, tailwinds, ability to address those lawsuits, and an agenda that aligns with the values of this state.
"We can accelerate our efforts on homelessness, on housing, get back to those pre-pandemic issues that are festering in the state that need to be addressed."
Meanwhile, Newsom has been faced criticism for guidelines ahead of Thanksgiving that aim to mitigate against the coronavirus. All gatherings must include no more than three households be held outdoors and last for no more than two hours.
As coronavirus cases continue to rise in the Sunshine State, Los Angeles which has over 300,000 individual cases, remains in the most restrictive of four tiers of measures.
Newsom defended his approach to the pandemic, telling Fox, "We don't want the fits and starts. We want a sustainable solution, so we're driven by one thing, data, not by political decisions."